'Miracle' on the mat
Weaver's Johannson comes back from injury to repeat in the State Girls Wrestling Championship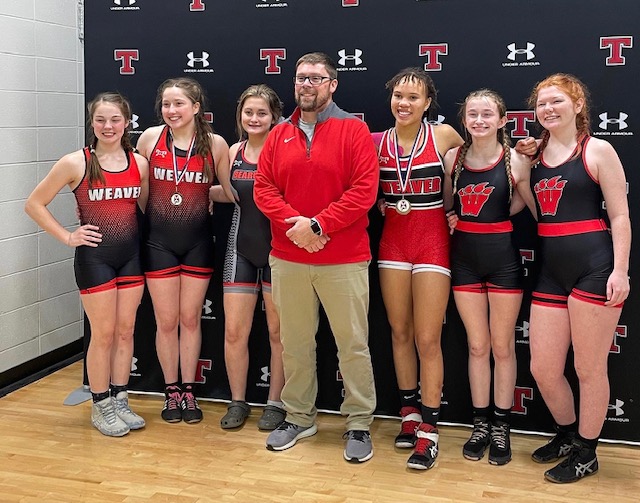 By Al Muskewitz
East Alabama Sports Today

ALABASTER – All the time Lena Johannson was working to get back from her injury that actually occurred in this very tournament her only thought was to get back in time for the Alabama Girls State Wrestling Tournament. After all, she had a state title to defend.

It's been a year-long process, but the Weaver freshman's comeback came full circle Saturday as she did make it back in time and did defend her title, winning at 140 for the second year in a row with a 19-second pin in the finals.

She pinned Montgomery Catholic sophomore Philipa Parker with the fastest fall of the finals in only her fifth match of the season. She pinned all three opponents she faced in the tournament in the first period with a total fall time of 1:52.

"I didn't really think I was going to be able wrestle until probably New Year's; we were just trying to get healthy enough and enough rehab to where I could even think about it," Johannson said. "I just wanted to get on the mat so badly. My parents were like, you should definitely wrestle at Girls State, but I wanted to be part of the duals team because that's just where y heart was at the time.

"I wrestled for duals as far as we went and then I was like, Girls State, let's go. Just ready to defend it, same weight class, same tournament, same time of year. It was something I wanted and always looked forward to because girls wrestling is growing and I wanted to encourage that growth."

Johannson's win helped the Lady Bearcats finish fifth out of 41 teams and the highest 1A-4A program with only six wrestlers. Daphne won the team championship with 140 points, 13 ahead of runner-up Sparkman.

Junior Trinity Carter finished fourth in 154 and seventh-grader Ali Anderson was T-5 in 109.

"Keep in mind all of our girls on our team are first years," Johannson said. "We were just really excited at Weaver to have a girls team and having the girls in the room has been so much different for me because I've been always the only girl.

"The best thing about the girls team is all the girls are so close. We talk all the time the guys are like this is a brotherhood. No, this is a sisterhood; you're going to be like my Maid of Honor or something. We're forever."

To know where Johannson got to Saturday one needs to understand where she came from. She tore her pectoral muscle in the 2021 State Duals, but wrestled through it in the girls' and guys' state tournaments.

She spent the rest of the summer intensely rehabbing the injury. Playing goalie for her club soccer team only exacerbated the issue and she finally had to shut it down. She saw her first wrestling action of the season in two matches during the Duals Tournament and then wrestled Saturday.

"My only thought all day was I'm thankful to God for the opportunity to wrestle," she said. "This is almost a miracle that I'm even on the mat and it's even more of a miracle that I won today.

"Three weeks ago I didn't even think I was going to wrestle. I've been training for two and a half weeks. I'm just thankful to God for the opportunity to wrestle. Before every match, while I was wrestling, while I was pacing to my final, I just kept repeating that. Everyone was super supportive of me and that encouraged me."

Weaver coach Andy Fulmer wasn't surprised by Johansson's success Saturday. Her reputation preceded her in some cases, but she had put in the work to get back.

"She's been putting in the time and trying to do her part to get clear," he said. "When she got cleared to wrestle and try to help us in the State Duals, I felt she'd be OK.

"She's one of the main reasons we put together the idea of the girls' team. All six of them competed well today and I think that had a lot with her presence and I think they rally around her, so I was really glad that she went out and took care of business today."

Instead of looking at her victory Saturday as the completion of her comeback, Johannson actually called it "kind of like the start." She's probably done wrestling with the boys' team.

"Before this injury I sprained my MCL in December and that's why I was so weak when I tore my pec," she said. "I just think wrestling at 140 is not for me as a girl because I'm 14 years old and wrestling 18-year-old guys is dangerous, even in the wrestling room.

"I just decided I don't think I'll ever wrestle guys on that level again. Ultimately I'm not competing against guys in the long run, like in college. Even if I was a guys' state champ, it would be cool, but it's bigger to win Girls State for me and for my parents and my goals."

Weaver wasn't the only Calhoun County school with wrestlers at the tournament. Piedmont junior Jaiden Melendez finished second at 109.

ALABAMA GIRLS STATE WRESTLING CHAMPIONSHIPS
Team scores: Daphne 140, Sparkman 127, Thompson 113, Arab 69, Weaver 61, Central 52, Brookwood 49, Mae Jemison 44, Baker 42, Montgomery Catholic 40, W.S. Neal 40, Montevallo 38, Gulf Shores 36.5, Auburn 34, Enterprise 32;

Mary G. Montgomery 28, Pinson Valley 27, Baldwin County 26, Bob Jones 26, Foley 26, Spain Park 26, Elberta 22, Northridge 22, Piedmont 22, Saraland 22, Grissom 20, Opelika 19, Dothan 17, Tuscaloosa County 17, Prattville 15;

Chelsea 11, Northside Methodist 11, Spanish Fort 10, Orange Beach 9.5, Clay Chalkville 8, Robertsdale 4, Deshler 3, Fultondale 3, Hueytown 3, John Carroll 3.
Championship matches
102: Erin Clarkson, Auburn pinned Alanah Girard, Daphne, 1:04
109: Mariah Jones, Central pinned Jaiden Melendez, Piedmont, 2:24
116: Evelyn Holmes-Smith, Enterprise pinned Carlie Tait, W.S. Neal, 0:45
122: Brooklyn Grant, Mary G. Montgomery pinned Jessalynn Allen, Grissom, 3:34
128: Carly Thomas, Bob Jones pinned Jaicee Massey, Baker, 3:56
134: Kalyse Hill, Daphne pinned Natalee Black, Thompson
140: Lena Johannson, Weaver pinned Philipa Parker, Montgomery Catholic, 0:19
147: Yasmine Oliveira, Spain Park pinned Akerah Artis, Sparkman, 1:50
154: Sage Rosario, Daphne pinned Reagan Grant, Sparkman, 1:08
167: Kaylee Holder, Daphne pinned Kalea Loving, Sparkman, 2:29
187: Allison Tryon, Montevallo pinned Maya Curp, Elberta, 4:52
237: Tamara Reed, Baldwin County pinned Aniyah Griffin, Pinson Valley, 0:48
285: (first place) Abby Theiss, ASB, (second place) Katherine Robinson, W.S. Neal

Third-place matches
102: LaNia Riley, Daphne pinned Hailey Gentry, Foley, 0:26
109: Madilyn Rodgers, Arab dec. Lynleigh Weltzin, Thompson, 3-2
116: Maggie Whitaker, Arab dec. Kloe Robb, Sparkman, 7-2
122: Aenaya Vines, Thompson pinned Olivia Piasecki, Dothan, 0:52
128: Rhyleah Gleber, Gulf Shores dec. Nevaeh Browder, Prattville, 10-6
134: Kameron Glenn, Sparkman pinned ShyKalya Brooks, Opelika, 1:00
140: Kimber Alford, Daphne pinned Elizabeth Rosenstiel, Northridge, 2:40
147: Charlotte Parker, Montgomery Catholic pinned Haley Pate, Brookwood, 2:49
154: Autumn Boutwell, Arab pinned Trinity Carter, Weaver, 1:59
167: Joy Hawkins, Sparkman pinned Rachel Crowe, Thompson, 0:59
187: Elise Walker, Mae Jemison pinned Ava Nguyen, Thompson, 4:55
237: Jayla Lofton, Saraland dec. LaNaya Oakley, Mae Jemison, SV-1 2-0
285: (third place) Leona Kenny-Parkman, John Carroll