Layin' it on 'em
Jacksonville runs past Anniston to make statement about best team in the county, Anniston girls pitch shutout in fourth to put J'ville away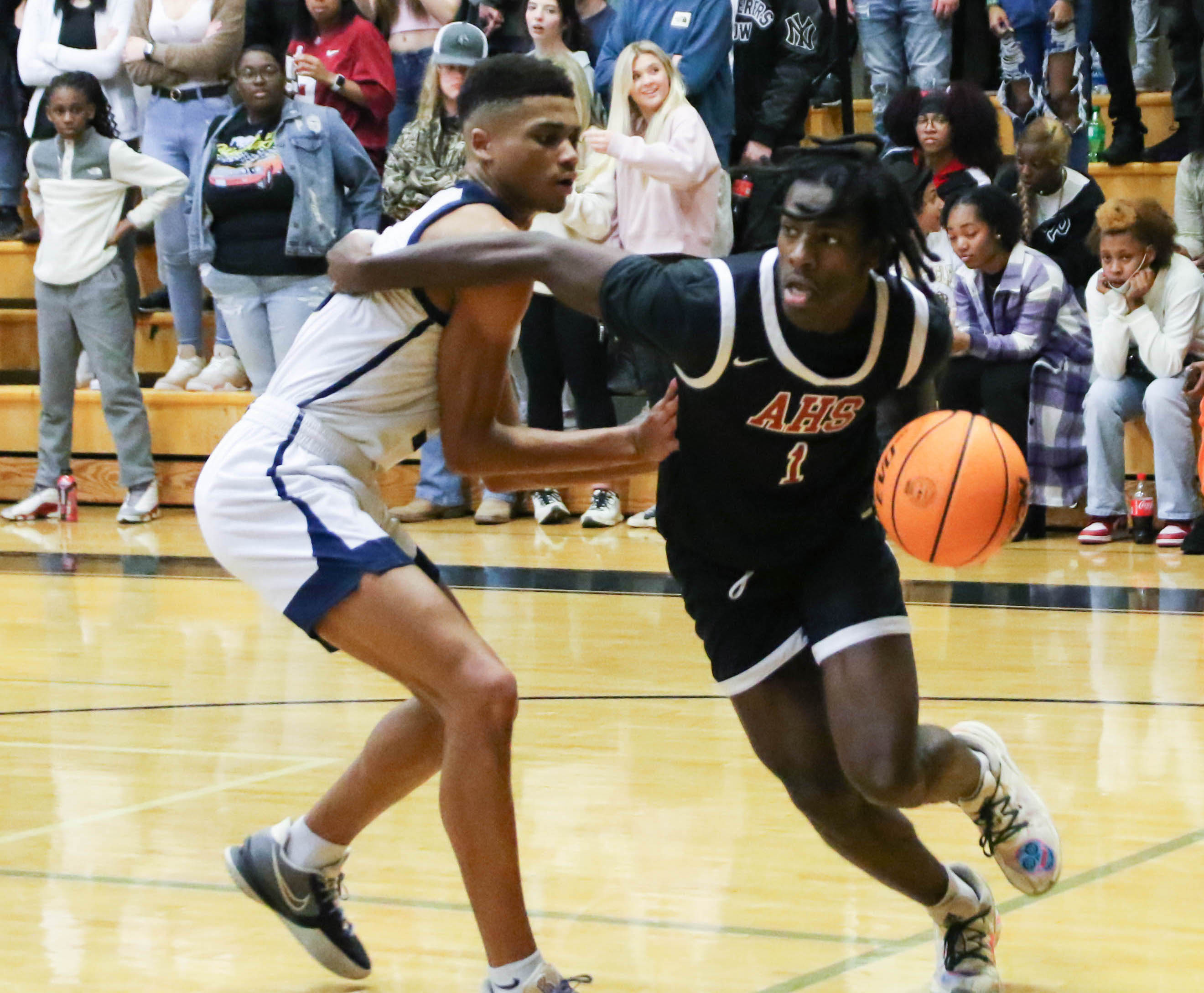 By Al Muskewitz
East Alabama Sports Today

JACKSONVILLE — Jacksonville has proven it's most effective this season when it can get out and run on teams and Friday night the Golden Eagles ran — and ran Anniston out of the gym.
In the season's most anticipated regular-season matchup that should put to rest any doubt as to the No. 1 team in the county, the Golden Eagles crushed the Bulldogs 82-44.
Jacksonville was installed as the No. 1 seed for this week's Calhoun County Tournament for the first time since 1995 two weeks ago, but any of four teams could make a case for the top seed. The Golden Eagles have now beaten two of them – Alexandria and Anniston – head-to-head this season.
"We tried to approach it like it's another game, but obviously it wasn't," Jacksonville coach Shane Morrow said. "It was for County pride; a lot of people were here. I could tell they had a lot of nervous energy. I don't know about statements, I don't get into all that, but I thought we played well.
"First of the year we were a Jekyll and Hyde team – we'd play good for a quarter, play bad for a quarter – but we've gotten more consistent lately and I think that's starting to show and pay dividends for us."

Consistently strong. In their three games this week the Golden Eagles have scored 105, 97 and 82 points.
John Broom and Cade Phillips both gave Jacksonville double-doubles. Broom had 26 points and 10 rebounds, Phillips had 15 and 15. Cam Johnson had 15 points and Q Long had 11.
Broom was 7-of-11 from the field, 4 of 6 3-pointers. He's gone 27-of-35 from the field, 14-of-18 from 3-point range, in the three games this week. Phillips, recognized before the game for scoring his 1000th career point before Christmas, was 7-of-10 from the floor, included several personal and crowd-pleasing dunks.
The Golden Eagles were already up by 20 when the fourth quarter started, then the fun started. They opened it up with 19 straight points. It was so smooth Morrow didn't realize the margin had gotten to running clock range when he called time out in the fourth quarter to get his starters out of the game, but there was a purpose to their play.
"From what I heard they left a pretty rough taste in everybody's mouth last year, two close games," Phillips said. "So, I felt like it was right that we kind of had to just go out and lay it on them, make up for what they did to us last year. They had some highlights on us. That's never cool to see you getting dunked on everywhere on social media, so we had to repay the favor. I think we got the better win tonight."
"I would say this was a statement game for us, I'm not going to lie," Broom said. "Since the Huntsville (City Classic) people have been dogging us. Coach Morrow told us to keep our heads up, keep playing the way we're playing. This is a great game."
Not so much for the Bulldogs. There were some anxious moments for Anniston — and Alabama football fans — when senior guard and Tide signee Antonio Kite left the game in the second quarter with a dislocated pinky finger on his right shooting hand.
He returned after three and a half minutes had passed on the clock and played the rest of the game. The Golden Eagles were up two when Kite left the game holding his hand in pain with 6:56 left in the first half. The lead was 11 when he returned at the 3:34 mark.

Kite was Anniston's only scorer in double figures with 11 points. He was 4-of-13 from the floor. He said after the game his hand was "good" and was not the same issue he went through last season.

Anniston coach Torry Brown said Kite's absence wasn't not a factor at all.
"We were bad with him and we were bad without him," Brown said. "We picked a bad night to not play our best game."

The Bulldogs shot 15-of-49 from the field, got outrebounded by 12 and committed 13 turnovers off which Jacksonville scored 26 points. Their frustration was manifested in three technical fouls.
The game drew an estimated crowd of more than 1,000, which included Kite's future Alabama teammate Kool-Aid McKinstry. Ticket sales were cut off at 750 and sold out quickly and did not include the Jacksonville student count, coaching passes and other passes.

Jacksonville 82, Anniston 44
ANNISTON – Antonio Kite 4-13 3-5 11, C.J. Munford 3-3 1-2 9, Troy Halal 3-9 1-2 8, Kamron Sandlin 3-6 0-0 6, Talib Christian 0-2 3-4 3, Jamarius Billingsley 1-3 1-4 3, Malik Bailey 0-2 2-4 2, Tacrise Thomas 1-3 0-0 2, Tadyn Jones 0-6 0-0 0, Jayden Lewis 0-0 0-0 0, Martez Reed 0-2 0-0 0. Totals 15-49 11-21 44.
JACKSONVILLE – John Broom 7-11 8-8 26, Cade Phillips 7-10 1-2 15, Camren Johnson 5-13 1-2 15, Quin Long 5-9 1-2 11, JaLeik Long 2-10 0-0 5, Julian Hill 2-5 0-0 5, Devin Barksdale 1-3 0-0 3, Ethan Duke 1-2 0-0  2, Caden Johnson 0-4 0-0 0, Jacoby Zackery 0-0 0-0 0, Taj Morris 0-1 0-0 0, Hayden Robinson 0-1 0-0 0. Totals 30-69 11-14 82.
Anniston         15    6  13  10   –  44
Jacksonville   19  17  19  27   –  82
3-point goals: Anniston 3-17 (Kite 0-2, Munford 2-2, Hall 1-3, Sandlin 0-1, Bailey 0-1, Thomas 0-1, Jones 0-5, Reed 0-2); Jacksonville 11-33 (Broom 4-6, Cm. Johnson 4-10, Q. Long 0-2, J. Long 1-5, Hill 1-4, Barksdale 1-3, Cd. Johnson 0-2, Robinson 0-1). Rebounds: Anniston 36 (Sandlin 10, Christiana 7, Hall 6); Jacksonville 48 (Phillips 15, Broom 10, Cm. Johnson 6). Technical fouls: Christian, Bailey, Anniston (delay). Fouled out: Christian. Total fouls: Anniston 17, Jacksonville 17. Officials: Walker, Sudduth, Procuik.
Girls game
Anniston 31, Jacksonville 19
JACKSONVILLE – Anniston coach Eddie Bullock is so hard to please.

His Lady Bulldogs held a Jacksonville team that had given them fits for three quarters scoreless in the fourth to earn a 31-19 victory and his focus on what didn't go right for them.

Anniston could never really shake its hosts until the end and with a little better luck the Lady Golden Eagles might have had a different outcome.

"We were playing into their hands, I'm like be smart, penetrate the basketball," Bullock said. "I'm about executing what we do. If I lose, but we execute, I'm fine. But we're not executing."

It was a three-point game going into the fourth quarter and was slow going at the start, but Serena Hardy broke the ice with aa 3-pointer with 4:08 to play and the Lady Bulldogs were off and running to the finish. Taysia West added a basket and Shiwanna Jackson scored the last two buckets of the game.

But, coach, you've got to be a little impressed by the closing shutout.

"I'm glad about it, it's a building point," he said, "but I'm looking at the previous three quarters."

Jackson led Anniston with eight points and eight rebounds. Tykeria Smith six points, seven boards and three steals, while West had six points, three steals and six assists. Amarie Curry led Jacksonville with six points and Dee Prothro grabbed 10 rebounds.
Anniston 31, Jacksonville 19
ANNISTON – Shiwannaa Jackson 4-8 0-0 8, Serena Hardy 2-13 1-2 7, Tykeria Smith 3-13 0-0 6, Taysia West 3-6 0-1 6, A'Kayla Perry 2-4 0-0 4, Jade Richardson 0-1 0-0 0, Nina Farrow 0-0 0-2 0, Matasia Truss 0-2 0-0 0. Totals 14-47 1-5 31.
JACKSONVILLE – Amarie Curry 2-7 2-2 6, Ashley Grant 1-10 2-2 5, Halaina Lozano 2-4 0-0 5, Mya Swain 1-3 1-1 3, DeAsia Prothro 0-3 0-0 0, Alexis Phillips 0-2 0-0 0, Kiara LaCount 0-0 0-0 0, MiArah Hardy 0-0 0-0 0. Totals 6-29 5-5 19.
Anniston 10 7 5 9 – 31
Jacksonville 6 5 8 0 – 19
3-point goals: Anniston 2-9 (Harady 2-7, Perry 0-1, Richrdson 0-1); Jacksonville 2-12 (Curry 0-2, Grant 1-5, Lozano 1-3, Phillips 0-2). Rebounds: Anniston 27 (Jackson 8, Smith 7); Jacksonville 31 (Prothro 10, Grant 6). Total fouls: Anniston 10, Jacksonville 7.