It's Jack's turn
Piedmont's Hayes finally breaks through for Class 3A Back of the Year after being a finalist each of the last two years; 'I just had to wait my turn'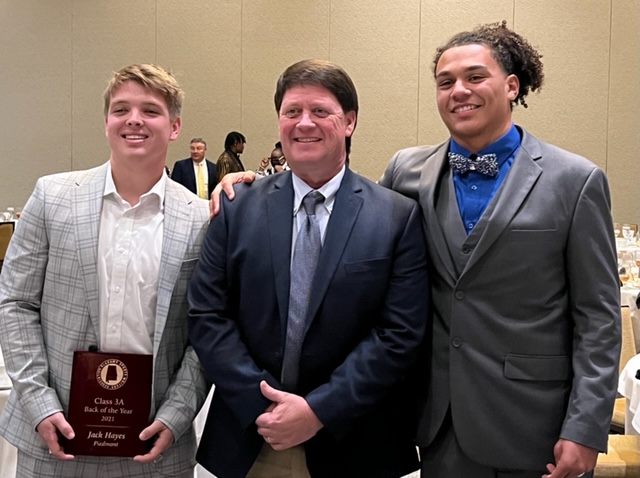 By Al Muskewitz
East Alabama Sports Today

MONTGOMERY — Each of the last two years Piedmont quarterback Jack Hayes came to the Alabama Mr. Football Banquet hoping to come back with some hardware only to be left as an appreciative spectator, honored to have been nominated.
This year he finally got to walk to the podium and give the speech he's been waiting three years to deliver.
The Bulldogs' junior was recognized Thursday as the Class 3A Back of the Year and a member of the Super All-State Team by the Alabama Sports Writers Association. He edged out Montgomery Catholic's Jeremiah Cobb and state championship game rival Jashawn Cooper of Montgomery Academy for the award.
Hayes' brother Taylor was the 3A Back of the Year twice in his Piedmont career (2015 and 2016). Jack broke into a broad smile when someone showed him the luncheon program from 2016 that had his brother's name circled as the winner.
Six of the eight Back of the Year winners Thursday were quarterbacks. 
Thompson senior Ryan Peppins was Mr. Football, the 40th in the award's history and first from his school. The 5-8, 153-pound receiver delayed his flight to start classes at the University of Utah in order to attend the ceremonies.
During his acceptance speech Hayes thanked his coaches and teammates on every level he's played and his parents, a group collectively that helped fuel the belief he could accomplish any goal he set his mind to.
It was not, he said, a speech, he had left in the pocket of his sports coat for the last two years. Actually, he didn't have prepared remarks the last two years. 
"I should have just went off the head; I shouldn't have written one down," he said. "Being put up for it and winning is a whole different thing. 
"Winning it, I beat out two really good guys; any other circumstances they probably win it. The fact we won state, how we finished, is probably why I won it."
Hayes led the Bulldogs to the greatest comeback in AHSAA state championship history in December when he rallied the Bulldogs from 23 points down to beat Montgomery Academy for their second state title in three years.

He passed for 2,673 yards and 38 touchdowns while being intercepted only twice in 258 pass attempts and rushed for 1,027 yards and 21 touchdowns. Barring anything complicated, he is expected to set all-time state records for touchdown passes and touchdowns responsible for next year as a senior.
He said he still doesn't think that fantastic finish at Protective Stadium has hit him yet. He said the other 3A finalists talked about it and the things that might have been while eating lunch together Thursday.
Hayes is the fifth Piedmont player to win a 3A Back or Lineman of the Year award in coach Steve Smith's tenure. The Bulldogs have had nearly 20 finalists in the last 10 years.
"I know it's a tough job for the sports writers because there are so many quality players, but I'm a little partial to ours," Smith said. "We've had some winners in the past, but I felt like we've had some others who were probably very deserving, and this year Jack got to take the award home.
"I thought it would have been awful hard for the sports writers to mess it up this year considering what he accomplished on the field and our team's success."
Twice before Hayes sat in the first row of tables at the banquet eagerly awaiting to hear his name. Last year he was edged out by Ike Rowell of Fyffe. Two years ago, he lost out to Flomaton athlete Daquan Johnson.
"I think the people who won the last two years deserved it, especially Ike last year because they won state," Hayes said. "The guy from Flomaton, I think he deserved it, too. I just had to wait my turn, I feel like."
Hayes was one of three Calhoun County players in the overall finalist pool. His Piedmont teammate Landon Smart was up for 3A Lineman of the Year and Anniston's Antonio Kite was up for 4A Back of the Year.
Both awards went to others.
Smart, smartly dressed in a sparkly bow tie, had to hustle to get back after the ceremony. His Piedmont wrestling team was competing at home in the 1A-4A State Duals tournament.
Kite, a dual sport athlete at Anniston, signed with Alabama football in December. At the time of his signing, for those who may have questioned whether he chose the wrong athletics career path, he called himself "a football player who plays basketball."

MR. FOOTBALL AWARDS
Mr. Football: Ryan Peppins, Thompson
BACK AND LINEMEN OF THE YEAR
7A: Ryan Peppins, Thompson (Back); Jeremiah Alexander, Thompson (Lineman)
6A: Earl Woods, Hueytown; Trevon McAlpine, Saraland
5A: DeMarcus Lacey, Pleasant Grove; Khurtiss Perry, Pike Road
4A: Walter Taylor III, Jackson; Michael Towner, Vigor
3A: Jack Hayes, Piedmont; T.J. Dudley, Montgomery Catholic
2A: Logan Washburn, Cleveland; Caden Story, Lanett
1A: Brayden Kyle, Decatur Heritage; Kedrick Brown, Brantley
AISA: Landon Sims, Escambia Academy; Kross Colley, Chambers Academy