Trailblazing Tiger
Cleburne County's Brooklyn McDaniel becomes school's first female Division I scholarship signee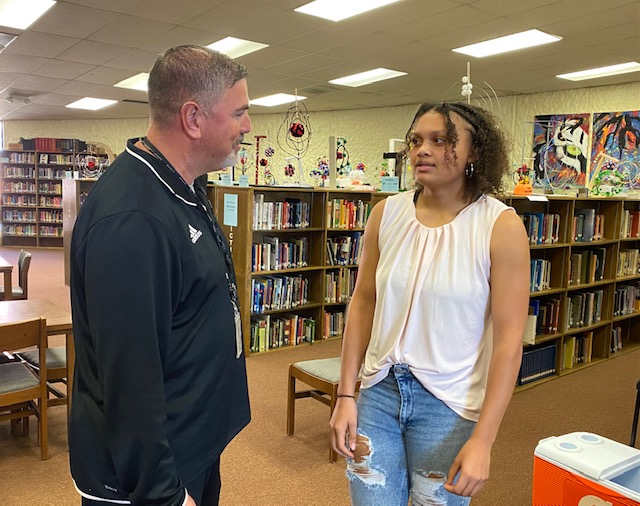 By Al Muskewitz
East Alabama Sports Today

HEFLIN – Brooklyn McDaniel doesn't think of herself as a trailblazer, but she's getting pretty good at these 'first' things.

The 6-foot senior became the first girls player in Cleburne County history to score 1,000 career points last season and last Wednesday became the school's first-ever Division I scholarship signee when she formally signed with Jacksonville State.

She celebrated the occasion Tuesday with family, teammates and friends in the school library.

"I really don't think it's sunk in yet," McDaniel said. "I was the first girl to get 1,000 points and that hasn't really sunk in yet.

"It's a big thing, of course, but I don't like to think I'm better than anybody in any way. I'm just trying to be the best I can be, really."

McDaniel has always been a force on the Lady Tigers' basketball team — a "double-double machine" coach Todd Gable calls her — but she was a late find on the recruiting trail.

It wasn't until the Lady Tigers secured a last-second spot in Jacksonville State's team camp this summer that she started getting some serious looks. 

When JSU coach Rick Pietri saw her for the first time he said he had to sign her, calling her 'the female Labron.' Then she showed out in a big AAU tournament a short time later and interest really started to soar.

"I'm really pleased to have Brooklyn as a part of this signing," Pietri said. "I saw her in person for the first time this summer at our team camp and my staff and I were extremely impressed. She has the height and is a physically strong, athletic, and skilled player who's personal style of play fits right in with ours.

"She is extremely dedicated to her craft and has a chance to be an integral part of our program in the future."

Ultimately, McDaniel "felt at home" at JSU and made history for the Lady Tigers.

"In the past we've had some really good girls athletes, especially in softball, who were close (to signing a D-I scholarship)," Gable said. "Her being the first one is big not only for the school, but for our girls programs. It lets girls know around here we're a 4A school, but we're kind of a smaller school, but it lets them know if you work hard good things will happen and there are schools out there that will find them.

"She knows (the significance of her signing), but I don't think it's sunk in really that this a big deal. You're probably going to have to come back to school (as some point in the future) and talk because it's a big deal."

McDaniel isn't done with the firsts. She's already in the 1,000/1,000 Club with 1,227 career points and 1,217 career rebounds, but "wants to go higher than that. The 1,500/1,500 Club seems easily attainable, but she wants more.

She wants to become the school's first of any gender to score 2,000 points and, in time, perhaps its first player in the WNBA.

"My dad has set standards for me, really high standards, and he wants me to keep setting high standards," she said. "When I was younger, college basketball was something that was far away; it was a huge dream, something that was far away. I felt I could reach it, but I was kind of doubting myself at the same time. Now that I've reached it, I believe anything I set myself to I can do it now."

She begins her quest for the next set of firsts Monday in the Glencoe Thanksgiving Classic.