More to do
Oxford's Houck signs to play basketball at Lipscomb, begins his senior season with the Yellow Jackets Thursday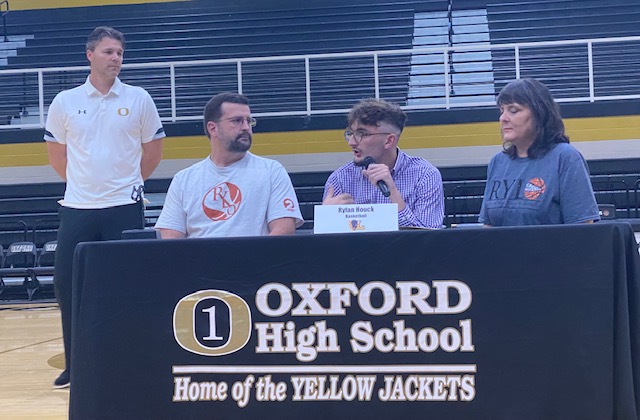 By Al Muskewitz
East Alabama Sports Today

OXFORD – Rylan Houck plays the first game of his senior season Thursday afternoon in Birmingham and he should be as relaxed in a season opener as he's ever been in his career.

He should be, but he won't. There's so much to get done.
Houck, the 6-foot-5 senior forward who enters the season as the most proven player on Oxford's roster, took care of a major piece of business Wednesday when he signed to play college basketball at Lipscomb University.

That should be reason enough to be relaxed, relieved of the burden of having to secure his future. But there will be other motivations at play when the Yellow Jackets play Hueytown as part of the Veterans Day Tip-Off at Birmingham's Bill Harris Arena.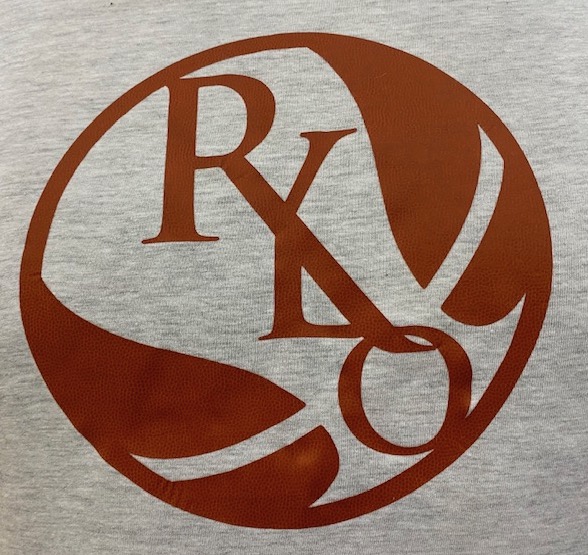 Motivations like propelling the Jackets' yearly climb for respect.

"Everything is taken care of; I'm going to Lipscomb University. There's no thought, no pressure," Houck said after his signing celebration. "But absolutely not (relaxed).

"I'm not a big fan of rankings at all, but if you look at rankings, you don't see Oxford High School anywhere. Truthfully, we're behind so many other teams in our rankings and it's like we haven't proven anything yet. We've been successful the past few years, but what about this year?

"There's no relaxing for me at all. It's straight pushing. I know who I have to be once I get there and it's not who I am now. I have to have that improvement."

With that in mind, he'll approach each game more like his poster on the Sports Arena wall. The one of the player intensely trying to squeeze the air out of the basketball that sets it apart from the baseball-card style photos having alongside him.
"How many banners have you seen that look like that?" Houck asked. "That describes me."
Oxford coach Joel VanMeter is expecting the intense Houck.
EA SPORTS TODAY
PRE-SEASON ALL-COUNTY
Antonio Kite, Anniston
Alex Odam, Piedmont
Cade Phillips, Jacksonville
John Broom, Jacksonville
Rylan Houck, Oxford
"If you asked him he would say (not relaxed), but I think in all honesty, yes, because you're set, everything is set," Van Meter said. "Rylan is the type of leader, he's playing for all those other guys. He's trying to help all those other guys have success. He's trying to help those other guys get an opportunity that they're trying to get.
"To me, there's going to be a lot of relaxation, ease, but I think he's known for a while that's where he was wanting to go to school."
Actually, there's a higher authority Houck's playing for and shared that with everyone at the assembly by leading them in a short prayer before recreating his signing. His devotion is such he leads a Wednesday night devotional that has grown to more than two dozen attendees.
Houck came to the Yellow Jackets as an eighth grader looking far from the player who'll be on the floor this season. In fact, he was so nervous that first day, he left his first pre-game shoot-around still wearing his basketball shoes and uniform shorts.
In the years that have passed he has developed into a player who knows how to play around the rim. He can go inside to challenge the bigs, but also can pull them away from the basket with a deft outside touch.
As the most experienced player on the team, as he goes this year so go the Jackets.
"When he got here as an eighth-grader and I played him on the varsity, you didn't see a Division I basketball player," VanMeter said. "Through his work and effort and dedication he's made himself a really good player.
"We've gone back and watched film (of those days) and he laughs. You could see he might grow, but you didn't see what you do now. Something in the summer leading into his junior year clicked and when it clicked, it clicked, and he's just gotten better and better.
"As good as he was last year, he's a way better player, way better. And he's going to the perfect spot. It would not surprise me if Rylan Houck makes money playing basketball."
He's already on his way to own brand. Houck's father designed him a couple logos just to be able to identify his travel ball gear and "it just took off."

They've become such a hit, he's made them for the family and customized ones for Oxford's boys and girls basketball seniors.