Donoho wins opener
Behind Draper, Lady Falcons make quick work of Kinston, win 3-0 to reach Final Four; Woodland gets past Ragland to advance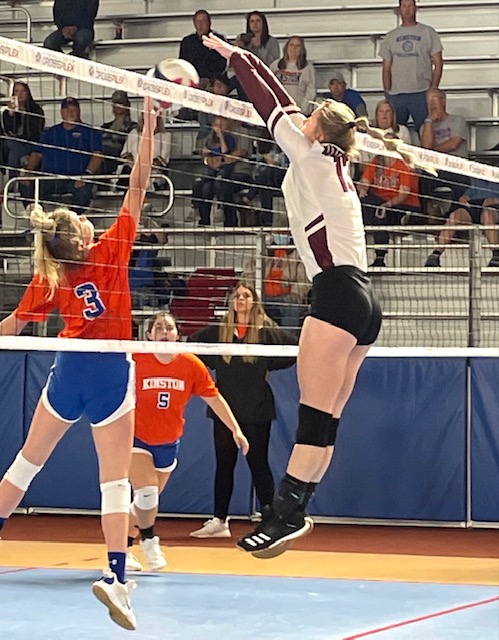 By Al Muskewitz
East Alabama Sports Today

BIRMINGHAM — When Lily Grace Draper gets going early, it usually means it's gong to be a good day for the Donoho volleyball team.

The versatile junior, an outside hitter by trade, was sharp from the get-go Wednesday morning and led the Lady Falcons to a 3-0 sweep of Kinston in their first match of the Elite Eight at the Birmingham Crossplex.

The Lady Falcons won 25-8, 25-11, 25-12 in less than an hour. They will play Lindsay Lane at 3 p.m. for a third straight trip to the Class 1A title match. They swept Lindsay Lane in the North Regional semifinals last week, 3-0.

"I think some of the girls had more butterflies than I did; this is the calmest I've been all year," Donoho coach Jamie Clendenin said. 'I'm blessed to have all these girls who have been here before. The majority of them it's their third time.

"You feel and hope you can establish your ability to play in that match so you go into the next one playing your best."

Draper came out ready. Loading up on the left side, she had seven kills and three aces in the first set, a fact that caught coach Jamie Clendenin a little off guard.
"Oh wow," Clendenin said. "When she gets going early it's a good thing. We've had matches when she doesn't get going and that usually turns into a big, big fight. If she's doing really well, the rest of the team I feel like they kind of go around her are like we've got this, we're fine."

Draper finished with 14 kills and 12 digs in the match. Maggie Wakefield had 12 kills and six blocks. Mary Marshall Perry had seven kills. Sam Wakefield had 35 assists.

In her last six Elite Eight matches, going back to the 2019 semifinals, Draper has 91 kills.

"Even though this is our third time here and winning our Elite Eight game, it doesn't stop being exciting," Draper said. "It's so fun when we're all screaming on the court together and getting excited together. And that really pumps everybody up to do the best they can.

"When I start playing good I just keep going off of that. I'm just so excited to be here and keep playing."

WOODLAND 3, RAGLAND 1: The Lady Bobcats scored an historic win (25-21, 25-20, 13-25, 25-15) to advance to the semifinals against defending state champion Bayshore Christian.

"We've never been this far before," Woodland coach Kayla Shelton said. "We're pretty excited about the success so far.

"That's a big shout out to our team for representing our school so well. This atsmopshere is very dynamic, nobody could explain it, you just have to be here to know what it's all about. My girls being inexperienced in this area this says a lot for them to be able to play and compete in this atmosphere."

McKenzie McCormick, a 5-11 junior middle, led Woodland with 13 kills and seven blocks. Juliana Lovvorn had 10 kills, Taylor Wilson 25 digs, Abbi Adamson 16 digs and 12 assists, and Leah Williamson five kills and 19 digs.

"We were playing off adrenaline, really, there (early), just trying to get a good lead on them," Shelton said. "It was neck and neck, back and forth, the first two sets and that third set I feel like that adrenaline wore off a little bit. We had to get them pumped up and excited a little bit more to try to finish that match."