Match play set
UPDATED: The bracket is set for this weekend's Calhoun County Match Play Championship at Anniston Municipal.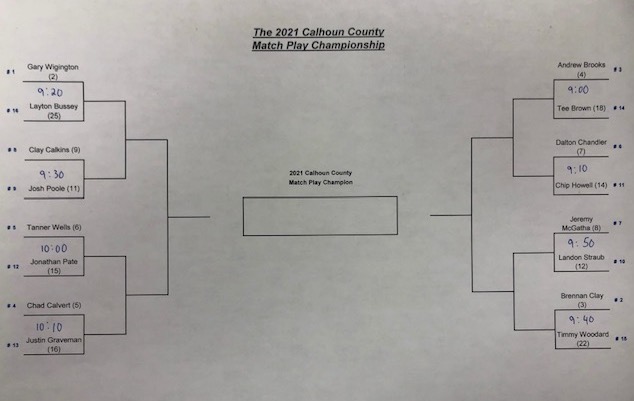 Here are the first-round matches.
Buddy Moore Bracket
No. 1 Gary Wigington vs. No. 16 Layton Bussey, 9:20 a.m.
No. 8 Clay Calkins vs. No. 9 Josh Poole, 9:30 a.m.
No. 5 Tanner Wells vs. No. 12 Jonathan Pate, 10 a.m.
No. 4 Chad Calvert vs. No. 13 Justin Graveman, 10:10 a.m.

Chris Banister Bracket
No. 3 Andrew Brooks vs. No. 14 Tee Brown, 9 a.m.
No. 6 Dalton Chandler vs. No. 11 Chip Howell, 9:10 a.m.
No. 7 Jeremy McGatha vs. No. 12 Landon Straub, 9:50 a.m.
No. 2 Brennan Clay vs. No. 15 Timmy Woodard, 9:40 a.m.

Sunday's semifinals will begin at 9 a.m. followed by an 18-hole championship match.
Tale of the Tape
No. 1 GARY WIGINGTON vs. No. 16 LAYTON BUSSEY
| | | | | | | |
| --- | --- | --- | --- | --- | --- | --- |
| | POS | SCOR | FW | GIR | PTS | SCR |
| Twig | 2 | 68.89 | 7.44 | 12.94 | 30.19 | 58.7 |
| Bussey | 25 | 72.75 | 6.00 | 11.25 | 28.88 | 42.6 |
No. 8 CLAY CALKINS vs. No. 9 JOSH POOLE
| | | | | | | |
| --- | --- | --- | --- | --- | --- | --- |
| | POS | SCOR | FW | GIR | PTS | SCR |
| Calkins | 9 | 75.78 | 10.38 | 9.50 | 28.94 | 47.8 |
| Poole | 11 | 74.80 | 6.64 | 10.57 | 30.93 | 40.4 |
No. 5 TANNER WELLS vs. No. 12 JONATHAN PATE
| | | | | | | |
| --- | --- | --- | --- | --- | --- | --- |
| | POS | SCOR | FW | GIR | PTS | SCR |
| Wells | 6 | 74.38 | 6.21 | 9.79 | 29.93 | 51.3 |
| Pate | 15 | 73.90 | 8.00 | 10.25 | 29.13 | 58.1 |
No. 4 CHAD CALVERT vs. No. 13 JUSTIN GRAVEMAN
| | | | | | | |
| --- | --- | --- | --- | --- | --- | --- |
| | POS | SCOR | FW | GIR | PTS | SCR |
| Calvert | 5 | 72.54 | 8.08 | 11.50 | 29.08 | 42.9 |
| Graveman | 16 | 73.00 | 8.00 | 12.00 | 30.50 | 35.4 |
No. 3 ANDREW BROOKS vs. No. 14 TEE BROWN
| | | | | | | |
| --- | --- | --- | --- | --- | --- | --- |
| | POS | SCOR | FW | GIR | PTS | SCR |
| Brooks | 4 | 72.27 | 7.90 | 11.30 | 30.10 | 47.8 |
| Brown | 18 | 74.82 | 9.67 | 10.56 | 29.89 | 65.2 |
No. 6 DALTON CHANDLER vs. No. 11 CHIP HOWELL
| | | | | | | |
| --- | --- | --- | --- | --- | --- | --- |
| | POS | SCOR | FW | GIR | PTS | SCR |
| Chandler | 7 | 70.44 | 7.33 | 12.83 | 30.00 | 53.3 |
| Howell | 14 | 75.00 | 10.58 | 11.75 | 32.75 | 50.7 |
No. 7 JEREMY McGATHA vs. No. 12 LANDON STRAUB
| | | | | | | |
| --- | --- | --- | --- | --- | --- | --- |
| | POS | SCOR | FW | GIR | PTS | SCR |
| McGatha | 8 | 73.28 | 8.63 | 11.25 | 29.69 | 45.4 |
| Straub | 12 | 73.55 | 7.90 | 11.90 | 31.70 | 39.7 |
No. 2 BRENNAN CLAY vs. No. 15 TIMMY WOODARD
| | | | | | | |
| --- | --- | --- | --- | --- | --- | --- |
| | POS | SCOR | FW | GIR | PTS | SCR |
| Clay | 3 | 70.56 | 8.44 | 12.94 | 29.63 | 55.6 |
| Woodard | 22 | 75.75 | 6.42 | 9.08 | 29.67 | 40.8 |
POS: Points position, SCOR: scoring average, FW: fairways, GIR: greens in regulation, PTS: putts, SCR: scrambling
Past Champions
2010: Ott Chandler def. Janson Wilborn
2011: Matt Rogers def. Frank Brady
2012: Gary Wigington def. Ott Chandler
2013: Gary Wilborn def. Grant Hockman
2014: Andrew Brooks def. Gary Wigington
2015: Caleb McKinney def. Kevin Daugherty
2016: Gary Wigington def. Dalton Chandler
2017: Chad Calvert def. Gary Wigington
2018: Gary Wigington def. Chad Calvert
2019: Jeremy McGatha def. Chad Calvert
2020: Brennan Clay def. Gary Wigington