Working another angle
Talladega angler, a Faith Christian senior, calls an audible, qualifies for Bass Federation nationals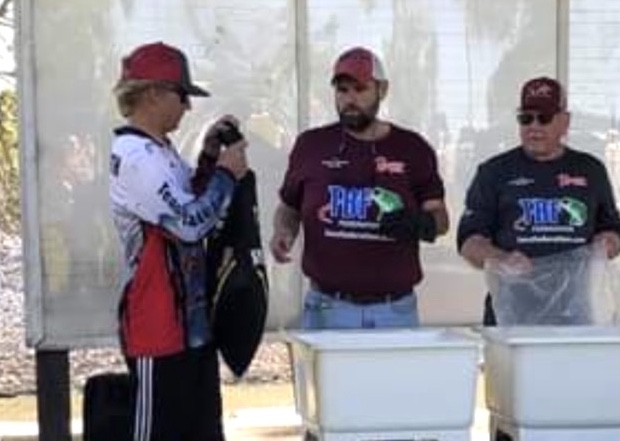 By Al Muskewitz
East Alabama Sports Today

Walker Whitworth usually goes to the lake with a couple plans in the tackle box. This past weekend the Talladega angler turned to Plan B when it counted most and it couldn't have worked out better.

Whitworth, a senior at Faith Christian in his first year on the Bass Federation Trail, called an audible on the second day of the district qualifier when he found his primary location was occupied and it turned out to be a fatefully good call.

The new spot yielded a bunch of big bass and a large enough haul for him to finish second overall in the tournament, first in Alabama, and earn a spot in the BFT Nationals next spring on a lake to be determined.

Whitworth weighed in with 22.54 pounds for two days of fishing on Sardis Lake in Mississippi. His co-angler, Drew Gideon of Smithville, Miss., also qualified for the nationals on his own merits.

"Going to that spot was Plan B, and I also had a Plan C and so forth," Whitworth said. "I'm glad I went to it. I think if I would've gone with Plan A I don't think I would've done as well because if I hadn't have gotten there somebody would have gotten there before me, for sure."
They went out in the early wave the first day, which basically gave them the pick of the lake, and Whitworth weighed in at 11.22 pounds that left him in sixth place behind a three-way tie for third.

The second day he was one of the last boats to launch so he knew he might not be able to get the spot he scouted. The spot he wanted was about four miles from the boat ramp and, sure enough, when he got there another boat already had set up shop. So, he ended up going about halfway across the lake.

It proved to be the right move as he brought another 11 pounds-plus into the boat. He caught the second biggest fish of the tournament (5.01 pounds) after an even bigger fish that might have given him the overall win slipped off right at the boat.

"I was a little worried about not catching as many fish but I knew there were still fish there," he said. "I had to move to my other spot where we were catching more quality fish, just not as much, and I really think that paid off for me going for the bigger fish first."

In addition to thinking quick on his feet, another thing Whitworth had going for him was a confidence that came with fishing a lake that felt so similar those he fished back home.

"Martin Lake fished very similar and I love that lake and I have a lot of time on that lake," he said. "So, it fished very similar to what I was used to and I like to fish like that, so I was really doing how I liked what I wanted to do and catching the fish.

"Martin has a lot of points that shoot out into the water and this lake had that, and Martin also has a lot of rock piles in it and that's actually what I was fishing. So, it was just almost like Martin, points with rock piles."

Whitworth said he would "love" to make a career out of his sport. His immediate hope is to fish for Montevallo in college.
In a sport that banks on an angler's resume, he's off to a good start.