County champs
Alexandria beats top-seeded Donoho 3-1 for third county title in four years; Weber named MVP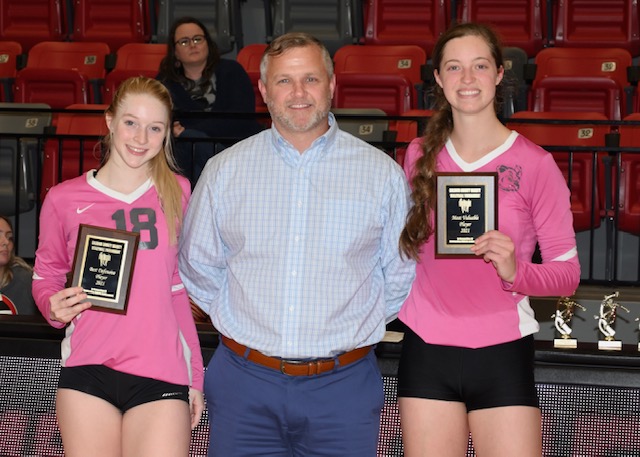 By Al Muskewitz
East Alabama Sports Today

JACKSONVILLE – Hard work is supposed to pay off, and it did for the Alexandria volleyball team Monday night as the Lady Cubs parlayed a season-long work ethic into their third Calhoun County Volleyball Tournament title in five years, stopping top-seeded Donoho 3-1 at Jacksonville State.

The second-seeded Lady Cubs (30-10) won the first two sets 25-17, 25-23, dropped the third 25-10 but bounced back and clinched it in the fourth 25-18.

Donoho (41-8) had been unbeaten against in-county competition entering the final (15-0), including a pair of 2-0 sweeps over the Lady Cubs.

"We worked for this one," Alexandria coach Whitney Welch said. "We've been working, but we worked for this one; we just put in a lot of hard work.

"Even though we have seven seniors we only have two returning starters. We had a long way to go from the beginning until now. We've still got work to do, but we've been working. These kids are challenging each other, our coaching staff has challenged them, we've put in hours and hours and hours in the gym. The girls answered the call tonight."
Both of their returning starters took home major awards. Senior hitter Lexi Weber was named tournament MVP; she dominated at the net with 17 kills and nine blocks. Teammate Kandyn Blankenship (9 kills, 20 digs) was the top defensive player and Donoho's Lily Grace Draper (17 kills, 21 digs) was named top offensive player.

Of course, every team believes it works hard, but the Lady Cubs have put it in overdrive. There have been three-hour practices and extended film study. They even had a 5 a.m. practice last Wednesday that may have been the wake-up call behind their improved play this week.

"We worked hard, so we deserve it," Blankenship said. "We worked really hard."

"I think as a whole team we worked extremely hard," Weber said. "In the end, that'll get you where you want to be if you have the right culture and the right mindset. I was a little nervous when I got here, but I was like I'm going to leave it all out on the floor for my team and do my best."

The Lady Cubs came out strong. They pulled away from a 6-5 lead in the first set with a 10-1 run highlighted by an ace and three kills from Kailey Dickerson.

The second set was tighter. Donoho led 21-19, then Alexandria scored five straight points, tying it at 21 after Blankenship kept the ball alive with a big dig. The Lady Falcons twice staved off set point before Blankenship finally put it away.

The Lady Falcons got back into the match in the third set. They jumped out to a 9-1 lead and continued pulling away. It was such a dominating set, they appeared to have overtaken the momentum, but the Lady Cubs bounced back in the fourth set, opening leads of 6-4 and 9-5 before pulling away with a 10-1 spree.

"I told them after those first two set losses you've got to treat this like it's a whole new match," Donoho coach Jamie Clendenin said. "When we jumped ahead I think it rattled Alexandria a good bit. I told (his team) you've got to jump on that fourth set or it's not going to be good and they didn't jump on the fourth set.

"It's a good learning experience. You can't just show up and expect to be good. You've got to know that when you show up in these environments you've got to play consistent and you've got to be … a little better than what we played tonight."

Donoho was making its first appearance in the final since 2013. Alexandria has been in the finals each of the last five years, winning in 2018 and 2019 during that stretch.
"It was one of our goals to take it all," Weber said. "This is our senior year, so it was special."
"We were like we're taking it this year," Blankenship said. "When you're a senior, it's different. You're like it's my senior year, it's our last chance at the county championship. I want it."
And they got it.

CALHOUN COUNTY TOURNAMENT
Championship Match
ALEXANDRIA 3, DONOHO 1
(25-17, 25-23, 10-25, 25-18)
KILLS – Alexandria: Kailey Dickerson 16, Kandyn Blankenship 9, Blakeley Mobbs 4, Lexi Weber 17, Crossley Sparks 2. Donoho: Maggie Wakefield 8, Mercy Mangum 5, Mary Marshall Perry 3, Lily Grace Draper 17, Estella Connell 2.
ASSISTS – Alexandria: Crossley Sparks 33. Donoho: Sam Wakefield 28, Maggie Wakefield 1, Naira Rehman 4, Ayessia Siddiqua 1.
ACES – Alexandria: Kailey Dickerson 3, Blakeley Mobbs 2, Lexi Weber 4, Crossley Sparks 1, Devan White 2. Donoho: Sam Wakefield 11, Mary Marshall Perry 1, Naira Rehman 1.
DIGS – Alexandria: Kailey Dickerson 12, Kandyn Blakenship 20, Blakeley Mobbs 3, Lexi Weber 2, Crossley Sparks 12, Devan White 14, Ava Johnson 11, Brie Troup 4. Donoho: Sam Wakefield 16, Maggie Wakefield 13, Mercy Mangum 5, Mary Marshall Perry 3, Lily Grace Draper 21, Estella Connell 1, Naira Rehman 23, Ayessia Siddiqua 5.
BLOCKS – Alexandria: Lexi Weber 9. Donoho: Sam Wakefield 1, Maggie Wakefield 4, Mary Marshall Perry 1, Estella Connell 3.

ALL-TOURNAMENT TEAM
Most Valuable Player – Lexi Weber, Alexandria
Offensive MVP – Lily Grace Draper, Donoho
Defensive MVP – Kandyn Blankenship, Alexandria
THE TEAM
Kailey Dickerson, Alexandria
Crossley Sparks, Alexandria
Devan White, Alexandria
Maggie Wakefield, Donoho
Sam Wakefield, Donoho
Mary Marshall Perry, Donoho
Molly Wilson, Jacksonville
Aly Harris, Jacksonville
Rylee Haynes, Pleasant Valley
Ally Bryant, Pleasant Valley
Abbie Mitchell, Oxford
Lele Ridley, Piedmont
Jordan Crook, Ohatchee
Heather Downs, Wellborn