Etowah Open champ
Randy Lipscomb wins title for third time, trims Chris Cox in a playoff at Briarmeade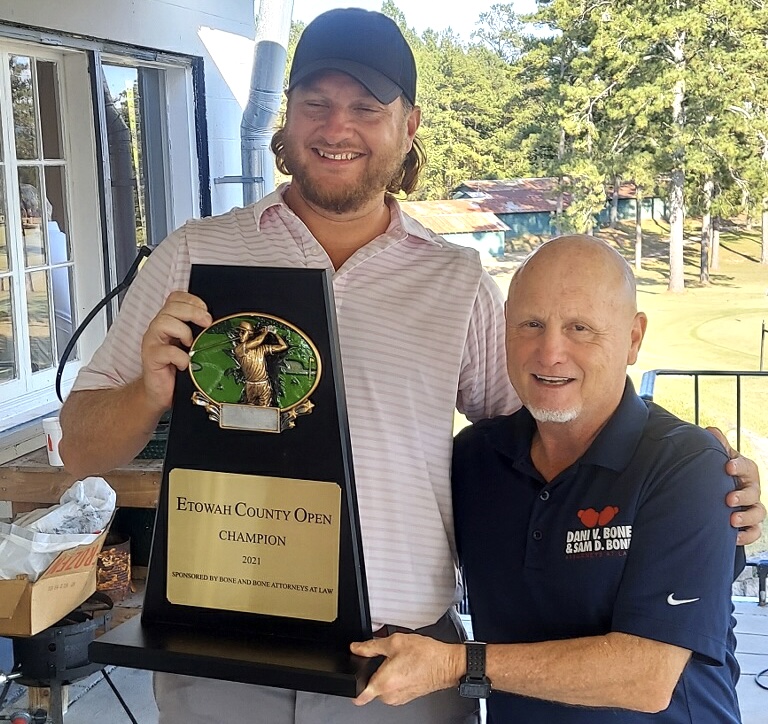 By East Alabama Sports Today

GLENCOE – Left-hander Randy Lipscomb became a third-time winner of the Etowah County Open Sunday when he won a three-hole aggregate playoff over Chris Cox at the Links at Briarmeade.

Lipscomb, the first-round leader, lost a two-shot lead with two holes to play, but came through in extra holes. He shot 7-under-par 135 for the tournament after a final-round 71.

Lipscomb played the three extra holes (10, 17, 18) in even par with a birdie on 17. Cox played them in 1-over.

Lipscomb also won it in 2002 and 2003.

Larry Gilchrist won the senior championship.
Etowah County Open
| | | | |
| --- | --- | --- | --- |
| CHAMPIONSHIP A | | | |
| x-Randy Lipscomb | 64 | 71 | 135 |
| Chris Cox | 65 | 70 | 135 |
| Dane Moore | 66 | 71 | 137 |
| Chad Hare | 68 | 71 | 139 |
| Chris Leonahardt | 70 | 69 | 139 |
| Blake Grisham | 67 | 75 | 142 |
| Trent Ralston | 68 | 79 | 147 |
| x-won in a playoff | | | |
| FLIGHT 1 | | | |
| Larry Gilchrist | 70 | 73 | 143 |
| Jeff McRae | 72 | 75 | 145 |
| Neal Keener | 74 | 72 | 146 |
| Shawn Ledbetter | 74 | 74 | 148 |
| Tee Brown | 74 | 75 | 149 |
| Jimmy Burnett | 71 | 79 | 150 |
| Mark Spurlock | 73 | 77 | 150 |
| Greg Hare | 72 | 79 | 151 |
| Craig Colvard | 74 | 78 | 152 |
| Phillip Eades | 70 | 82 | 152 |
| Tim Fulmer | 73 | 93 | 166 |
| FLIGHT 2 | | | |
| Chris Sanford | 75 | 73 | 148 |
| Larry Moon | 75 | 74 | 149 |
| George Salmon | 75 | 77 | 152 |
| Frank Barnes | 78 | 75 | 153 |
| Mason Dennis | 75 | 79 | 154 |
| Dre Davenport | 76 | 78 | 154 |
| Wayne Downey | 76 | 81 | 157 |
| Stanley Hawkins | 77 | 81 | 158 |
| Drey Reeves | 77 | 84 | 161 |
| Chuck Medders | 78 | 83 | 161 |
| Luke Armstrong | 78 | 84 | 162 |
| Greg Davenport | 77 | 85 | 162 |
| Michael McDowell | 76 | 88 | 164 |
| Jessie Rawls | 77 | 93 | 170 |
| FLIGHT 3 | | | |
| Sam Bone | 81 | 70 | 151 |
| Gary Hopper | 79 | 76 | 155 |
| Drew Anderton | 80 | 77 | 157 |
| Jason Billingsly | 79 | 79 | 158 |
| Norman Clifton | 81 | 78 | 159 |
| Mason Aulsbrook | 81 | 79 | 160 |
| Opie Teague | 81 | 82 | 163 |
| David Beason | 81 | 82 | 163 |
| Tim Gable | 80 | 86 | 166 |
| Anthony Weston | 80 | 86 | 166 |
| Dwayne Martin | 80 | 98 | 178 |
| Lee Waldron | 79 | WD | WD |
| FLIGHT 4 | | | |
| Jeff Hopper | 82 | 76 | 158 |
| Randy Spurlin | 83 | 80 | 163 |
| Derrick Jenkins | 84 | 80 | 164 |
| Patrick Cooper | 82 | 84 | 166 |
| George Morris | 82 | 86 | 168 |
| Steve Roach | 86 | 86 | 172 |
| Frankie Leath | 88 | 84 | 172 |
| Dani Bone | 85 | 89 | 174 |
| Blake Erwin | 86 | 89 | 175 |
| Reggie Simmons | 90 | 87 | 177 |
| Paul Allen | 87 | 91 | 178 |
| Josh Colvard | 88 | 90 | 178 |
| Stephen Jenkins | 92 | 98 | 190 |