Top of their game
Pair of local wrestling coaches earn state Coach of the Year honors by national coaches association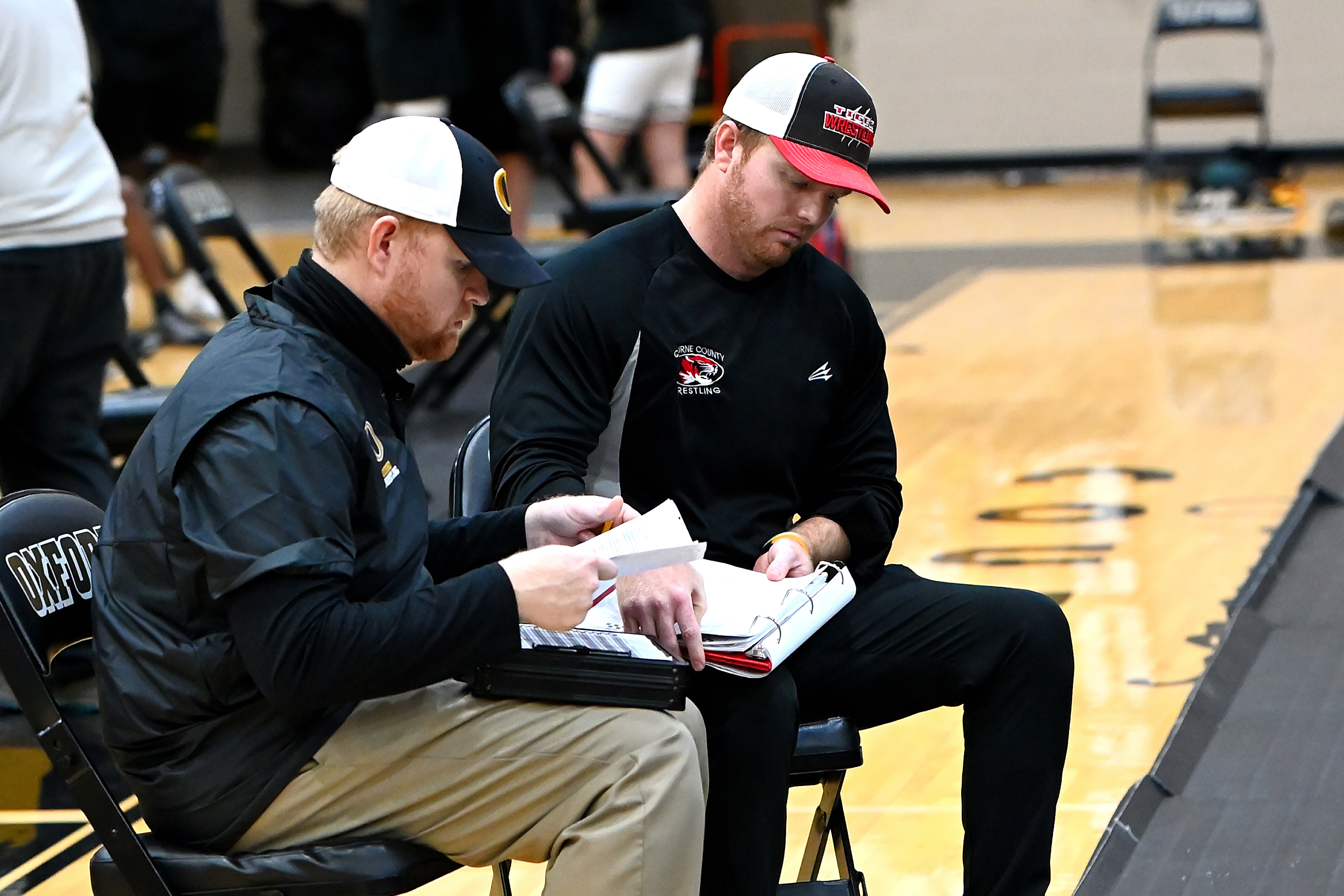 By Al Muskewitz
East Alabama Sports Today

HEFLIN – The Mayfield brothers are a pretty no-nonsense pair of wrestling coaches. So, when Jake got a call from Rusty earlier this summer telling him he'd been named state coach of the year in his first year as a head coach, he knew older brother wasn't messing around.

Jake Mayfield guided Cleburne County to the Class 1A-4A Duals championship in his first year as a head coach and was named Alabama Head Coach of the Year by the National Wrestling Coaches Association. Alexandria's Justin Ball, a former Cleburne County head coach, was named Alabama Assistant Coach of the Year by the same group.

The two honorees will be recognized and receive their certificates at their respective State Championships in February.

"It's a very great accomplish," Jake said. "I know this is an accomplishment that's recognizing me but none of those things happen without a great group of kids and a great group of assistant coaches.

"I'm blessed to have a great group of seniors and great group of kids who truly loved going to work every day, competing and just growing as a team. And I have tremendous assistant coaches, just the attitude and mentality to go to work every day and to continue to grow was excellent."

Jake was his older brother's assistant for 10 years and then assumed the head coach's role when Rusty went to Oxford. He inherited a program that had 10 seniors, beat traditional state champion Ashville in the Class 1A-4A Duals title and finished sixth in the state meet. The Tigers have seven seniors on this year's squad.
Interestingly, Rusty won the State Head Coach of the Year award in 2017-18 when he coached at Cleburne County. Jake was elevated to head coach after his brother went to Oxford.

"It a very cool accomplishment to share with my brother," Jake said. "Being his assistant for 10 years we've shared in a lot of things within the wrestling program, seen a lot of successes and been part of a lot of things with him.

"To be honest with you, any type of success I have in the sport is also a testament to him and the things I have learned from him."

Understandably, Rusty was "extremely proud" of what younger brother and his staff got done this past season.

"I'm extremely proud of the job he, coach Kilgore and coach Tyler Mayfield did with the team this year," Rusty said. "They along with all the kids continued to work extremely hard this year and it paid off for them like I promised many of them it would when they were seventh graders and saw a hungry senior class just get slighted by four points by one of the best, if not the best, programs in the state in any classification in Arab.

"For a guy who I could never get to come out for the sport in Illinois when I was going to two practices a day over winter break, living off of dry salad, canned tuna and jogging a snow-plowed neighborhood in a sauna suit when it was like 10 degrees, I just never could understand what was not to love."

Ball was Cleburne County's coach right before Rusty Mayfield. He left education for private business, but always kept his hand in the sport and actually helped Alexandria get its program off the ground. He was called back to service when Valley Cubs coach Frank Hartzog needed an assistant and has been doing whatever was necessary while running his own flooring company.
"He's does everything; the kids love him," Hartzog said. "He's the type guy who's going to step in wherever you need him, and you don't have to say, he just steps in and does it.
"I guess the biggest thing is not just having a full-time job, but being the boss. He's constantly working. He's got so many irons in the fire it's amazing he's able to help at all. I'm really excited he got it. I was hopeful but when you put somebody up for a vote for that you just never know."