Girls night out
Oxford splits its first varsity girls flag football games, earns first-ever victory in shutout of Southeastern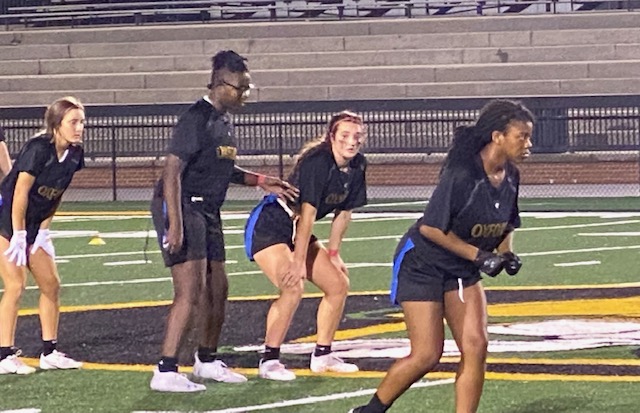 By Al Muskewitz
East Alabama Sports Today

OXFORD – Reygan White and her teammates will remember the 21st night of September as the night they made history.

It's the night they fulfilled a lifetime fantasy of playing a real football game in their own stadium.

White and her Oxford teammates turned Lamar Field into their personal boogie wonderland Tuesday night, splitting the first two girls varsity flag football games in the school's history against Moody and Southeastern.

The Lady Jackets lost their first game Moody 19-12, coming from 19-0 down to make it close, then rebounded to shut out Southeastern 18-0.

"Everybody was so excited, everybody was just absolutely so excited," Oxford coach Wes Brooks said. "I think that is really cool because everybody remembers the first.

"Hopefully it'll catch on and keep rolling and these girls will have kids and grandkids one day who will be able to say my grandmother played on the very first flag football team."

The AHSAA sanctioned girls flag football last spring for play this fall. Oxford is one of about 60 schools statewide declaring to play. Games got underway last week. An all-classification championship game will be played the Wednesday before the Super Seven at Protective Stadium in Birmingham.

It's a non-contact sport, as the officials explained to the Oxford sideline after a pass interference penalty in the Southeastern game, but you'd have a hard time convincing people of that the way junior Sawyer Brooks came in to stop the first play in Lady Jackets' history. Teams play on an 80-yard field (between the 10s at Lamar Field), have first downs at the two 30s and 50, and can go for one, two or three points after touchdowns.
White, the Jalen Hurts in Brooks' Jalen-Tua type quarterback system, was the shining star for Oxford. She scorched the earth, ran like the wind and provided the fire, rushing for a total of 200 yards and scoring four touchdowns in the two games.

The junior ran for 131 yards and two fourth-quarter touchdowns against Moody and scored on an 8-yard run and 44-yard punt return in the program's first victory over Southeastern. She had even longer run against Moody and another 11-yard touchdown run against Southeasten called back by penalties.

"It's pretty crazy because girls at a young age who play sports are all like, 'Oh my gosh, it would be so cool if we could play football 'and it's finally happening," White said. "It still doesn't seem real that we were just out on that field. And all the support that came with it, it was just amazing. It's just really crazy, hard to believe still."

"Making history is something I've always wanted to do," said Olliyah Kelley, who Brooks calls the Warren Sapp of his defense and then had to explain it. "Like Reygan said, girls always used to say it would be so cool to play football and although we're not tackling it's still great to get the opportunity. I used to play softball, but I got injured so I can't play anymore and this is kind of like a replacement of that and it makes me feel the exact same. I'm starting to get a love for it."

The defense was the star in the nightcap. Oxford held Southeastern to 17 net yards. The Lady Jackets were threatening to hold Southeastern to negative yardage until the Lady Mustangs completed a 20-yard pass late in the game.

"The containment, the old-school defensive line containment was the big thing," Brooks said. "Even if they were able to get outside of us, they had to adjust and run wider, which gave our speed time to get the ball. The biggest difference: Anna Tapley, Olliyah Kelley, Kirsten Davis. We had girls laying out and diving for balls. It's a non-contact sport, but there was a lot of contact."
Now that these games are gone, the Lady Jackets' season continues next week when they get away to Homewood to play the Lady Patriots and Hewitt-Trussville.

"It's kind of hard to imagine," Sawyer Brooks said. "You hear all these stories about people saying I was the first to do this, I was the first to do this. It's insane, like I'm now going to be able to say I was on the first flag football team. It's very exciting."

Extra credit: How many Earth, Wind & Fire songs can you find in this story?
Moody 19, Oxford 12
| | | | | | |
| --- | --- | --- | --- | --- | --- |
| Moody (1-0) | 6 | 7 | 6 | 0 – | 19 |
| Oxford 0-1) | 0 | 0 | 0 | 12 – | 12 |
M – Tori Pyles 50 run (run failed), 9:29 1Q
M – Skylar Black 12 pass from Maddie Barfield (Jaylon Fields pass from Maddie Barfield), 4:22 2Q
M – Alex Harvard 9 pass from Maddie Barfield (run failed), 7:35 3Q
O – Reygan White 11 run (pass failed), 8:05 4Q
O – Reygan White 44 run (pass failed), 0:05 4Q
Oxford 18, Southeastern 0
| | | | | | |
| --- | --- | --- | --- | --- | --- |
| Southeastern (0-2) | 0 | 0 | 0 | 0 – | 0 |
| Oxford (1-1) | 6 | 6 | 6 | 0 – | 18 |
O – Reygan White 8 run (pass failed), 7:27 1Q
O – Reygan White 44 punt return (run failed), 1:50 2Q
O – Sawyer Brooks 22 run (run failed), 7:30 3Q