Parnell brings Saks back
Wildcats' quarterback highly motivated, leads team to big region victory over Ohatchee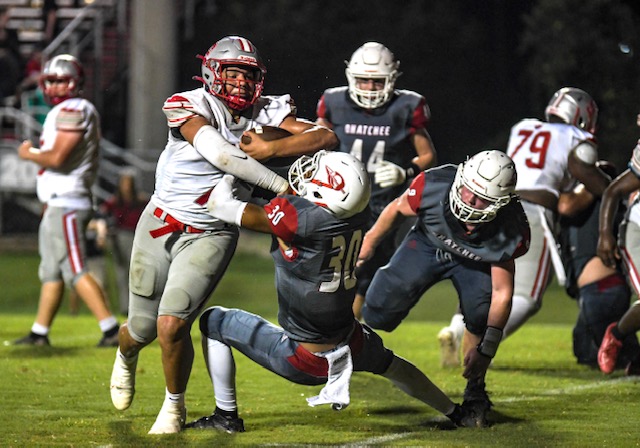 By Al Muskewitz
East Alabama Sports Today

OHATCHEE — Sean Parnell came into his team's biggest game of the year with a lot of motivation and he played like it.
The Saks quarterback was back in his old stomping grounds, playing in his first varsity game on the Creekbank since leaving Ohatchee in junior high and he was playing less than three hours after attending his stepfather's funeral.
He responded by rushing for one touchdown and throwing for a pair of two-point conversions in leading the Wildcats' 16-7 win over Ohatchee that gets them back in the picture for a Class 3A home playoff game.
Parnell rushed for 53 yards on 22 carries and completed 6 of 7 passes for 97 yards. And he also played cornerback for the first time ever to help set the edge, because that's what his team needed him to do.
His stepfather, Michael Terrell, passed away the day before last week's game, but it didn't really hit him until this week. He got on the team bus for the game still wearing his suit from the funeral. He didn't even think about not playing, for one, because his dad would've wanted him to play and he wouldn't leave his teammates in a lurch.
"You could say I had some extra motivation, but I just try to play like that every week," Parnell said. "It was fun to play on my hometown field against all my buddies; that was a motivator because they beat us last year and I didn't want to lose twice.
"As far as my dad, well, last game was for him, this game was for him, too. The rest of the games my whole career will be for him."
Parnell scored the Wildcats' first touchdown on a 1-yard run that capped a 12-play drive that had a 45-yard touchdown pass cut in half by a penalty. He followed it with a two-point conversion pass to Rickey Garrett to give the Wildcats an 8-7 lead.

He also threw a two-point conversion pass to Jalen McCants after Garrett's 1-yard touchdown run that capped a 13-play drive to open the second half. Both of the two-point conversion passes came after the Wildcats were penalized on the previous snap.
"It's been a tough couple weeks for him; he's been through a lot," Saks coach Jonathan Miller said. "But if there's any kid who can handle everything he's been through and come out here and perform like he did tonight, it's Sean. 
"He just persevered tonight. He was on the money tonight. To be honest with you I was not concerned with him one bit. I knew he was going to play a great game, and he came out and did it."
Chris Findley coached the game for Ohatchee as head coach Scott Martin was on administrative leave following an internal incident at the school earlier this week.

The Indians (2-3, 2-1) played the same ball-control offense with Findley calling the plays and the same hard-nosed defense under the direction of Blake Jennings.

Quarterback Eli Ennis led the Indians with 173 yards rushing and scored the game's first touchdown, but Saks also made three fourth-down stops, two in the fourth quarter.

"This is a family," Findley said. "Once that ball is kicked off, it's football as usual. They fought their tails off and I'm proud of them. We're all proud of them."
The win moved Saks (4-1, 2-1) into a tie for second place in Class 3A Region 5 with the Indians and Hokes Bluff, one game behind undefeated Piedmont. The advantage the Wildcats have going forward is they've already played the toughest part of their schedule (Piedmont, Wellborn and Ohatchee). They play Hokes Bluff in their final regular-season game of the year.
"This was a big step from last year," Parnell said. "Last year we lost all three games and it was like a drought and it helped us for the next stretch when we won seven games; we didn't want to lose anymore."
Saks 16, Ohatchee 7
| | | | | | |
| --- | --- | --- | --- | --- | --- |
| Saks (4-1, 2-1) | 0 | 8 | 8 | 0 — | 16 |
| Ohatchee (2-3, 2-1) | 0 | 7 | 0 | 0 — | 7 |
O – Eli Ennis 1 run (Brent Honaker kick), 8:55 2Q
S – Sean Parnell 1 run (Rickey Garrett pass from Sean Parnell), 2:55 2Q
S – Rickey Garrett 1 run (Jalen McCants pass from Sean Parnell), 4:18 3Q
| | | |
| --- | --- | --- |
| Saks (16) | | Ohat (7) |
| 12 | 1st D | 11 |
| 39-98 | Rush | 43-197 |
| 6-7-0 | C-A-I | 3-8-0 |
| 97 | Pass | 26 |
| 2-0 | F-L | 0-0 |
| 1-35.0 | Punts | 3-33.0 |
| 5-25 | Pens | 7-40 |