Tigers roaring
Cleburne County beats Munford 47-20 behind big game from McGrinn, 4-0 for first time since 2007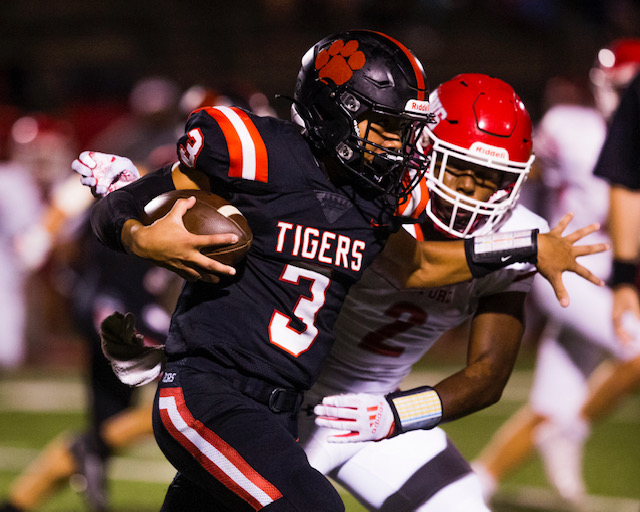 By Al Muskewitz
East Alabama Sports Today

HEFLIN — Kyler McGrinn admitted it wasn't a lot of fun last year watching from the sideline with a broken elbow unable to help while his Cleburne County football teammates battled through another tough season.

He's having a whole lot fun this year, though, and the Tigers are riding the wave.

McGrinn, the Tigers' sophomore quarterback, had another breakout game Friday night, accounting for 381 yards of offense and six touchdowns as the Tigers roared past Munford 47-20 to remain undefeated. He had 181 yards and five touchdowns rushing and passed for 200 yards and another score.

The Tigers are 4-0 for the first time since 2007 and McGrinn, who was 2 years old when it happened last, is a big reason for it. In four games this season he has rushed for 423 yards and passed for 533. He's had more than 130 yards rushing and passing in the same game twice.

"He's a great player, but better than that, he's a great kid who does all the right things, so that's why good things happen to him," Tigers coach Joby Burns said. "From being a defensive guy, any time we face a team that's got a quarterback who can run it and throw it (it's a challenge). And he's got good players around him. He's a special player. You never have to worry about his effort."

A year ago, McGrinn shared time at quarterback with Beau Clay and played three games before it was discovered he had broken the growth plate on the inside of his right (throwing) elbow. He had the surgery and spent the rest of the season as a spectator, watching the Tigers struggle to score points and miss the playoffs by two games.

"(Last year) wasn't fun at all," he said. "It's a lot better actually getting to play this year and not having an injury and playing with my brothers. Last year not getting to play hurt me a lot because I wanted to be out there. This has been fun. We haven't been 4-0 in a very long time and I think we are enjoying this a lot."

He certainly was having a good time against the Lions. He completed eight passes to five different receivers in the first quarter as the Tigers opened a 14-7 lead. He scored their first touchdown, answering Munford's game-opening score, on a 3-yard run and then threw a 23-yard pass to Grant Harcrow for the go-ahead score.

He would have had even more passing yards in the game had a 90-yard swing pass that went for a touchdown in the second quarter not been called back by a penalty they're still looking for on the replay. He also had several deep passes that slid through the arms of open receivers.

McGrinn scored on a 32-yard run late in the second quarter to snap a 14-14 tie and had scoring runs of 1, 54 and 21 yards in the second half.

"Their quarterback is a super talented kid; I loved watching him on film this week," Munford coach Michael Easley said. "He's super athletic, does a good job in the read game, and makes good decisions for them getting north and south. He's good."

That denied touchdown seemed to derail McGrinn's passing prowess for a while, but he got back on track with back-to-back completions for 56 total yards late in the third quarter.

Munford quarterback Connor Morgan also put up some big numbers through the air. He completed 18 of 37 passes for 212 yards and two touchdowns.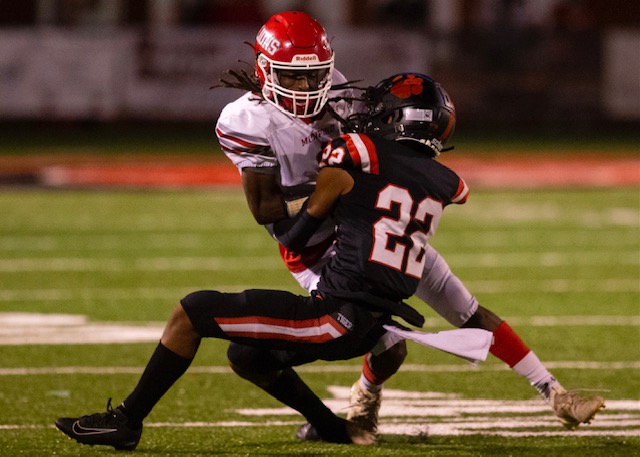 Cleburne County 47, Munford 20
| | | | | | |
| --- | --- | --- | --- | --- | --- |
| Munford (2-2) | 7 | 7 | 0 | 6 — | 20 |
| Cleburne Co. (4-0) | 14 | 6 | 13 | 14 — | 47 |
M – Jacoby Young 15 pass from Connor Morgan (Dakota Frank kick), 10:50 1Q
C – Kyler McGrinn 1 run (Noah Morgan kick), 8:52 1Q
C – Grant Harcrow 23 pass from Kyler McGrinn (Noah Morgan kick), 1:42 1Q
M – Jacoby Young 14 run (Dakota Frank kick), 1:27 2Q
C – Kyler McGrinn 32 run (kick failed), 0:34 2Q
C – Devante Cantrell 4 run (pass failed), 4:39 3Q
C – Kyler McGrinn 1 run (Noah Morgan kick), 1:57 3Q
M – Riley Brown 71 pass from Connor Morgan (run failed), 10:57 4Q
C – Kyler McGrinn 54 run (Noah Morgan kick), 5:42 4Q
C – Kyler McGrinn 21 run (Noah Morgan kick), 1:01 4Q
| | | |
| --- | --- | --- |
| Mun (20) | | Cleb (47) |
| 12 | 1st D | 23 |
| 28-50 | Rush | 35-260 |
| 18-37-3 | C-A-I | 12-29-2 |
| 212 | Pass | 200 |
| 1-0 | F-L | 1-1 |
| 5-32.8 | Punts | 5-26.4 |
| 14-102 | Pens | 16-140 |