Falcons fall short
Victory Christian dominant on both sides of the ball, hand injury-plagued Donoho 28-7 defeat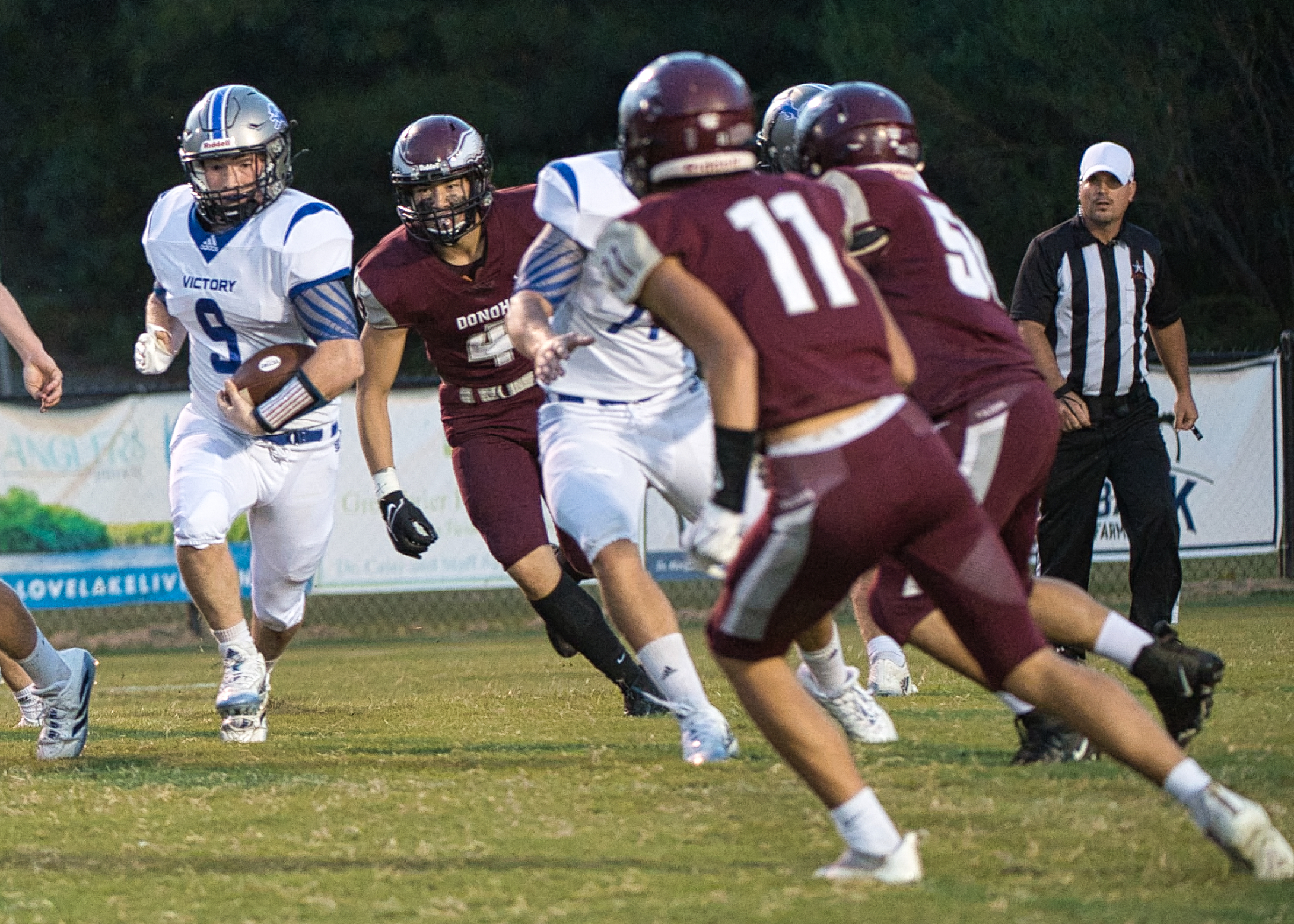 By Dean Harrell
For East Alabama Sports Today

The Victory Christian offense turned from a slowly moving crew into a fine-tuned, running machine during its first region game against Donoho Friday night.

The Lions, looking forward to defeating former coach Mark Sanders' Falcons on the road, finally got their wish after cruising to a 28-7 victory. While both teams were beginning region play tonight, the Lions were certainly pleased with the outcome.

Unfortunately, Sanders wasn't there. He missed the game due to COVID quarantine.
Victory Christian, coming off a forfeit win last week, was eager to finally get back onto the field. Meanwhile, the injury-riddled Falcons were on edge this week after the wild loss against White Plains last week.
The Lions' three musketeers of Riley Meadows, Shepard Sargent and Andrew Ochoa penetrated the Falcons defensive line like a hot knife through butter all night long, tallying a combined 247 yards on the ground.
"My linemen opened up really big holes for me and getting into the secondary was easy," said Meadows.
The Lions controlled the game from the second quarter all the way through the final whistle. They scored three touchdowns in the quarter with Meadows responsible for two of them. He finished the night with 71 yards rushing, 70 yards receiving and three total touchdowns.
"We've been struggling with execution lately, but tonight we were finally able to hold onto the football and execute tonight," said Lions head coach Bruce Breland.
The unsung heroes of the Lions fantastic rushing success came from their dominant offensive line led by Justice Hurley and Billy Davenport. The young Falcons defense was stunned from the ferocity at the line.
"All of those rushes I had are all due to my line blocking for me tonight. They played amazing," said quarterback Sargent.
The Lions' defense was almost as dominant as the offense, forcing three turnovers. They forced Donoho quarterback Ridge Hopkins into throwing two interceptions, along with allowing only six completions in 26 attempts.
"We let them have too many plays in the backfield tonight, so our line play needs to improve for next week," Falcons interim coach Karl Harris said.
Victory Christian 28, Donoho 7
| | | | | | |
| --- | --- | --- | --- | --- | --- |
| Victory | 0 | 21 | 0 | 7 – | 28 |
| Donoho | 0 | 0 | 7 | 0 – | 7 |
VC – Shepard Sargent 1 run (PAT failed), 11:24 2Q
VC – Riley Meadows 13 run (Riley Meadows run), 4:28 2Q
VC – Riley Meadows 16 yard pass from Shepard Sargent (Riley Meadows kick), 0:28 2Q
D – Grant Steed 10 pass from Ridge Hopkins (Grant Steed kick), 9:58 3Q
VC – Riley Meadows 5 run (Riley Meadows kick), 10:12 4Q
| | | |
| --- | --- | --- |
| VC (28) | | Don (7) |
| 16 | 1st Downs | 7 |
| 53-274 | Rushing | 10-13 |
| 5-10-0 | C-A-I | 6-26-2 |
| 77 | Passing | 56 |
| 12-85 | Penalties | 7-50 |