Making it interesting
Brennan Clay overcomes some 18th-hole drama to win Pine Hill Invitational for second Tour title this season; Martin scores ace; will be updated
| | | | |
| --- | --- | --- | --- |
| PINE HILL FINAL BOARD | | | |
| Brennan Clay | 66 | 70 | 136 |
| Wesley Jenkins | 69 | 69 | 138 |
| x-Clay Calkins | 73 | 66 | 139 |
| Gary Wigington | 68 | 72 | 140 |
| Chase Hollingsworth | 71 | 70 | 141 |
| Chad Calvert | 72 | 69 | 141 |
x-Championship B winner, third overall


By Al Muskewitz
East Alabama Sports Today

Brennan Clay has never won a tournament making an 8 on the final hole before. Heck, he can't remember the last time he even made an 8 in competition.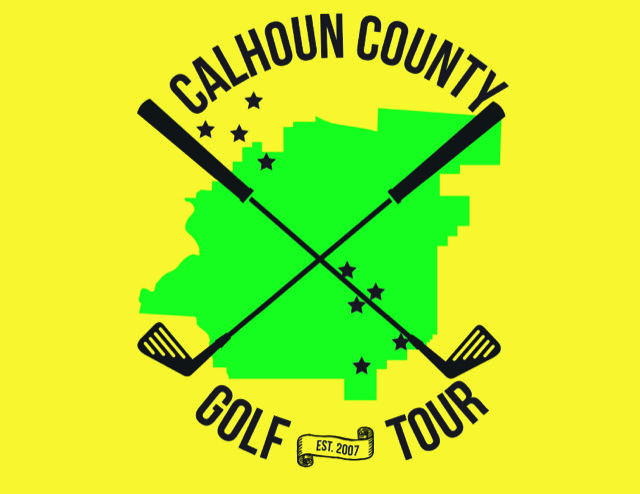 Good thing he had a big lead.

Clay won the Pine Hill Invitational Sunday for his second victory on the Calhoun County Golf Tour this season despite the dreaded snowman on the final hole that, while not making dinner taste as good, should in no way diminish his strong play to that point.

He went to the last hole with a five-shot lead, then lost his tee shot to set the entire final exchange in motion. He shot a final-round 70 for a two-day total of 8-under-par 136 and won by two over recently graduated White Plains senior Wesley Jenkins.

With the win, Clay moves into first place in the Calhoun County Golf Tour Player of the Year standings for the first time, 2.5 points ahead of Ty Cole.

"What I told Cal (Lambert, his brother-in-law) in the cart was I've got a lot of good breaks in this tournament, there was the bad break that I was probably owed today," Clay said. "I was glad I had built up a big lead."

He topped his re-tee down the fairway – "it wasn't going left, I can tell you that," he said – toe-hit his next shot, hit a hybrid over the water, wedged it to the green and two-putted to seal the victory. "After the hybrid, it was OK," he said.

Up to that point Clay had put a brilliant display of shot-making and putting. He had six birdies in his first 17 holes, was 5-under for the day, and had birdied all seven of the par-5s he had played on the weekend.

"That was very cool," he said of the lead. "I couldn't have been more relaxed and calm on 18 tee the first time around. The nerves started going after I hit that tee shot again, but I just kept telling myself he's going to have to do something pretty wild, hole-out for eagle or something (to lose the tournament)."

Jenkins had similar thoughts as Clay's troubles were unfolding.

"I figured I've just got to hold my place and battle it out," Jenkins said. "But then he did that stuff on 18 and I was like I don't think it's possible but if it is, he's trying it."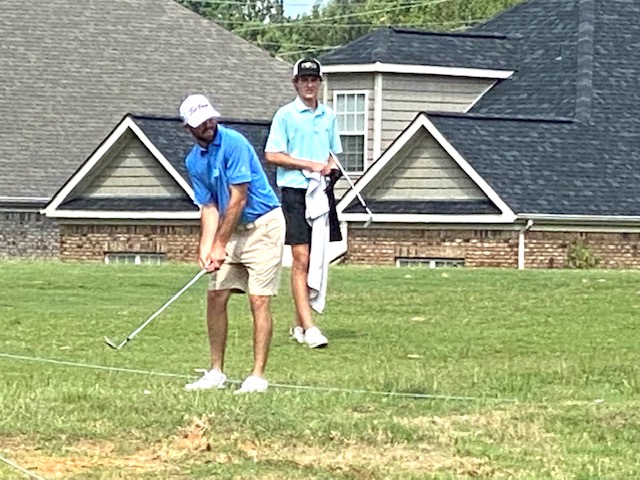 Jenkins had been doing some incredible things himself for most of the round. The way he was rebuilding momentum it was as if he was doing his own impersonation of The Freeze, the masked runner at Atlanta Braves games who gives his opponents a head start just to run them down at the end.

After a couple loose bogeys early in the round to fall five shots back, he picked up a shot on Clay on 4 and 5, a shot on Gary Wigington on 6 and another shot on Clay with a chip-in birdie on 7. He made an incredible par save off a blind second shot on 9 and cut the margin to two with a birdie on 10 that "gave me a lot of hope" before Clay matched him with a birdie on 11 that began separating them from defending champion Wigington.

"That kid has so much talent, he can make so many damn birdies – and he did," Clay said. "I kept telling Cal I'm going to have to make one of top of him, and I did on 11 – that was big."

Clay started pulling away when Jenkins three-putted 14 for bogey, made birdie to Jenkins' adventurous par on 15, and Jenkins bogeyed 16 to make the margin five.

"It was huge to get that birdie putt (on 15)," Clay said. "A three-shot lead I didn't like going into 16 because anything happen on 17 and 18 – like you saw."

"Overall (the round) was good," Jenkins said. "I just had stupid shots and it caused me to have stupid holes."

The day's round also featured a hole-in-one by Scott Martin.
The Ohatchee High School football coach, playing in his final round of the season before starting training camp Monday, with out with a bang by acing the 170-yard 16th hole with a 5-iron. It was his sixth ace all-time and third in competition. It was the fifth ace in a County Tour event since 2018.
"That's a good way to go out," Martin said. "The funny thing about it was Jeremy (McGatha) had hit right before me and hit it inside 18 inches. He said I don't even know if I can make that. I said I'll swap with you right now and the next shot I hit goes in. He goes, is that deal on?"
Clay Calkins shot the best round of the day, a personal Tour best 66, and won the Championship B flight while finishing third overall. It came one day after his 57th birthday. He made seven birdies over his last 14 holes.
"I played well," Calkins said. "I played like I played yesterday – I hit 12 fairways both days – but the difference is I made some putts today (he had 11 one-putts).
"I'm hitting it solid, missing it in the right place. Listen, I'm Championship B flight, five or six groups behind the leaders, no pressure. It's easy to go out there and just relax and play golf. So, I just hit it good and made some putts today."

NOTES: Clay's first win this season came in the Anniston City Championship at Cane Creek. Cole has won three times and Jacob LeCroy once … After his ace, Martin played his last two holes of the season par-par to shoot 69 and finish second in Championship B … Pine Hill was the second course Clay worked at when he got into the golf business after Gadsden CC. "I finally got a win on a course I played a million times at," Clay said. "Here, Silver Lakes and Gadsden, I know those courses like the back of my hand. Finally, I get a win at one of them" … The next event on the County Tour schedule in the Gadsden CC Invitational in two weeks.