Managing just fine
Just two summers ago Hayden Howard was a White Plains football manager, today he's the Wildcats' starting quarterback; includes Calhoun County Media Day schedule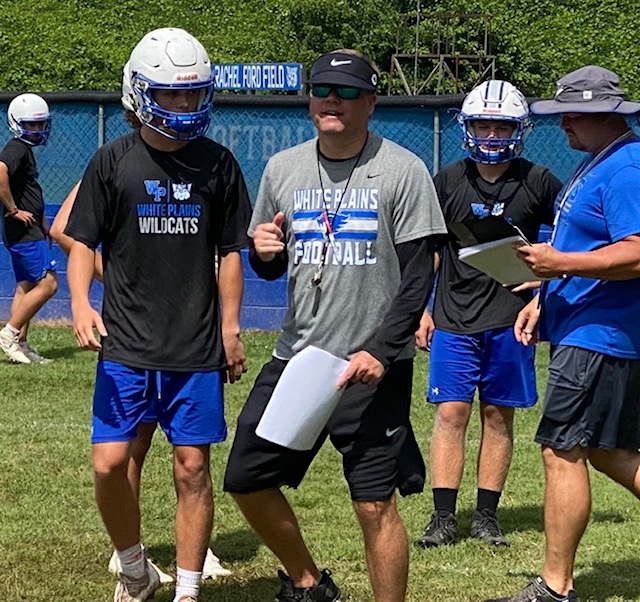 By Al Muskewitz
East Alabama Sports Today

Hayden Howard leaned back on the couch in the locker room at the end of a hot practice and reflected on the road he'd traveled to be a part of the White Plains football team. It's been a pretty high-speed ride.
In the short span of three summers he has gone from being one of the team's equipment managers to the projected starting quarterback on a team that aspires for its first winning season in nearly 20 years and a spot in the playoffs for only the second time in school history.

If it's going to happen, the one-time "random kid in the hallways at school" will be the guy who will get them there.

"It's crazy," he said. "It just shows that hard work pays off and if you really want something you just got to go get it. You can't let yourself hold you back."

The first time White Plains head coach Chandler Tyree ran across his quarterback of the future was shortly after he had gotten the job. Team manager Zach Goss burst in the office one day with Howard tagging along and told the head coach his buddy was going to help him with the manager's duties that season.

The chunky sophomore had been planning to ask the new coach if he could play, but it was so late in the process that spring training and summer workouts had long since concluded, so he remained content with a role behind the scenes. He just wanted to help.

That meant filling the water jugs, getting the dressing room ready, setting up pylons on the field, taking it all down after the game and a bunch of other stuff. Occasionally, it meant dashing back to the dressing room to get a player a replacement piece of equipment, like the night he tore back up the hill to get Kahlil Williams a new helmet without the player missing a series.

"We kept things straight around here," Howard said. "It was all (four) hands on deck."

He did it all without complaint, all the time developing a camaraderie with the players who would soon become his teammates. And the way he went about a virtually invisible job didn't go unnoticed.

"The way Hayden handled himself in the first year of doing the jobs nobody really wants to do, seeing how he handled his business there, let me know when he decides he wants to come out for football he's going to be all right," Tyree said. "We didn't know exactly what we were going to get out of him but he works his tail off."
| | | | |
| --- | --- | --- | --- |
| | | WHITE PLAINS | |
| | | Aug. 20 | at Ranburne |
| | | Aug. 27 | Donoho |
| | | Sept. 3 | Cleburne Co. |
| | | Sept. 10 | at Jacksonville |
| | | Sept. 17 | Cherokee Co. |
| | | Sept. 24 | Elmore Co. |
| | | Oct. 1 | at Anniston |
| | | Oct. 15 | Munford |
| | | Oct. 22 | at Handley |
| | | Oct. 28 | at Pleasant Val. |
Howard finally got the nerve to ask the coach about playing at the end of the season. He hadn't played football since the youth leagues – where he fell in love with the quarterback position – but Tyree liked the intangibles he'd seen in him and gave him a shot.

He earned a start in last year's season opener at wide receiver, but when Brody Baker emerged as a threat he spent the rest of the year as a regular on the special teams. And then at the end of that season he approach Tyree about becoming the quarterback, a request that wasn't as far-fetched as it might appear on the surface.

It was what Howard did for Tyree's baseball team in the spring that really let the coach know he could have a more impactful role on the football team.

"We put him on the mound and he was a bulldog," Tyree said. "He attacks the game. He attacks the game the way you want to see a quarterback actually attack the game.

"You want to give every kid an opportunity to do what they feel like they can to help the team. A lot of kids say they want to do something but are they willing to put in the work? He's not a heavy, vocal guy, but when he's running sprints it's 100 percent every rep. When he's going to practice, it's 100 percent. He wants to get better.

"When you've got a kid like that who wants to work, he's going to be okay. When you see the work ethic there, he's going to be fine … I feel like by the time the season gets here he's going to know our offense inside and out because he's going to study the playbook, he's going to watch film. He's going to be a guy you can depend on when you get to a game situation to know what's going on or why we do something."
What Howard has been able to do is not without precedent. The University of Minnesota elevated an equipment manager to scholarship quarterback back in 2006. Basketball Hall of Famer Scottie Pippen started out as a manager at Central Arkansas. Michael Jordan even got cut once.
Within Calhoun County, all but two of coach Steve Smith's quarterbacks in his 15 seasons at Piedmont have been managers at one time in their upbringing.
The Wildcats have two other quarterbacks on the roster, Dylan Barksdale, last year's backup, and eighth-grader Braxton Borrelli, but Howard won the job fair and square. And he'll be one of the two players that accompanies Tyree to Friday's Calhoun County Quarterback Club Media Day, not because he's the quarterback and you'd expect him to go, but because he earned that right as the face of the program, because he's "the Alpha of doing things the right way on our team."
The other advantage to playing Howard at quarterback is Barksdale also plays out on the wing, and with Howard under center it gives the Wildcats two athletes on the field as they strive to put the best 11 out there at the same time.
ON THE RADIO
County football
broadcasts
Alexandria
WHMA-95.3
Jacksonville
WDNG-95.1
Ohatchee
WLJS-91.9
Oxford
WVOK-97.9
Piedmont
WCKA-810
Saks
Mixlr podcast
Wellborn
WVOK-1580
Tyree doesn't expect Howard to be the second coming off his predecessor, Jaden Chatman. He's just looking for the quarterback to manage the game, run the offense the way it's supposed to be run and make the throws the few times the Wildcats are expected to pass.
He hadn't thrown a pass in a real game since eighth grade. He did throw three in the spring game against Moody with a limited playbook and completed all of them, although one was to a Moody defender who made a diving interception on a ball Howard was trying to throw away. He did have a good night running it.
As for his goals this season, Howard is looking for at least a .500 season and a playoff berth. The Wildcats last had a winning record in 2003 (6-4), but have had five 5-5 seasons since (but not since 2013). Their only playoff appearance was in 1994.

They have increased their win total each of the last four years after a winless season in 2016.
"We've only had one other team in school history make the playoffs so that would be something," he said. "It'd be good to make to playoffs. I haven't really thought about any (personal goals). I'm just trying to help us win."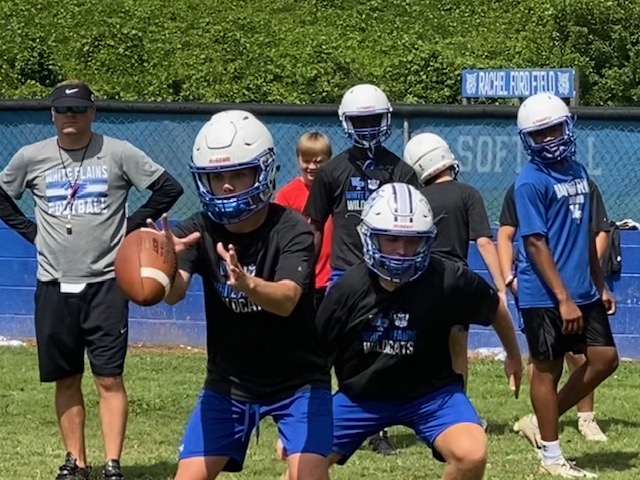 Calhoun County QB Club Media Day
Here is the schedule for Friday's Calhoun County Quarterback Club Media Day at Anniston Country Club (head coach and 2 players are scheduled)
| | |
| --- | --- |
| Friday | At Anniston Country Club |
| 10:15 | Anniston (Coach Rico White, DB Antonio Kite, QB Kamron Sandlin) |
| 10:35 | Pleasant Valley (Coach Jonathan Nix, QB-FS Brayden Maye, RB-LB Zeke Curvin) |
| 10:55 | Weaver (Coach Gary Atchley, OL-DL Brayden Character, OL-DL Brent Parks) |
| 11:15 | Alexandria (Coach Todd Ginn, OL-DL Braxton Tucker, QB-DB Javais McGhee) |
| 11:35 | White Plains (Coach Chandler Tyree, QB-FS Hayden Howard, RB-LB Walker Osteen) |
| 11:50 | Break |
| 12:15 | Oxford (Coach Sam Adams, OLB-S Jordan Dobbins, OL Kyle Pilkington) |
| 12:35 | Wellborn (Coach Jeff Smith, OL-MLB Brayden Dempsey, RB-DB Jesse Lewis) |
| 12:55 | Saks (Coach Jonathan Miller, QB-OLB Sean Parnell, OL-DL Breslin Robinson) |
| 1:15 | Ohatchee (Coach Scott Martin, LB Wyatt Reaves, QB Eli Ennis) |
| 1:35 | Jacksonville (Coach Clint Smith, FB-LB Q Long, RB-OLB JaeTaj Morris) |
| 1:55 | Donoho (Coach Mark Sanders, WR-RB-DB Grant Steed, RB-LB Connor Goodson) |
| 2:15 | Piedmont (Coach Steve Smith, LB Landon Smith, WR Austin Estes) |
Talladega County Coaches Media Day
| | |
| --- | --- |
| Thursday | at Talladega Superspeedway |
| 11:00 | Fayetteville (Coach John Limbaugh, Pacey Deloach, Dakota Ogle, Cadence Barrett) |
| 11:30 | Talladega (Coach Shannon Felder, Jaylon Cunningham, Ardarius Wilson, Malik Williams) |
| Noon | Sylacauga (Coach Rob Carter, Maleek Pope, Brayson Edwards, Luke Thompson) |
| 12:30 | Childersburg (Coach Johnny Johnson, Skyler Rice, Elijah Sims) |
| 1:00 | Winterboro (Coach Skylar Mansfield, Jake Travis, Dawson Mosley, Jashaslin James) |
| 1:30 | Talladega Co. Central (Coach Chris Mahand, Jhovi Cole, Javari McKenzie) |
| 2:00 | Lincoln (Coach Matt Zedaker, Jack Poarch, Zach Wren, Chorion Kelly) |
| 2:30 | B.B. Comer (Coach Adam Fossett, Dayleon Welch, Devonta Carmichael, John Murphy) |
| 3:00 | Alabama School for the Deaf (Coach Paul Kulick, Denijah Swain, Stacey Phillips) |
| 3:30 | Munford (Coach Michael Easley, Kyler Gibson, Jacoby Young, Connor Morgan) |