Jam-up June
Oxford's girls run their June record to 12-0, sweeping way to Champions Play Date Tournament title

By Al Muskewitz
East Alabama Sports Today

Melissa Bennett has said it's not about wins and losses in June, but don't think for a minute anyone in the Oxford girls basketball program is going to apologize for what they've done this month.
The Lady Jackets ran their June play dates record to 12-0 Thursday with a 49-34 win over Fyffe in the championship game of the Champions Girls Play Date Tournament. They defeated Ranburne and area rival Springville on their way to the title game.
"We wanted to get challenged this summer and we played good teams; these are respectable wins," Bennett said. "We wanted to be tested. We knew we had some pieces in place – we had almost everybody coming back – but we wanted to see what we were made of.
"We have very high expectations, we have very high goals, for this group, and we're not going to drop those standards because that would be a disservice to them."
Rising senior Leah Taylor led the Lady Jackets in the final with 19 points and six rebounds. Xai Whitfield had 13 points and Kezeiah Mickler had eight.
The Lady Jackets swept through games at the Supreme Courts in Guntersville, an earlier date at Champions and Jacksonville State prior to Thursday. Overall effort and defensive intensity have been the key. They forced Fyffe into 27 turnovers – 19 steals – off which they scored 27 points. Mya McGrue and Whitfield combined for nine steals.
"It means a lot (to be 12-0)," rising senior forward Lauren Ellard said. "It's a big step from last year and especially the past years I've been at Oxford because personally this has never happened to me, and I think we have a really good chance of going to the state playoffs this year."
"The seniors sort of got together and we really don't want to lose another game," Taylor said. "We've been working hard and it's really paying off. It's like we're in a rhythm and I don't think it's going to stop any time."
Whitfield capped the Lady Jackets' day with a flourish. With the clock slipping into the final seconds, the rising sophomore drove the lane, dribbled between her legs in stride and laid in the final basket of the game.
"I was just trying to have fun," she said. "I asked Leah, 'Should I do it?' I had the chance and I did it. I was practicing it, so …"
"I didn't really believe she was going to do it," Taylor said. "I can't believe she did it – and then made it. Look at her."
Is it the kind of thing you might see back here when the Lady Jackets start playing games for real in late November?
"If we're up by 15-plus, she can," Bennett said. "You better be glad you made it."
The Lady Jackets have five games left in their month of play dates – two Wednesday at Heflin and three in Guntersville Thursday. What would it mean to go through June 17-0?
"It would be a credit to the girls and what they've put in,"" Bennett said. "We focused on a few things that we thought really made the difference in our losses last year and if we go 17-0 it's their confirmation of the work that they're doing is paying off."
"It gives us a lot of confidence," Ellard said. "And confidence is key when we start playing next season."
Double duty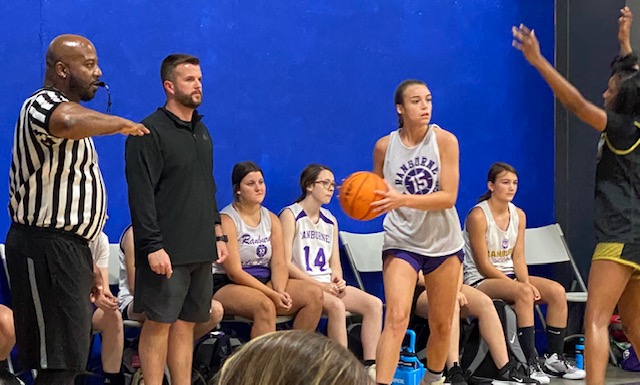 Ranburne coach Marcus Harrell will be a busy man come game night this basketball season.

Harrell is about to begin his second season as the Bulldogs' boys basketball coach, but this year he's adding the girls team to his plate. He's off to a good start with his new charges, guiding the Lady Bulldogs to a 10-3 mark so far this June.
"It's a lot of work, but if you love basketball it's a lot of fun," Harrell said Thursday. "And I love basketball. Just having a blast, man."
Harrell has never coached both basketball teams at one time before, but he has coached two teams at the same time as White Plains' golf coach.
And he has coached girls basketball before. He was the Sacred Heart girls coach before the school shuttered its athletics program.
While the double duty has made for some long days — he worked out each team in the morning the last two days before taking the other to its play date — and he hasn't worked out the details for handling a girls/boys doubleheader yet, a solid staff of assistants – Brock Harrell, Eli Hightower and Blake Young – will help ease the pressure.

"I've got the best assistants in the state," Harrell said, "so that makes life a lot easier as far as that goes. They take a lot off my plate. Me and Coach Brock (his brother) have been working together for years. We basically finish each other's sentences."