All-state baseball
Donoho's Gendron, Piedmont's Hayes, Oxford's Higgins head list of local selections for the all-state baseball team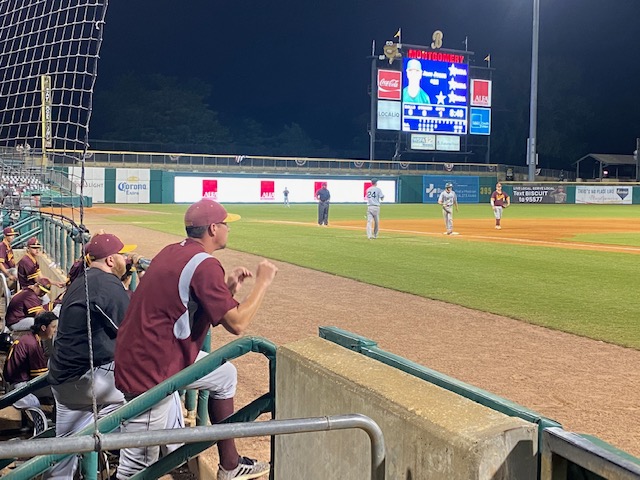 By East Alabama Sports Today

Steve Gendron has been building the Donoho baseball program in steady incremental steps ever since he became its head coach. This spring he took the Falcons closer than ever to the promised land on the blue map.

Gendron led the Falcons to a 20-win season and the Class 1A state championship series for the first time in school history. They lost to Bayshore Christian in three games after winning the series opener, but they made history and Gendron was recognized for it as the Class 1A Coach of the Year on the All-State Team that was released Sunday morning.

"What an honor; I'm truly proud to be named this," Gendron said. "I have been fortunate to be around many amazing coaches at many different levels of baseball – from my dad in Little League to my high school coaches to my college coaches. I have tried to take something from each of them in the way I handle kids and coaching. Obviously, I take the most from my dad, whom is the best I have ever played for."

The Falcons also had three first-team selections and two second-team picks. There were a total of 28 players from Calhoun County among the first team, second team and honorable mention picks.

Piedmont's Jack Hayes was named the Class 3A Hitter of the Year and Oxford's Trey Higgins was the 6A Hitter of the Year, highlighting the county's player selections. Higgins, headed to Mississippi State, hit .402 with 49 hits, seven homers and 45 RBIs.

"This year was all about the boys," Gendron continued. "I wanted to have as much fun with them as possible. I hope we accomplished that. These boys are grinders and they will continue to grind and get better each year. I'm honored to be named the Coach of the Year, but it is really all about the boys. Kudos to them on an amazing season."

Westbrook Christian's Sam Dutton was the Class 2A Player of the Year and Pitcher of the Year, Spring Garden's Luke Welsh was Hitter of the Year and Westbrook coach Matt Kennedy was named Coach of the Year.
Here are the 42 players from the area who made the all-state teams:

CLASS 1A
Coach of the Year: Steve Gendron, Donoho
First team
IF Judson Billings, Donoho
OF Slade Haney, Donoho
UT Lucas Elliott, Donoho
Second team
P Blake Willingham, Donoho
IF Nic Thompson, Donoho
IF Colton Pahman, Faith Christian
UT Brodie Dodson, Faith Christian
DH Brady Whitworth, Faith Christian

CLASS 2A
Player of the Year: Sam Dutton, Westbrook Christian
Pitcher of the Year: Sam Dutton, Westbrook Christian
Hitter of the Year: Luke Welsh, Spring Garden
Coach of the Year: Matt Kennedy, Westbrook Christian
First team
P Sam Dutton, Westbrook Christian
P Landon Gowens, Spring Garden
P Will Noles, Westbrook Christian
C Luke Welsh, Spring Garden
IF Eli Davenport, Ranburne
UT Jaxon Langley, Ranburne
DH Ben Jackson, Ranburne
Second team
IF Fisher Glasgow, Westbrook Christian
UT Brodie Self, Westbrook Christian
Honorable mention
C Cade Mitchell, Ranburne

CLASS 3A
Hitter of the Year: Jack Hayes, Piedmont
First team
C Jack Hayes, Piedmont
IF Sean Smith, Piedmont
UT Austin Estes, Piedmont
Second team
P Konnor Baswell, Ohatchee
IF Rickey Garrett, Saks
IF Noah Reedy, Piedmont
IF Jett Smith, Wellborn
OF Devin Howell, Ohatchee
DH Brayden Dempsey, Wellborn

CLASS 4A
Coach of the Year: Tyler Hall, Handley
First team
UT Tyler Daniel, White Plains
Second team
IF Coleman Oliver, Jacksonville
IF Walker Pruett, Cherokee County
UT Connor Wilson, Cherokee County
Honorable mention
C Tito Canales, Jacksonville
IF JaeTaj Morris, Jacksonville
UT Jaden Chatman, White Plains

CLASS 5A
First team
P Wesley Wright, Alexandria
UT Boyd Ogles, Clay Central
Second team
IF Sam Wade, Alexandria
OF Austin West, Alexandria

CLASS 6A
Hitter of the Year: Trey Higgins, Oxford
First team
OF Trey Higgins, Oxford
Second team
P Trey Mooney, Oxford
UT Jacob Little, Southside-Gadsden
Honorable mention
IF Carter Johnson, Oxford