Almost home
LeCroy takes 2-shot lead into Championship Sunday at Anniston Country Club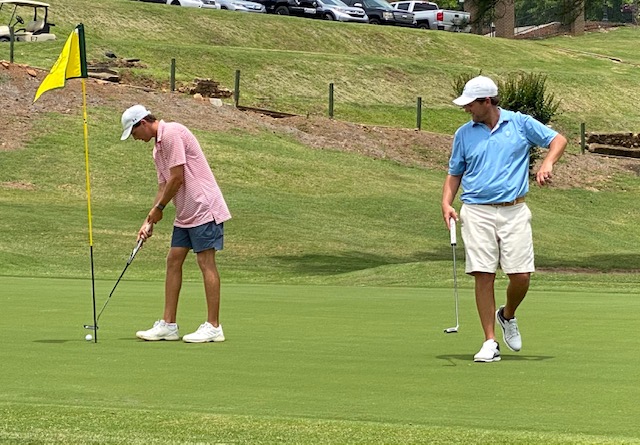 By Al Muskewitz
East Alabama Sports Today
The final three holes at Anniston Country Club have always had the potential to produce some dramatic turnarounds and it did in the second round of the Wilfred Galbraith ACC Invitational.

Jacob LeCroy, the 2018 champion, trailed 2018 Alabama Player of the Year Clay Guerin by a shot stepping on the 16th tee Saturday. When the players walked off the 18th green, LeCroy was holding a two-shot lead and Guerin was chewing on a bogey-bogey-bogey finish.

LeCroy shot 68 for the second day in a row and stood at 4-under 136 for the championship. Guerin posted an even-par 70 for 138.Another shot back and expected to complete Sunday's final group are Ty Cole and Dalton Chandler.

LeCroy said he gave no thought to the margin when he went to the 16th tee. He was just "playing the game."

"I was not worried about what he did; I wasn't even thinking about it," he said. "I thought I've played plenty good enough today to do whatever. He's made more putts than I have and if I walk out of here down one or two, OK, we'll get after it tomorrow. That was the only thought going through my head.

"I was going to play my best on 16, 17 and 18, knowing I wasn't going to hit anything crazy … I'm happy I did (get the lead), but he kind of gave it to me. I didn't do anything out of the ordinary."

The final three holes at ACC give a player all kinds of ways to score – an iconic par-3, a scoreable par-5 and a classic par-4 finishing hole into an amphitheater setting. LeCroy parred all three both days.

LeCroy, Guerin and Gary Wigington, the defending champion, went into the round tied for the lead, setting the stage for some fireworks from the first group of the day.

LeCroy and Guerin separated themselves from the pack by the turn. Guerin took the lead at 5-under with an eagle on 11 to LeCroy's birdie and it stayed that way until they came to 16.

Guerin, who'd never seen the ACC property until Friday's opening round, was in the back fringe left of the hole on 16 and took three putts to get home. He was in the right treeline with his first two shots on 17, punched into the fairway with his third, spun back into the bunker on his fourth and got up and down for 6. And then he three-putted 18.
He blamed his finish on "pace issues" and fatigue.

"I ran out of gas; I'm flat tired," the Hoover Country Club player said. "We played an almost five-hour round on a 6,300-yard golf course in the heat; I mean, it's stupid. We had pace issues and that's frustrating and I ran out of patience and I got tired. I made shots that I don't ever make because I ran out of patience and I was tired."

Wigington held the outright lead through six holes but then got sideways and made three straight bogeys that became 6-over-par in a seven-hole stretch. He did rebound with birdies at 16 and 17 and will play in the next-to-last group Sunday, but is five shots off the lead.

NOTES: LeCroy and Neill Hatcher of Birmingham (Pine Tree CC) had the day's only under-par rounds in the championship flight. Hatcher shot 69; he birdied 11 and 12 to get to even-par and birdied 16 to get into red numbers … Landon Straub also scored an eagle in the championship flight (No. 7) … The only holes that didn't yield a birdie to the championship flight were 6 and 9 … When LeCroy won at Silver Lakes earlier this season, he was locked in a three-way tie for the opening-round lead (68) and led by two after the second (and final) round.
Wilfred Galbraith ACC Invitational
| | | | | |
| --- | --- | --- | --- | --- |
| CHAMPIONSHIP FLIGHT 1 | | | | |
| Jacob LeCroy | 68 | 68 | | 136 |
| Clay Guerin | 68 | 70 | | 138 |
| Ty Cole | 69 | 70 | | 139 |
| Dalton Chandler | 69 | 70 | | 139 |
| Neill Hatcher | 71 | 69 | | 140 |
| Gary Wigington | 68 | 73 | | 141 |
| Scott Martin | 70 | 72 | | 142 |
| Brennan Clay | 70 | 72 | | 142 |
| Ross Napier | 71 | 71 | | 142 |
| Jeremy McGatha | 72 | 71 | | 143 |
| Lance Evans | 72 | 72 | | 144 |
| Jonathan Pate | 74 | 70 | | 144 |
| CHAMPIONSHIP FLIGHT 2 | | | | |
| Freeman Fite | 74 | 71 | | 145 |
| Jackson King | 75 | 70 | | 145 |
| Landon Straub | 73 | 74 | | 147 |
| Andrew Brooks | 75 | 73 | | 148 |
| Harrison Hughston | 73 | 76 | | 149 |
| Adam Sanders | 74 | 75 | | 149 |
| Andrew Gladden | 69 | 81 | | 150 |
| Josh Poole | 73 | 77 | | 150 |
| Jack Svensen | 74 | 76 | | 150 |
| Will Reaves | 74 | 76 | | 150 |
| Chip Howell | 77 | 73 | | 150 |
| Morton Holcomb | 71 | 80 | | 151 |
| Tanner Wells | 76 | 75 | | 151 |
| Randy Lipscomb | 78 | 73 | | 151 |
| Ryan Segrest | 79 | 72 | | 151 |
| CHAMPIONSHIP FLIGHT 3 | | | | |
| Daniel Black | 77 | 76 | | 153 |
| Jeff Bain | 74 | 80 | | 154 |
| Ryan Howard | 76 | 78 | | 154 |
| Morgan Cunningham | 77 | 77 | | 154 |
| Greg Shultz | 74 | 81 | | 155 |
| Kyle Daugherty | 76 | 79 | | 155 |
| Clay Calkins | 78 | 77 | | 155 |
| Rob Svensen | 79 | 79 | | 158 |
| Tyler Huckaby | 77 | 84 | | 161 |
| Ott Chandler | 79 | 82 | | 161 |
| Andrew Morris | 78 | 89 | | 167 |
| Hunter Carr | 79 | 92 | | 171 |
| | |
| --- | --- |
| FIRST FLIGHT | |
| Will Broome | 72 |
| Maverick Smith | 73 |
| Ross Svensen | 75 |
| Chase Thomas | 77 |
| Ed Johnson | 77 |
| Casey Harmon | 77 |
| Danny Whittaker | 78 |
| Ryan Limbaugh | 78 |
| Matt Rogers | 78 |
| Kenneth Patterson | 78 |
| Jeremy Willis | 79 |
| Jason Britton | 79 |
| SECOND FLIGHT | |
| Luke Armstrong | 80 |
| Chad Key | 81 |
| Matt Hunter | 81 |
| Cal Lambert | 81 |
| James Lett | 81 |
| Chris Messer | 82 |
| Ted Heim | 82 |
| Mark Guyther | 82 |
| Caleb Morrow | 82 |
| Taylor Morrow | 82 |
| JB Barnes | 82 |
| Cameron McCareeth | 83 |
| THIRD FLIGHT | |
| Craig Kiker | 84 |
| Lamar Carter | 84 |
| Tyler Romine | 84 |
| Daniel Smith | 85 |
| Bubba Willingham | 86 |
| Taylor Jones | 86 |
| Zach Mangum | 86 |
| Henry Pritchett | 87 |
| Houston Black | 87 |
| Mark Gaines | 87 |
| Will Brown | 88 |
| Graham Morrow | 89 |
| Trey Stone | 89 |
| Braylin Hathorn | 89 |
| FOURTH FLIGHT | |
| Grant Greenwood | 90 |
| Adam Benefiel | 92 |
| Randy Watson | 92 |
| Dillard Talley | 93 |
| Greg Rainey | 93 |
| Heath Waldrop | 94 |
| Kelly Rogers | 95 |
| Ben Phillips | 95 |
| Kolby Slick | 97 |
| Eric Stringer | 98 |
| Amado Ortiz | 102 |
| Sean Kline | 102 |
| SENIOR DIVISION | |
| David Sanders | 74 |
| Don Springer | 76 |
| David Broach | 81 |
| Jerry Ordis | 86 |
| Mike Lett | 86 |
| Don Whitlow | 100 |
Sunday pairings
7:45 a.m.: Jerry Ordis, Mike Lett, Don Whitlow
7:55: David Sanders, Don Springer, David Broach
8:05: Kolby Slick, Eric Stringer, Amado Ortiz, Sean Kline
8:15: Greg Rainey, Heath Waldrop, Kelly Rogers, Ben Phillips
8:25: Grant Greenwood, Adam Benefiel, Randy Watson, Dillard
8:40: Graham Morrow, Trey Stone, Braylin Hathorn
8:50: Houston Black, Marrk Gaines, Will Brown
9:00: Bubba Willingham, Taylorr Jones, Zach Mangum, Henry Pritchett
9:10: Craig Kiker, Lamar Carter, Tyler Romine, Daniel Smith
9:20: Caleb Morrow, Taylor Morros, J.B. Barnes, Cameron McCareeth
9:30: James Lett, Chris Messer, Ted Heim, Mark Guyther
9:40: Luke Armstrong, Cal Lambert, Matt Hunter, Chad Key
9:50: Matt Rogers, Kenneth Patterson, Jeremy Willis, Jason Britton
10:00: Ed Johnson, Casey Harmon, Danny Whittaker, Ryan Limbaugh
10:10: Will Broome, Maverick Smith, Ross Svensen, Chase Thomas
Noon: Tyler Huckaby, Andrew Morris, Hunter Carr
12:10 p.m.: Ott Chandler, Kyle Daugherty, Clay Calkins, Rob Svensen
12:20: Greg Shultz, Ryan Howard, Morgan Cunningham, Jeff Bain
12:30: Daniel Black, Ryan Segrest, Tanner Wells, Morton Holcomb
12:40: Josh Poole, Jack Svensen, Andrew Gladden, Randy Lipscomb
12:50: Adam Sanders, Harrison Hughston, Chip Howell, Will Reaves
1:00: Freeman Fite, Jackson King, Landon Straub, Andrew Brooks
1:10: Scott Martin, Jeremy McGatha, Jonathan Pate, Lance Evans
1:20: Neill Hatcher, Gary Wigington, Ross Napier, Brennan Clay
1:30: Jacob LeCroy, Clay Guerin, Dalton Chandler, Ty Cole