Hitting the magic number
Nearly 40 players qualified for the championship flights in the Wilfred Galbraith ACC Invitational, 3 share lead at 68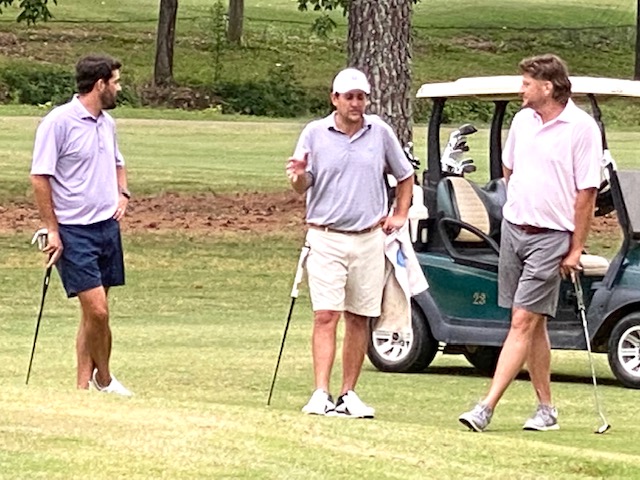 By Al Muskewitz
East Alabama Sports Today

Over the past four years if you shot 68 in the Wilfred Galbraith ACC Invitational Friday qualifying you were playing in the first group off Saturday, maybe even leading the tournament.

That trend continued for a fifth straight year Friday as three players hit the magic number and grabbed the opening-round lead at Anniston Country Club.

Jacob LeCroy and Gary Wigington both bounced back from opening-hole double bogeys to shoot their 2-under-par 68s and they were joined by 2018 Alabama Player of the Year Clay Guerin of Birmingham later in the day.

They hold a one-shot lead over Ty Cole, Dalton Chandler and Andrew Gladden of Columbiana. Scott Martin and Brennan Clay are another shot back at 70.

Thirty-nine players qualified for the championship flights and will play 54 holes for the championship. The others who teed it up Friday will play in the 36-hole player flights.

The leading score has been a prominent number in this tournament. In last year's COVID-delayed Invitational, 68s by eventual-champion Wigington and Logan Archer led the Friday Championship Flight qualifying. In 2019, three 68s were tied for second (behind Garrett Burgess' 64); in 2018, two 68s were tied for second (behind Martin's 66); and in 2017, two 68s were behind the 67s of co-leaders Cole and eventual winner Chandler.

"Anytime you shoot under par on this course it's good," Wigington said. "Sixty-eight is a solid number. I feel like it could've been a lot better, today anyway, but it's a solid number."

Guerin, 32, had never played Anniston CC before Friday's opening round and was only playing because he wanted something to do with his family out of town. His approach was to avoid double bogeys and not three-putt, and that's what he did.

He did get it to 3-under through 11, then suffered back-to-back bogeys on 13 and 14. He got a shot back and a share of the lead with a two-putt birdie on 17.

"Sometimes they say ignorance is bliss; I didn't know the bad places (to hit it) and that helps in some instances, for sure," Guerin said. "I was kind of watching (playing partner) Jackson (King) and the clubs he pulled and the places he was hitting it.

"There were a couple tricky little holes and places you can't hit it and I found a couple of those spots, but for the most part I just tried to hit in the front of the green all day and take what it gave me, and it worked out pretty well."

LeCroy and Wigington, both former winners who know their way around the course, both started their days with double bogeys on No. 1.

LeCroy, the 2018 winner, hit his first shot off the tee out of bounds. Knowing there was a lot of golf with plenty of gettable holes to play, he "let it ride" and played the rest of the round bogey-free with birdies at 7, 8, 11 and 13 – all inside four feet.

Wigington, the defending champion, made his double after hitting a wedge out of a fluffy lie from 150 yards for his second shot over the green out of bounds. He bounced back with a day's best six birdies, including three in a row on 14, 15 and 16 to briefly take the outright lead, but then disappointedly bogeyed the par-5 17th.

As the rest of the field was wrapping up the back nine, he was a solitary figure on the driving range working on his swing.

"I could've gone low today … but just too inconsistent," he said. "Been like it's been all year, just the same struggle. I just don't feel good over it. Felt good to get it back and be in contention, but it's still just a struggle.

"I hit a lot of good shots today, hit a lot of better shots today, so I'm hoping I can go build on something and take it into the weekend."

NOTES: There were two eagles in the round – by Luke Armstrong and Morton Holcomb, both at No. 3. Holcomb qualified for the championship flight, Armstrong missed it by a shot … Three players made five birdies in their round – Clay, Guerin and Josh Poole … Holcomb (11, 12, 13) and Poole (1, 2, 3) also had a string of three birdies in a row … Among the 39 championship flight qualifiers, five had a double or other on No. 1. 
Wilfred Galbraith ACC Invitational
| | | | |
| --- | --- | --- | --- |
| CHAMPIONSHIP FLIGHT QUALIFIERS | | | |
| Gary Wigington | 34 | 34 | 68 |
| Jacob LeCroy | 34 | 34 | 68 |
| Clay Guerin | 32 | 36 | 68 |
| Ty Cole | 33 | 36 | 69 |
| Dalton Chandler | 33 | 36 | 69 |
| Andrew Gladden | 33 | 36 | 69 |
| Scott Martin | 33 | 37 | 70 |
| Brennan Clay | 31 | 39 | 70 |
| Morton Holcomb | 38 | 33 | 71 |
| Ross Napier | 34 | 37 | 71 |
| Neill Hatcher | 33 | 38 | 71 |
| Lance Evans | 37 | 35 | 72 |
| Jeremy McGatha | 36 | 36 | 72 |
| Harrison Hughston | 37 | 36 | 73 |
| Landon Straub | 36 | 37 | 73 |
| Josh Poole | 33 | 40 | 73 |
| Jonathan Pate | 38 | 36 | 74 |
| Adam Sanders | 37 | 37 | 74 |
| Jack Svensen | 36 | 38 | 74 |
| Will Reaves | 36 | 38 | 74 |
| Jeff Bain | 36 | 38 | 74 |
| Freeman Fite | 35 | 39 | 74 |
| Greg Shultz | 33 | 41 | 74 |
| Jackson King | 40 | 35 | 75 |
| Andrew Brooks | 37 | 38 | 75 |
| Tanner Wells | 39 | 37 | 76 |
| Ryan Howard | 38 | 38 | 76 |
| Kyle Daugherty | 38 | 38 | 76 |
| Morgan Cunningham | 39 | 38 | 77 |
| Chip Howell | 38 | 39 | 77 |
| Daniel Black | 37 | 40 | 77 |
| Tyler Huckaby | 37 | 40 | 77 |
| Randy Lipscomb | 40 | 38 | 78 |
| Andrew Morris | 37 | 41 | 78 |
| Clay Calkins | 34 | 44 | 78 |
| Hunter Carr | 38 | 41 | 79 |
| Ott Chandler | 38 | 41 | 79 |
| Rob Svensen | 37 | 42 | 79 |
| Ryan Segrest | 35 | 44 | 79 |
| | | | |
Saturday pairings
8 a.m.: Gary Wigington, Jacob LeCroy, Clay Guerin, Dalton Chandler
8:10: Ty Cole, Andrew Gladden, Scott Martin, Brennan Clay
8:20: Morton Holcomb, Ross Napier, Neill Hatcher, Jeremy McGatha
8:30: Lance Evans, Harrison Hughston, Landon Straub, Josh Poole
8:40: Jonathan Pate, Adam Sandes, Will Reaves, Jack Svensen
8:50: Jeff Bain, Greg Shultz, Freeman Fite, Jackson King
9:00: Andrew Brooks, Ryan Howard, Tanner Wells, Kyle Daugherty
9:10: Morgan Cunningham, Chip Howell, Daniel Black, Tyler Huckaby
9:20: Randy Lipscomb, Andrew Morris, Clay Calkins, Hunter Carr
9:30: Ott Chandler, Rob Svensen, Ryan Segrest
9:40: Trey Stone, Graham Morrow, Chase Thomas, Amado Ortiz
9:50: Henry Pritchett, Bubba Willingham, Will Broome, Chris Messer
10:00: Matt Hunter, Jeremy Willis, Chad Key, Braylin Hathorn
11:45: David Sanders, Don Springer, David Broach, Jerry Ordis
11:55: Dillard Talley, Eric Stringer, Don Whitlow, Ted Heim
12:20 p.m.: Danny Whittaker, Will Brown, Houston Black
12:30: Daniel Smith, Sean Kline, Greg Rainey
12:40: Taylor Jones, Ross Svensen, Taylor Morrow, Caleb Morrow
12:50: Adam Benefiel, Noah Flynn, Cameron McCareeth, Craig Kiker
1:00: Lama Carter, Ryan Limbaugh, Maverick Smith, Jason Britton
1:10: Tyler Romine, Grant Greenwood, Cal Lambert, Heath Waldrop
1:20: Luke Armstrong, Ed Johnson, Markr Guyther, James Lett
1:30: J.B. Barnes, Kelly Rogers, Matt Rogers, Kenneth Patterson
1:40: Mike Lett, Randy Watson, John Brand, Ben Phillips
1:50: Zach Mangum, Kolby Slick, Casey Harmon, Mark Gaines