Hayes holds 'em down
Piedmont catcher comes from behind the plate to pitch 5 1/3 innings of no-hit relief as Bulldogs beat Winfield to reach 3A semifinals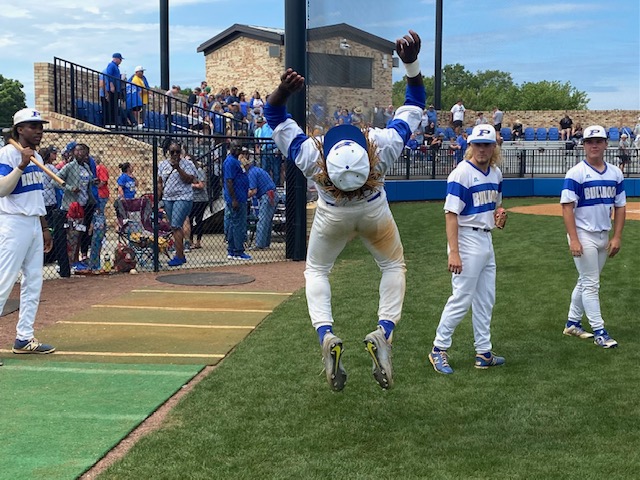 By Al Muskewitz
East Alabama Sports Today

PIEDMONT – Jack Hayes is used to coming out from behind the plate and pitching in a game for Piedmont, but nothing like he experienced Saturday in the biggest game of the year.

Usually it's between games of a doubleheader or to start a late inning to close out another Bulldogs win. Certainly not in the middle of the second inning and definitely not in the middle of a count.

But that was the situation Hayes and the Bulldogs found themselves after starter Austin Estes had to leave the mound. The Bulldogs' bulldog responded with 5 1/3 innings of no-hit relief lifted Piedmont to a 6-1 Game 3 win over Winfield in the Class 3A quarterfinals.

The win advanced the Bulldogs (33-5) to the state semifinals at Phil Campbell next week. Their one-run loss in Game 2 Friday night snapped a 16-game winning streak.

The Piedmont coaches declined to discuss the specifics of Estes injury, although the Calhoun County Tournament MVP did stay in the game and played left field. The move came with a series of defensive changes that included junior Steven Raney going behind the plate, left fielder Cassius Fairs going to third and leading hitter Noah Reedy coming out of the game.

Hayes came in with a 2-2 count on Winfield second baseman Davis Bowen and proceeded to strike him out. Hayes retired the first five batters he faced and 16 of the 18 altogether, with the only baserunners reaching on an infield error and a two-out walk. He struck out six, including the last out of the series. He threw 65 pitches.

"It weird, I think I threw two pitches to get out of it and we were back in the dugout," Hayes said. "There really wasn't much pressure because he had two strikes on him. I was telling coach I felt good and I could stay in.

"I was expecting Austin to get out of that inning and when I went to a mound visit he told me he was going to get out of it, but then coach Deerman came up there and they decided to take him out.

"I just had to do what had to be done. With the playoffs and the atmosphere and everybody here it just pumped me up and got me more focused. I would say it's the best I've pitched all year, probably."

Hayes hadn't pitched any in the playoffs before Saturday and last pitched at all in a one-inning closing stint against Cherokee County in the final regular season game.
 
He was on the lineup card to pitch some Saturday and actually coach Matt Deerman was undecided until nearly an hour before first pitch as to whether he or Estes would start the game. He ultimately settled on Estes after meeting with the two in his office and having them decide the way to go.

"We felt good about both guys," Deerman said. "It speaks very highly of (Hayes') … I don't know what the word is for it. He's a Dawg on the mound. He's a competitor. We knew the stage wouldn't be too big for him because he's played in a lot of big games.

"I think what made the difference in him and other guys is he got ahead in the count and made them hit his pitch."

Estes gave up one hit – an RBI single in the first – and struck out three in the eight batters he faced in his 1 2/3 innings on the mound. He had a sacrifice fly at the plate in the fourth.

The Bulldogs loaded the bases in four of their last five innings, but didn't break the game open until scoring four in the fifth. McClane Mohon capped that outburst with a two-run single. Jakari Foster had two hits and two RBIs in the game then celebrated the win with his traditional backflip. Sean Smith reached base all four times he batted.

"I'm sitting over there and my gut's just wrenching because we've left so many guys on," Deerman said. "This kind of stuff gets you beat, but we finally got some timely hits. 

"I've never been as proud of a team as I was today. They faced a lot of adversity and we had a lot of kids do a lot of little things to have a big team win. There were a lot of things other than Jack's performance that went into winning that game."

CLASS 3A PLAYOFFS
Piedmont 6, Winfield 1
(Piedmont wins series, 2-1)
Winfield                100 000 0 – 1 1 2
Piedmont             010 140 x – 6 6 3
WP: Jack Hayes. LP: Andrew Stovall. 2B: Jakari Foster (P).