Off and running
Donoho girls get through tough playoff opener, road only gets harder; Donoho, Weaver boys fall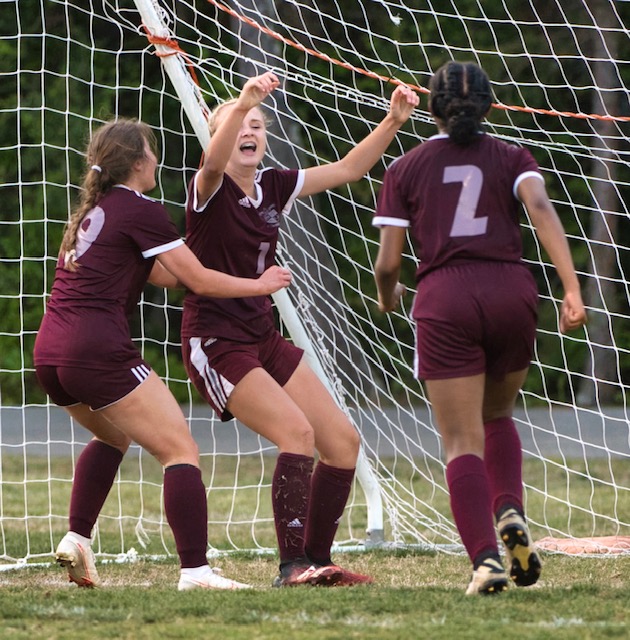 Monday's soccer playoffs
Girls
Donoho 3, Glencoe 1
Boys
Collinsville 10, Weaver 1
Susan Moore 3, Donoho 1

By Al Muskewitz
East Alabama Sports Today
Jay Jenkins never expects the playoffs to be easy, but what his Donoho girls soccer team is about to face in this post-season is the equivalent of 40 miles of bad road.

The Lady Falcons opened their run in the Class 1A-3A girls soccer playoffs with a 3-1 win over No. 2 Glencoe at Lentz Field Monday night and there's no breather in sight.

Depending on how the games progress, they could play the No. 5 (Mars Hill) and No. 1 (Susan Moore) teams in the final regular-season coaches poll on the way to the state championship game, where the No. 4 (Westminster-Oak Mountain) or No. 6 (Bayside Academy) could await them.

The Lady Falcons (14-0-1) are ranked third. They'll play the winner of Tuesday's Danville-Mars Hill game next.

"Nobody has a tougher path than we will," Jenkins said. "We played 2, we'll play 5, we'll play the 1 and then 4. You want an easy one, but we're not going to get one, and that's OK. I know it's clichéd, but you want to beat the best to be the best, right? We've got that opportunity.

"We looked at it and we knew every game was going to matter and quite frankly we haven't played real good soccer for about a month, since the county. We hadn't had a good challenge, that's part of it, but we have not played particularly good soccer until tonight

"We had a bunch of individuals out there playing well, but not as a team. Tonight, we had 11 players playing as a team and it made a huge difference. That was huge."

Monday night's matchup with the Lady Jackets (18-2) was one of those you'd expect to be played later in the playoffs instead of the first round, and it was played that way.

Tosin Sanusi scored six and a half minutes into the match and Erin Turley scored twice in the final 10 minutes to give Donoho its victory.
Glencoe's Meisi Diggs tied the game at 1-1 when her corner kick got through Donoho keeper Maggie Wakefield's hands on the goal line. Turley broke the tie with 9:12 left in regulation on a semi-breakaway and scored an insurance goal in the final minute after taking a crossing pass in the middle of the field from Sanusi.

"For me out there it was really just about vengeance," Turley said. "In 2019 when we played them I sprained my ankle and when they went into overtime and PKs I couldn't be there for my team."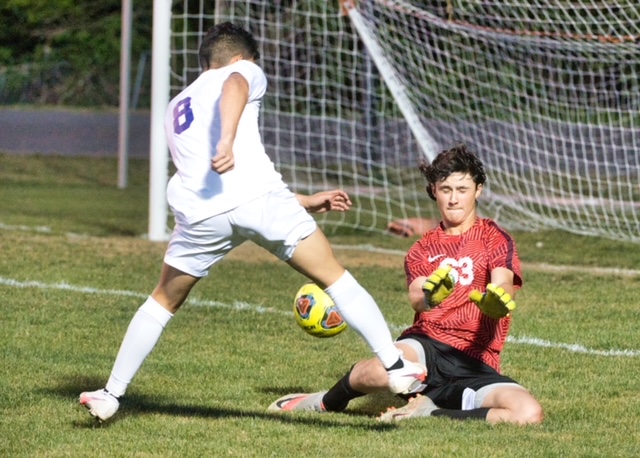 The eighth-ranked Donoho boys played their playoff opener as area champs for the first time in 21 years and fell to No. 11 Susan Moore, 3-1.

The Bulldogs scored twice in the first 90 seconds and led 3-0 at halftime. Ethan Miles Jameson scored for the Falcons in the second half.

"We had to run and play in the second half but just could not find the goal," Donoho coach Matthew Wright said. "It just wasn't our night and that happens sometimes. Unfortunately, it happened in an elimination game.

"We did not quit and fought hard until the end that is definitely something to be proud of."
Class 1A-3A Girls
Donoho 3, Glencoe 1
Glencoe 0 1 – 1
Donoho 1 2 – 3
Goals: Tosin Sanusi (D), 6:25; Meisi Diggs (G), 63:09; Erin Turley (D), 70:48; Erin Turley (D), 79:02.

Class 1A-3A Boys
Susan Moore 3, Donoho 1
Susan Moore 3 0 – 3
Donoho 0 1 – 1
Goals: Jonathan Zavala (SM), 0:31; Angel Aguirre (SM), 1:28; Angel Aguirre (SM), 24:22; Ethan Miles Jameson (D).