Hanging in there
Alexandria rallies for 3 in seventh to play another day; Ohatchee, Donoho, Cherokee County sweep their series, Jacksonville swept. Updates with Alexandria game rescheduled for Monday and adds comment from Austin West
Friday's playoff scores
Alexandria 3-9, John Carroll 4-8
Cherokee County 7-12, Good Hope 5-0
Curry 12-15, Jacksonville 7-3
Donoho 18-18, Meek 3-1
Ohatchee 3-16, Childersburg 0-4
Oxford 10-7, Arab 0-3
Piedmont 9-11, Saks 5-0
Ranburne 14-21, Highland Home 0-0
Saturday's game
Alexandria at John Carroll, 4:30 p.m. (moved to 5 p.m. Monday)

By East Alabama Sports Today
BIRMINGHAM – Alexandria coach Andy Shaw knows there are a lot of different ways to win a baseball game and his Valley Cubs found one of the more unique ones Friday to split their Class 5A playoff doubleheader.
Austin West drew a walk-off walk to cap a three-run seventh-inning rally that gave the Cubs a 9-8 win over John Carroll Catholic and a chance to win the series back here Saturday at 4:30 p.m. The winner gets Ardmore in the second round.

(Early Saturday, Game 3 was rescheduled to Monday at 5 p.m.)
The Cubs needed to win the nightcap fter dropping the opener 4-3 on Davis Deason's walk-off RBI double in the bottom of the eighth.
"They continued to stay because there are many ways you can win a baseball game," Shaw said. "We hung around and we're fortunate to win that one. I hope it carries over to tomorrow."
The Cubs trailed 8-6 going into the home seventh and they were down to the last out before they started to rally.
Canyon Mickler already was on base, going all the way to second on a dropped third strike, and was standing on third with two outs when things really got interesting. Ty Brown got hit by a pitch to put runners on the corners and Seth Johnson singled home Mickler to make it 8-7.
Aaron Johnson walked to load the bases. Sam Wade then got hit by a pitch – for the second straight at bat and fifth time in doubleheader – to force in the tying run. The Cavaliers tried to argue Wade made no effort to avoid being hit, to no avail. West then drew his walk to bring home the winning run.

"It felt good knowing that we had worked so hard all night playing against a good team," West said. "Seeing it pay off to give us another chance to make it to the second round was an amazing feeling.

"Now, all we need to do is go out Monday and compete all night to help secure our spot in the second round."
Turnabout is fair play. The Cavaliers won the opener when Deason – no relation to Alexandria principal Jason Deason – doubled home JT Weisberg with one out in the bottom of the eighth. Weisberg singled home the tying run earlier in the inning.
The Valley Cubs tied it a 2-2 in the seventh then took a 3-2 lead in the top of the eighth on Seth Johnson's two-out RBI single.
"Our kids just hung in there," Shaw said. "All our guys did a great job."

Game One
Alexandria 000 000 21 – 3 5 1
John Carroll 001 100 02 – 4 11 2
WP: Aden Malpass. LP: Austin West. 2B: Aaron Johnson (A), Canyon Mickler (A), Davis Deason (JC), JT Weisberg (JC), Luke Harris (JC), Aden Malpass (JC). 3B: Seth Seidenfaden (JC).

Game Two
John Carroll 022 202 0 – 8 8 0
Alexandria 203 010 3 – 9 10 5
WP: Ryan Ritchie. LP: Luke Wammack. 2B: JT Weisberg (JC), Luke Harris (JC).
First-game gem lifts Indians to sweep
CHILDERSBURG – Konnor Baswell got the best of a pitcher's duel in the opener and and the effort catapulted Ohatchee to a sweep of its Class 3A playoff doubleheader and into the second round.

Baswell blanked Childersburg 3-0 in the opener with a complete-game four-hitter and the Indians rode that momentum to score nine in the first inning of the nightcap on the way to a 16-4 rout in the nightcap. The Indians now play Fyffe in Round 2.

"The kids played great," Ohatchee coach Blake Jennings said. "Konnor pitched unbelievably in the first game. They threw their 1, we threw our 1. It was just all-around a fun day, just a lot of fun."

Baswell threw 91 pitches, gave up four singles, walked three and struck out three. It was his third complete-game shutout of the season. Only three runners got as far as second base and the Indians' defense turned three double plays.

The Indians got two runs in the fourth on J Powell's sacrifice fly and a botched bunt. Baswell delivered an RBI single in the seventh.

Carson Tittle started the second game for Ohatchee. He got out of a minor jam in the first inning without giving up a run and the Indians came in and scored nine in their half of the inning.

They did all their damage after two were out. Nine consecutive batters reached safely after the second out. Brent Honaker went 3-for-4 with a homer and four RBIs, and Jesse Baswell went 2-for-3 with three RBIs.

"The hits started falling," Jennings said. "We played a little more loose in the second game because we had one in our pocket. The first game was a great game."

Game One
Ohatchee 000 200 1 – 3 6 0
Childersburg 000 000 0 – 0 4 5
WP: Konnor Baswell. LP: Lane Dennis.
Game Two
Childersburg 021 01 – 4 7 3
Ohatchee 913 3x– 16 13 1
WP: Carson Tittle. LP: Houston Fields. 2B: Jordon Fomby (C), J.D. Oakes (C), Carson Tittle (O), Brenton Honaker (O), Devin Howell 2 (O), Jesse Baswell (O). HR: Jordon Fomby (C), Brent Honaker (O)
Falcons fly into second round
Donoho got production from throughout its lineup, but particularly from the bottom as the Falcons routed one-win Meek 18-3, 18-1 to win another opening-round Class 1A playoff series. They now play Lindsay Lane in Round 2.

"It's always good to see the entire team produce in all three phases of the game," Donoho coach Steve Gendron said. "We will shift our focus to Lindsay Lane and get back to work on Sunday afternoon."

The Falcons pounded 17 hits in the first game. They batted around three times and came within a batter of doing it a fourth.
Eight of the nine players in the lineup had at least one hit and seven of the nine had at least two RBIs. The top part of their lineup went 14-for-20 with 12 RBIs, but the bottom third produced three hits and five RBIs. Marcus Lawler, the No. 8 hitter, went 2-for-4 with three RBIs.

"That's a good box score to look at right there," Gendron said. "Love the production top to bottom, good stuff's going on."

The Falcons had nine hits and 10 walks in the nightcap. They scored eight runs in each of the first two innings and cleared the bench by the fourth. Pitcher Slade Haney drove in four runs, while Blake Willingham, Lucas Elliot, Connor Goodson and Tyler Allen drove in two apiece.

"Anytime that the bottom of the lineup is putting the ball in play and getting hits it's encouraging to see," Gendron said. "We've had some guys struggling in the bottom of our lineup as of late and I think for the most part today a lot of guys put the ball in play. When we put the ball in play and we're not striking out, that's when we're doing a lot of good things."

Game One
Meek 002 10 – 3 3 3
Donoho 443 7x – 18 17 3
WP: Blake Willingham. LP: Braxton Dickerson. 2B: Blake Willingham 3 (D), Judson Billings (D).
Game Two
Donoho 882 00 – 18 9 1
Meek 100 00 – 1 4 4
WP: Slade Haney. LP: Cameron Deaver. 2B: Lucas Elliot (D). 3B: Slade Haney (D).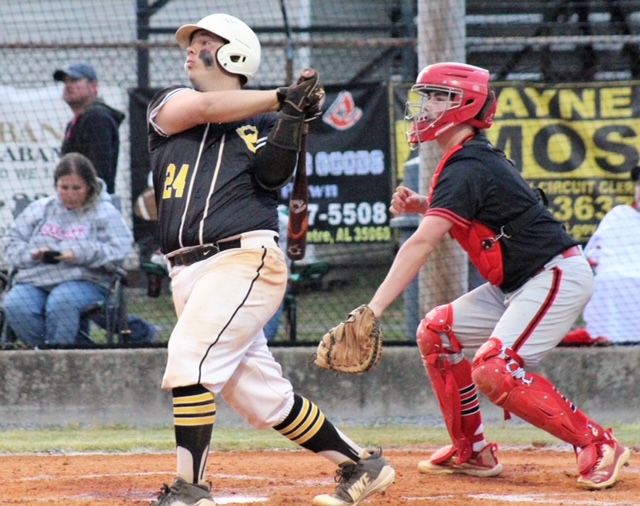 Let the big warrior eat
CENTRE – Cherokee County coach Will Smith made a promise to Connor Wilson that if he hits an opposite-field home run this season, the sophomore left fielder gets a steak.

Smith may have to amend that promise after what Wilson did Friday night in the second game of the Class 4A state playoffs against Good Hope.

Wilson launched a grand slam to left that bounced onto Northwood Drive, putting the exclamation point on Cherokee County's 12-0 win in five innings. The Warriors (17-13) also won the first game 7-5 and will face North Jackson in Round 2 at Bobby Beckett Field in Centre.

"It was a good shot and all, but I'm just glad I get to play this game with the guys I love; we're going on to the second round," Wilson said. "This is my second time making it in this spot. The first time didn't go that well. We played Brooks and they were a solid bunch. They ended up
winning state that year. I'm just glad we could get here again and maybe this time have a different result."

Smith said Wilson "was all over" Good Hope relief pitcher Lane Speegle's offering.

"He just hammered it," Smith said. "We haven't had many baseballs hit that far. You have to go back to the Jy Lockridge days. He was swinging it well tonight. I'm proud of him."

While Wilson was swinging his stick well, Warriors Game 2 starter pitcher Daegan Scott was dealing from the mound. He tossed a two-hitter on 63 pitches with no walks and five strikeouts.

The Warriors took control of the second game early. They sent 11 batters to the plate and scored five runs off Good Hope starter Braxton Marshall. The Warriors tacked on two more runs on reliever Kody Estill, then tagged Speegle for five in the fourth for the final.

Tristan Whitefield and Walker Pruitt both had three hits for the Warriors. Haden Wheeler had two.

While the second game was a blowout, the first game was anything but.

Good Hope took a 2-0 lead in second, but the Warriors rallied to pull ahead 5-2. The Raiders tied it at 5 in the fifth, but Cherokee County scored single runs in the bottom of the fifth and sixth to pull it out. – Shannon Fagan, WEIS Radio

Jacksonville stung by Yellow Jackets
CURRY – Jacob Woder hit a two-run single and Cody Dunagan a two-run homer on consecutive at-bats to highlight a five-run fourth inning that finally allowed Curry to shake Jacksonville in a 12-7 win in their Class 4A playoff opener.

The Yellow Jackets won the nightcap, too, 15-3.
In Game Two, the Yellow Jackets broke open a close game with a 10-run fifth. At the time, they were only protecting a 5-3 lead, but the Jackets sent 15 batters to the plate to fuel the outburst.
Jacksonville's Coleman Oliver went 3-for-4 with two RBIs for the Golden Eagles in the opener. Tito and Carmelo Canales both had two hits in the opener. JaeTaj Morris had two hits for Jacksonville in the nightcap.