A Ty at the top
Four players are tied for the first-round lead in the Gadsden City Championship at Twin Bridges GC; updated with Sunday pairings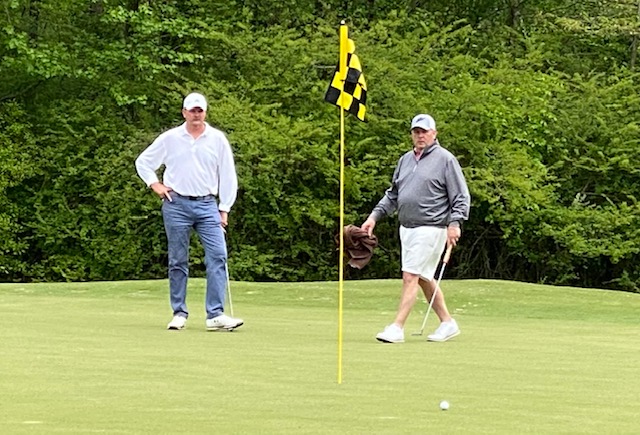 By Al Muskewitz
East Alabama Sports Today

GADSDEN – If you've got game, no matter how much you lay off it, you just got game.

Ty Cole figures he's played 2½ rounds of golf in the last six months – and none under true tournament conditions – but when it came time to stick a peg in the ground for the first Calhoun County Golf Tour event of the season Ty became, well, the Ty everyone expects on the golf course.

Even if he was a little rusty, the Etowah County native birdied his first three holes of the season, shot 4-under-par 68 and  held a piece of the four-way tie for the lead after the opening-round of the Gadsden City Championship at Twin Bridges Golf Club.

"Today was smoke and mirrors," he said. 

All four 68s – Cole, Gary Wigington, Corey Ray and Timmy Woodard – will play in the final group for the newest championship on the Calhoun County Golf Tour. They hold a one-shot lead over Chad Calvert. Jake Goggans is another shot back.

Since September Cole played in a scramble with his father, played a round on his home course and played another he couldn't complete because of pain in his shoulder. Truth be told, he probably wouldn't have played this week had good friend Luke Armstrong not torn up his four-wheeler, a hobby that's really grabbed the four-time County Tour Player of the Year's attention.

"Normally I'll take the winter off, but by about mid-February I'm itching to play," he said. "This year my wife literally looked at me two weeks ago and said are you ever going to play golf again and I said not as long as somebody will go riding ATVs with me. That's my new thing. It's stress-free. I never three-putt …"

So with that as the backdrop, he had no idea what to expect when he got to the golf course Saturday.
So what's he do? Birdies the first three holes of the round like he played just the other day.

There were hiccups that creeped in. He didn't birdie either of the back-to-back par-5s on the front, three-putted 7, hit it in the water off the tee with a hybrid on 10 and effectively three-putted the par-5 11th. He birdied 14 and 15, then parred into the clubhouse.
"Luke asked me what I thought it'd be like and I told him it's going to shoot anywhere from 65 to 85 and I have no idea what it's going to be between there," Cole said. "And 85 was generous because it could have been 90."

The question becomes now that he hasn't played in a while and finds himself right in the thick of it, is golf back on the front burner?
"The competitiveness will kick in," he said. "But I know I haven't played, so I have no expectations."

It may be a new season but Wigington found himself in the old position at the top of the leaderboard. The reigning County Tour Player of the Year won five of seven events last season and finished second in the other two. He has been second or better in eight of his last nine Tour points events.

He would have held the lead outright had he not bogeyed the last hole from 90 yards. But that's kind of how the day went for him. He lost ground by playing the gettable first four holes in only 1-under, but got back into it with three straight birdies coming though the turn as part of five birdies in a seven-hole stretch.

"It should've been a lot better score than that because it was out there," he said. "It was overall a solid round, but not quite there.

"It was one of those rounds that could've been real good, just too inconsistent, too many bad shots. You can never argue with that kind of number, but there were a lot of wasted shots … Hopefully things will come around and fall into place like it did last year and we can have a good year."
Timmy Woodard posted the 68 first. His go-for-the-pin approach produced his lowest round ever and featured seven birdies, including all four par-5s and three of the four par-3s that he hit inside 10 feet.

He could've taken it deeper, but missed a three-foot birdie putt on 4, left an eagle putt inches short and had two three-putt bogeys. Still, he was pleased with his play and excited to be playing in the final group on Championship Sunday for the first time.

"I know the guys out there," he said. "If I play my best game I think I can compete. It's just getting the doubles and stuff out."

It usually takes Ray a little while to knock the rust off, but he started fast with birdies on his first two holes and closed with his fifth birdie of the round.

He got a couple "fortunate breaks" in between, none bigger than having his tee ball on 17 skip across the water onto the bank where he punched a sand wedge back into play and got up and down from 100 yards for par.

"That was a pretty uncharacteristic shot for me," he said. "Something about that did not feel comfortable and it showed.

"This is the first time I played out here since they redid the greens so I was struggling with speed a little bit, but overall it was a pretty solid round."

NOTES: Woodard's seven birdies tied his Tour best, matching his output in the second round of the 2019 County Championship … Two players in the field were getting back in the game after long absences. Greg Burnett, who was one of the county's best players back in the day, was playing his first tournament in 17 years; he shot 89 with a birdie. Craig Messer was in his first tournament in 15 years; he shot 82. Both stepped away followed the birth of children. "That was fun," Messer said. "It felt good to be back. I definitely had nerves the first couple holes, but it was good nerves. I expected better. It was my putting. I'll come around." …

Will Brown played one of his best rounds in a Tour event. His 71 is three shots off the lead. He was 5-under on the back after four straight birdies and 2-under for the round through 17. His drive on 18 found the left side hazard, but he took a stroke and salvaged bogey. He shot 2-under 68 in the opening round of last year's County Championship at The Hill. "I think it's one of those goals like breaking 80 or breaking par that you finally broke the ice in a stroke-play event and made it happen," he said of breaking par in a Tour event. ""Four (birdies) in a row for me anytime, in the dogfight at Pine Hill, is good; four in a row in a tournament is nice. Struggled a little bit on 18, but got it done."
Gadsden City Championship
Championship A
Timmy Woodard

34

34

68
Corey Ray
34
34
68
Gary Wigington
35
33
68
Ty Cole
33
35
68
Chad Calvert
36
33
69
Jake Goggans
36
34
70
Will Brown
39
32
71
Harrison Hughston
37
34
71
Andrew Brooks
39
33
72
Brennan Clay
36
36
72
Caleb McKinney
35
37
72
Championship B
Chase Hollingsworth

37

36

73
Tanner Wells
35
38
73
Dane Moore
36
37
73
Logan Forrester
36
37
73
Clay Calkins
39
34
73
Norman Clifton
39
34
73
Hunter Carr
40
34
74
Bill Gilchrist
39
35
74
Jody Wooten
39
36
75
Jeremy McGatha
36
39
75
Casey Harmon
36
39
75
Matt Miller
36
39
75
Championship C
Danny Whittaker

39

37

76
Chance Harris
38
38
76
Chandler Richards
38
38
76
Chip Howell
36
40
76
Johnny Barnes
36
40
76
Tee Brown
41
35
76
Layton Bussey
38
38
76
Chris Cox
39
38
77
Mike Hughston
38
39
77
Nick Hubbard
38
39
77
Jeremy Willis
39
38
77
Will Broome
40
37
77
Josh Poole
38
39
77
First flight
Daily Thomas

39

39

78
Mason Dennis
40
38
78
Eric Ray
41
37
78
Mark Guyther
39
39
78
Dustin Travis
38
40
78
Nick Pollard
42
36
78
Randy Lipscomb
35
44
79
Drey Reeves
39
40
79
Ted Heim
40
39
79
Blake Grisham
39
41
80
Matt Greer
41
39
80
Matt Rogers
40
40
80
Lamar Carter
41
39
80
Second flight
Dre Davenport

39

42

81
Holland Corbin
39
43
82
Craig Messer
43
39
82
Daniel Ricks
41
41
82
Drew Anderton
38
45
83
Justin Goree
40
45
85
Clayton Chandler
41
44
85
Jason Payne
43
42
85
Clay Smith
44
42
86
Nathan Williams
37
49
86
Zach Mangum
39
47
86
Third flight
Mark Gaines

46

41

87
Jeff Chapman
45
43
88
Tyler Dopson
43
45
88
Maverick Smith
44
45
89
Greg Burnett
44
45
89
Kenny Fulmer
45
45
90
Scott Jimmerson
44
48
92
Houston Black
45
49
94
Kelly Rogers
47
48
95
Randy Watson
51
47
98
Keith Hutcheson
43
56
99
Adam Benefiel
51
55
106
Dennis Moyer
WD
Chase Thomas
WD
Mark McCaig
DNS
Sunday pairings
8 a.m.: Randy Watson, Keith Hutcheson, Adam Benefiel
8:07: Scott Jimmerson, Houston Black, Kelly Rogers
8:15: Greg Burnett, Maverick Smith, Kenny Fulmer
8:22: Mark Gaines, Jeff Chapman, Tyler Dopson
8:30: Zach Mangum, Clay Smith, Nathan Williams
8:37: Drew Anderton, Clayton Chandler, Justin Goree, Jason Payne
8:45: Dre Davenport, Corbin Holland, Craig Messer, Daniel Ricks
8:52: Lamar Carter, Matt Greer, Blake Grisham, Matt Rogers
9:00: Ted Heim, Randy Lipscomb, Drey Reeves
9:07: Eric Ray, Daily Thomas, Dustin Travis
9:15: Mason Dennis, Mark Guyther, Nick Pollard
9:22: Mike Hughston, Josh Poole, Jeremy Willis
9:30: Will Broome, Chris Cox, Nick Hubbard
9:37: Chip Howell, Chandler Richards, Danny Whittaker
9:45: Johnny Barnes, Tee Brown, Layton Bussey, Chance Harris
9:52: Casey Harmon, Jeremy McGatha, Matt Miller, Jody Wooten
10:00: Dane Moore, Tanner Wells, Hunter Carr, Bill Gilchrist
10:07: Clay Calkins, Norman Clifton, Logan Forrester, Chase Hollingsworth
10:15: Andrew Brooks, Brennan Clay, Caleb McKinney
10:22: Chad Calvert, Jake Goggans, Will Brown, Harrison Hughston
10:30: Ty Cole, Corey Ray, Gary Wigington, Timmy Woodard