Long wait rewarded
Alexandria literally goes down to the wire to win county softball crown; freshman delivers in the clutch, Gattis MVP; all three games included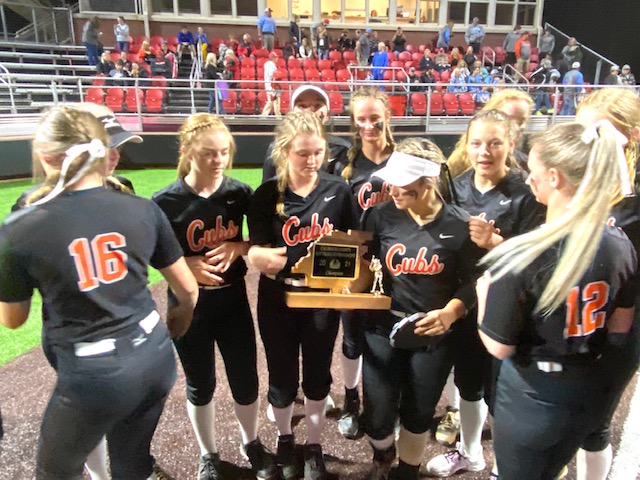 CALHOUN COUNTY SOFTBALL TOURNAMENT
Friday's games
(At Jacksonville State)
Piedmont 17, White Plains 7
Pleasant Valley 7, Piedmont 2
Championship game
No. 1 Alexandria 1, No. 2 Pleasant Valley 0

By Al Muskewitz
East Alabama Sports Today
JACKSONVILLE — Alexandria literally waited all day — and almost into the next one — to raise the trophy on a title it had been waiting two years to defend. It was worth the wait.
Freshman Clancy Bright dropped a bases-loaded single over a drawn-in infield and into left field with one out in the seventh — 44 minutes before midnight — to score pinch runner Brinley Sparks with the game's only run in a 1-0 classic over Pleasant Valley for the Calhoun County Softball Tournament title.

Lady Cubs pitcher Rylee Gattis, who outdueled Pleasant Valley ace Leah Patterson in the circle of the championship game, was named MVP in her first ever Calhoun County Softball Tournament experience.

It was the Lady Cubs' third county title in a row — absent of last year's COVID-19 cancelation — and 10th in the 20 years of the event.

It also was their 20th win of the season.

"It was well worth the wait," Alexandria coach Brian Hess said. "Last year those seniors were wanting to defend it. This right here makes it special."
Bright was an unlikely hero. She had struck out with bases loaded twice earlier in the game, but she already had forgotten about it when she went to the plate in the seventh.
Gattis got the winning rally started with a double to left center and was replaced on the bases by Sparks. Addie Jennings was intentionally walked to set up a force and Jill Cockrell walked to load the bases.
Bright deposited her game-winner just over the third baseman's head with PV's infield drawn in.
"That was awesome; I'm really proud of myself and my team," Bright said. 'We played great. It was wonderful."

Hess said Bright was due to drop one in somewhere.

"She's been one of those who has been on the cusp of dropping one somewhere and I was waiting," Hess said. "I was waiting for her to drop one somewhere and luckily they played in to where we could drop it right up over the third baseman's head and it worked out."

"I have confidence in every player on the team," Gattis said. "I don't care if we've all struck out. I don't care if the pitcher's throwing a perfect game. With a game like that on the line, I have confidence in every player on the team. We were in it every second of the way."
The battle of the tournament's top two seeds was a battle of the county's top two pitchers, and it didn't disappoint.
Gattis and Patterson went at it pitch-for-pitch. Every time someone got their bat on the ball in the late innings everyone in Jacksonville State's softball stadium held their breath in anticipation of something breaking it open.

Patterson, who held hot-hitting Piedmont to two runs in the semifinals, gave up six hits, struck out nine and, of course, got out of those two bases-loaded jams against Bright in the first and third.

Gattis, meanwhile, gave up three hits and struck out seven. She took a no-hitter into the fifth.
"It was intense, but I knew I had a job to do, so that was my main goal," Gattis said. "It's the same thing it's been all week: I've got to play for them, they play for me."
After beating Piedmont in the loser's bracket final, Pleasant Valley's goal was to play past midnight and it had a great chance to extend the night in the top of the seventh.
The Lady Raiders loaded the bases with one out, but Gattis got out of it by inducing Madison Borders into a 1-2-3 double play. Hess said the twin killing changed the entire momentum of the game.

"Everybody came together for that play," Gattis said. "Everybody's energy was there for that play."
"We were trying our best to get to midnight," PV coach David Bryant said. "I thought our kids were doing the best they could. We've played a lot of one-run games this year and we've come on top of a lot of them, but this one we just came up a little short."

Alexandria 1, Pleasant Valley 0
Pleasant Valley 000 000 0 – 0 3 2
Alexandria 000 000 1 – 1 6 2
WP: Rylee Gattis. LP: Leah Patterson. 2B: Daisy Bowie (A), Rylee Gattis (A).

ALL-TOURNAMENT TEAM
Most Valuable Player:Rylee Gattis, Alexandria
Offensive Player of the Year:Ashley Phillips, Alexandria
Defensive Player of the Year:Bailey Harris, Pleasant Valley

All-Tournament
Addie Jennings, Alexandria; Chloe Gattis, Alexandria; Daisy Bowie, Alexandria; Leah Patterson, Pleasant Valley; Ava Boozer, Pleasant Valley; Madison Borders, Pleasant Valley; Emily Farmer, Piedmont; Grace Epperson, Piedmont; Callie Richardson, White Plains; Jaylee Crow, White Plains; Kynlee Marvasty, Weaver; Tiana Lawrence, Weaver; Anna Seeger, Jacksonville; Alexis Callahan, Jacksonville; Abbi Whithead, Ohatchee; Anna Bryant, Ohatchee; Ellie Derrick, Oxford.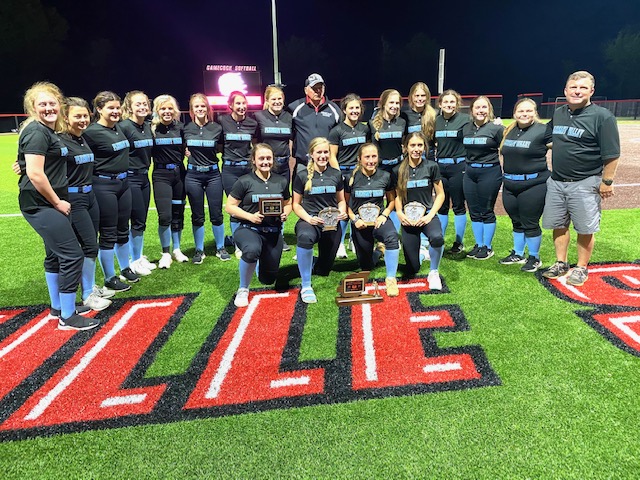 Patterson pitches PV past Piedmont
The Lady Bulldogs had erupted for 48 runs in its previous four tournament games, but Patterson held them to four hits and a two-run homer by Grace Epperson in the first inning. She struck out eight and at one point after the Lady Bulldogs' third hit retired nine in a row.
"I was super proud of Leah and our team," PV coach David Bryant said. "They (Piedmont) were the hottest team around here and to hold them to two runs … I was super proud of them."
It was the deepest Piedmont had ever advanced in the county tournament. The Lady Bulldogs made the final four two years ago, but lost in that round's first game.

Piedmont threatened in the sixth after breaking Patterson's string. The Lady Bulldogs loaded the bases with one out, but Patterson got out of it with a foul pop out and inning-ending strikeout.
"Leah has always been cool as a cucumber," Bryant said. "I love 'Star Trek'. She is like Spock. She's just unshakable. They hit the dinger off her (in the second) and then she got dialed in and threw some big pitches in big moments."

PV's Madyson Cromer broke a 2-2 tie with a two-run homer in the third that gave her team the lead for good. Bailey Harris had three RBI.
The Lady Raiders would have to win two games to win the title. With the first game of the championship series scheduled to start when the 'if' game was slated to start (9 p.m.), it could be well into Saturday before they can pull off the feat.
"I told them let's see if we can play past midnight," Bryant said. "Our goal is to play past midnight."

Piedmont 7, Pleasant Valley 2
Piedmont 200 000 0 – 2 4 5
Pleasant Valley 200 000 0 – 7 9 1
WP: Savannah Smith. LP: Leah Patterson. 2B: Bailey Harris (PV), Rylee Haynes (PV), Jaycee Glover (P). HR: Madyson Cromer (PV).
Bizarre big inning boosts Bulldogs
Piedmont extended its stay in the Calhoun County Tournament with a 17-7 win over White Plains that featured one of the most incredible innings in tournament history.

The Lady Bulldogs erased a 4-0 deficit with a 12-run rally in the fourth inning. Incredibly, all 12 runs scored after White Plains retired the first two batters of the inning.
That got the Lady Bulldogs to the top of the lineup where the next 13 batters reached safely.
All 12 runs were unearned, as the whole inning started on a two-out error. White Plains used three pitchers in the inning.

"I've never seen anything like it in my life and I've been around this game 30 years," Piedmont coach Rachel Smith said. "I've never seen anything like that happen with two outs.
"Kudos to the girls for fighting and getting a hit with two outs and finding a way to keep it going. That's the kind of fight and effort I've known is there and I'm hoping it stays there."
There were two plays that defined the inning.
The first came when White Plains chose to pitch to Emily Farmer instead of intentionally walking her – as it did in the first and two other times later – to load the bases and set up a force at any base. Farmer drilled a two-run double to score Piedmont's first two runs.

Two batters later, a third strike got away keeping the inning alive. The Lady Bulldogs scored nine more runs after that before the inning ended.
Z'Hayla Walker got that ball rolling with a bases-loaded two-run single through the box. To that point, the Lady Bulldogs were 0-for-4 with bases loaded in the first two innings.
Reece Franklin had two hits and two RBIs in the inning. Grace Epperson had two hits and three RBIs in the inning.

Piedmont 17, White Plains 7
White Plains 100 312 – 7 8 6
Piedmont 000 (12)05 – 17 15 4
WP: Emily Farmer. LP: Jaylee Crow. 2B: Callie Richardson (W), Adriana Sotelo 2 (W), Savannah Smith (P), Emily Farmer (P).