Driving it home
Georgia partners Hammond and Harman back up big first round with a Sunday 60 to win Calhoun County Team Championship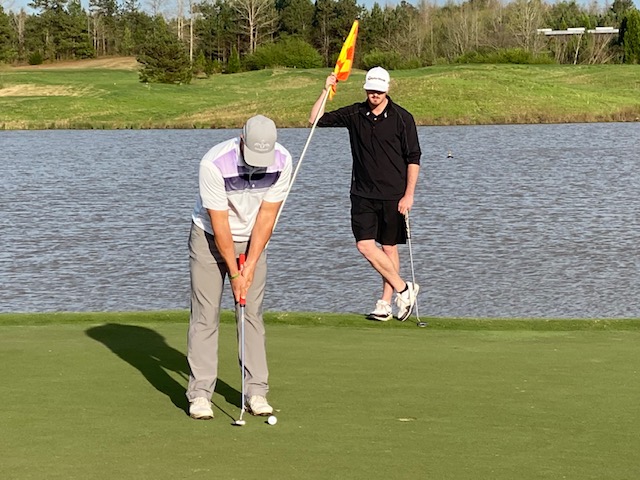 By Al Muskewitz
East Alabama Sports Today
SILVER LAKES — Brandon Hammond figured if partner John Harman was going to be the team's driver in the tournament the least he could do was drive them the 75 miles to the golf course.

The Carrollton, Ga., partners rode the combination of Harman's powerful drives and Hammond's sharp short game to a 12-under-par 60 in Sunday's scamble to complete a 26-under 118 and a wire-to-wire victory in the Calhoun County Team Championship at Silver Lakes.

They won by five shots over Gary Wigington and Scott Martin and six over Brennan Clay and Jeremy McGatha, who won the first flight with the second best round of the day (61).

The scamble 60 and total 118 are both tournament records since the event moved to Silver Lakes in 2016.

The winners played the nine holes in the middle of their round in 10-under and birdied seven straight on the back end. Ironically, they played their first 11 holes Sunday exactly the same as they did in their opening-round 58.

"We played about a carbon copy of the way we played yesterday," Hammond said. "What we talked about yesterday is it's really hard to back up a great round with a good round. It doesn't happen often, but we did it today.

"We really played about as good as we played yesterday.Just hit the ball really solid all the way through from tee to green. John's driver was on point today. He was so long that it makes golf really easy. He could've won with anybody else other than me, he hit it so good today."

Two of the birdies in their big run came after Harman drove par-4s Backbreaker 6 and Heartbreaker 3, and Hammond lipped out an eagle putt on the first one.

Several players in the field commented on the former college pitcher's prodigious length off the tee. He used the driver on every hole Sunday except downwind Backbreaker 8 and the par-3s.

"Stepping up and seeing all the room we had as far as we played it I felt comfortable over every tee shot knowing I could let it loose and if I was off a little bit it was still playable," he said.

On those occasions Harman did hit one offline, Hammond was there to get them back in play. And when he piped one, Hammond's sharp irons and wedges gave them a reasonable birdie attempt.

"He's so good from 100 yards and in it was more not about me setting myself up but trying to get him a wedge in his hand so he could do his thing," Harman said.

The previous low scamble at Silver Lakes was 61 by Wigington and Ty Cole in 2017 and Ott and Dalton Chandler in 2019. The previous tournament best at Silver Lakes was 122 by Clay and McGatha in 2019. The winners' opening-round 58 tied the tournament Silver Lakes scramble record set by Cory Etter and Caleb Bowen in 2016.
NOTES: Harman, 27, gets his golf power from baseball. He turned down a chance to be drafted by the Pittsburgh Pirates out of junior college and went on to pitch two years at Western Kentucky … The champions play out of Sunset Hills CC in Carrollton … There were five eagles and 153 birdies in the round. Backbreaker 7 and Heartbreaker 1 produced two eagles each; the other was at Backbreaker 9 … Every hole was birdied at least once. Kevin and Landon Daugherty had the most birdies (11). There were five birdie-free rounds.
Calhoun County Team Championship
| | | | |
| --- | --- | --- | --- |
| Championship flight | | | |
| Brandon Hammond-John Harman | 58 | 60 | 118 |
| Gary Wigington-Scott Martin | 60 | 63 | 123 |
| Drew Anderton-Randy Lipscomb | 60 | 67 | 127 |
| Chad Calvert-Daily Thomas | 61 | 68 | 129 |
| Jody Wooten-Logan Forrester | 60 | 69 | 129 |
| First flight | | | |
| Brennan Clay-Jeremy McGatha | 63 | 61 | 124 |
| Caleb Bowen-Cory Etter | 64 | 64 | 128 |
| Jason Johnson-Landon Straub | 62 | 68 | 130 |
| Randy Reaves-Will Reaves | 65 | 68 | 133 |
| Chris Cox-Gage Miller | 63 | 70 | 133 |
| Chad Watson-Matt Miller | 65 | 69 | 134 |
| Danny Whittaker-Tony Hicks | 65 | 69 | 134 |
| Hunter Carr-Zach Mangum | 65 | 76 | 141 |
| Second flight | | | |
| Kevin Daugherty-Landon Daugherty | 66 | 62 | 128 |
| Jake Goggans-Rob Davie | 66 | 64 | 130 |
| Chris Hubbard-Clay Calkins | 67 | 64 | 131 |
| Clayton Chandler-Clint Brakbill | 67 | 67 | 134 |
| Billy Thompson-Timmy Woodard | 66 | 69 | 135 |
| Chase Hollingsworth-Jono Waugh | 66 | 69 | 135 |
| Justin Graveman-Patrick Crane | 68 | 67 | 135 |
| Mark Hudgins-Nick Ledbetter | 67 | 69 | 136 |
| Cain Hollingsworth-Taylor O'Connor | 66 | 70 | 136 |
| Patrick Cooper-Shawn Ledbetter | 66 | 71 | 137 |
| Kenny Okins-Rick Okins | 68 | 71 | 139 |
| Tyler Dopson-Will Brown | 67 | 73 | 140 |
| Cameron McCareeth-John Grubbs | 68 | 72 | 140 |
| Rodney Grubbs-Wesley Jenkins | 67 | 76 | 143 |
| Third flight | | | |
| Jeff Chapman-Justin Goree | 70 | 71 | 141 |
| Danny Shears-Ryan Limbaugh | 70 | 72 | 142 |
| Dustin Travis-Kolby Slick | 71 | 72 | 143 |
| Daniel Black-Lamar Carter | 69 | 74 | 143 |
| Isabel Rogers-Matt Rogers | 69 | 75 | 144 |
| Stan McCarley-Trevor McCarley | 70 | 75 | 145 |
| Dre Davenport-Matt Greer | 71 | 75 | 146 |
| Daniel Ricks-Nathan Williams | 71 | 75 | 146 |
| Cody Fortenberry-Keith Fortenberry | 69 | 80 | 149 |
| Larry Reaves-Tyler Romine | 69 | 80 | 149 |
| Austin Elliott-Bradley Elliott | 71 | 80 | 151 |
| Blake Jones-Nick Hubbard | 70 | 82 | 152 |
| Fourth flight | | | |
| Jacob Sittre-Steven Crane | 74 | 78 | 152 |
| Adam Benefiel-Houston Black | 73 | 79 | 152 |
| David Lawrence-Jim Tindle | 76 | 77 | 153 |
| Bobby Yarbrough-Mike Ledbetter | 75 | 81 | 156 |
| Justiin Nolin-Nick Machowicz | 82 | 90 | 172 |