This one's for her
Lady Indians give Poe her 100th career softball victory with cousin coaching in opposing dugout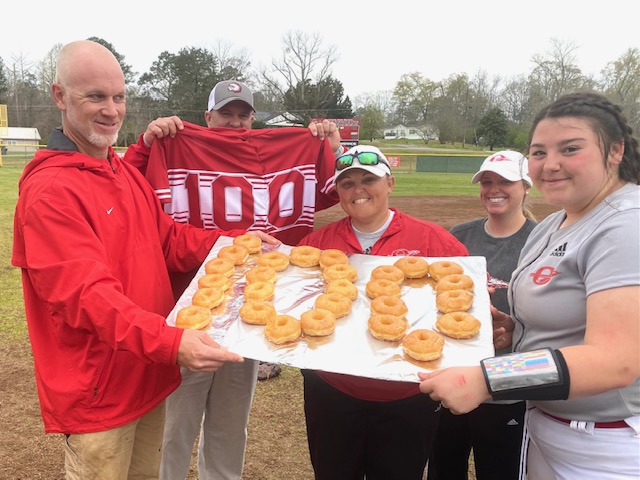 TUESDAY'S SOFTBALL SCORES
Ohatchee Spring Round-Robin
Ohatchee 6, Saks 0
St. Clair County 9, Saks 0
Ohatchee 8, Pinson Valley 4
Ohatchee 8, St. Clair County 1
Saks 8, Pinson Valley 4
St. Clair County 8, Pinson Valley 6

By Al Muskewitz
East Alabama Sports Today

OHATCHEE – When Kendall Poe became the Ohatchee softball coach six years ago her biggest concern was just winning that first game – and then she'd worry about the one after that when it came on the schedule.

Those milestone wins that pile up over a long coaching career just never entered into her thinking.
It's always been about the girls.

On this day, however, the girls did something for her. They rewarded their coach for being there for them with one of those milestone wins Tuesday, coming from behind to beat Pinson Valley 8-4 and give Poe the 100th victory of her coaching career. All of them have been with Ohatchee.
"It's pretty cool," she said after the milestone was presented to the crowd. "It means more to me because every win has been at Ohatchee. It's my home. There's no words, really, because it's always been here."

The Lady Indians (12-6-1) set up the milestone with a 6-0 shutout of Saks in their first game of the day. After locking up No. 100 in the afternoon rain, they tacked on No. 101 in an 8-1 victory over St. Clair County behind Kylee Barnes' second homer of the day and five RBIs.

The Lady Indians rallied twice to win the milestone game, eventually putting it away with a seven-run third inning that erased a 4-1 deficit. They sent 12 batters to the plate in the inning and scored all seven runs after Pinson Valley retired their first two batters.

Barnes hit a two-run homer to get them within 4-3 and seventh-grader Alana Fitch hit a three-run double to put them ahead for good, 6-4. Abbi Whitehead followed with an RBI double and Ellie Carden hit a run-scoring single in her second at-bat of the inning for the final two runs.

"We've been going through a slump; the past week or so ours bats have not been hot, but they finally come alive that game, it's like we finally woke them back up," Poe said. "I didn't know there for a minute it was going to happen, but they come back good."

"It was very exciting," Finch said.

Among Poe's 101 wins are two area tournament titles and three trips to the regionals. She took the team to the state tournament in Montgomery in 2016.

"This is not because of me at all," Poe said. "It's all because of them. I haven't won any game. They've won 100 wins. I probably caused more losses, that's for sure, but they won the 100 wins."

And catcher and cleanup hitter Anna Bryant, the team's only senior this year, has been there for every one of them.

"It's really exciting," she said. "We love her like she's our own mom; we're with her more than our own parents sometimes. I was in the seventh grade when she was still the assistant coach and now she's the head coach and gets her 100th win. I watched it happened. I'm just really proud of her. I'm happy I'm here to see it happen."

And make it happen.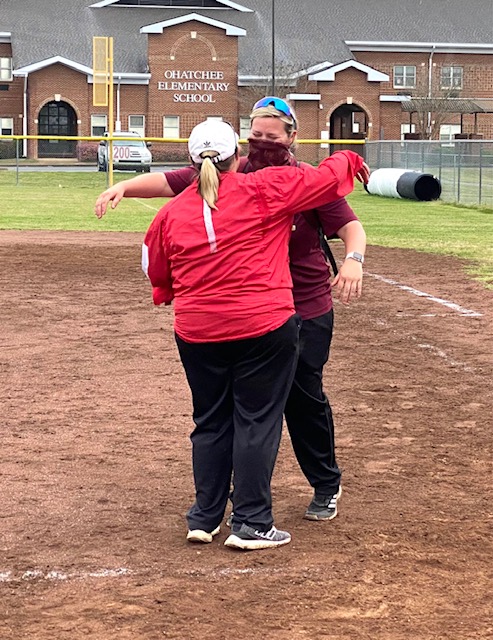 What made the milestone even more special for Poe was who was in the opposing dugout. Her cousin, Emily Church, is the first-year coach at Pinson Valley.

"I knew it was going to be a huge possibility that she was going to be in the other dugout," Poe said. "I don't want to say it's cooler, not that it meant more (because of it), but it was nice to have family on the field with me. It meant a lot."

When the game was over, the coaching cousins shared an emotional embrace at home plate. They both knew their beloved Aunt Gert, Gwen Fuller, who passed away in 2015, was smiling down proudly on the milestone Poe accomplished this day. They knew if Aunt Gert were here she'd be sitting right behind home plate pulling hard for both teams' success with blow-pops for all.

"I didn't know it was the 100th win (beforehand), but it's big for me because Kendall is one of my biggest role models," Church said. "The reason I go into coaching is I want to follow in her footsteps; I want to do what she's done at Ohatchee at Pinson. I got down there to my kids and I was like I wouldn't have wanted her 100th win to be against anybody else other than me because if it would've been I wouldn't have been able to be here."

Gulf Coast Classic II
At Gulf Shores
Alexandria: lost to Dale County, 5-4; def. Gulf Shores, 7-1; lost to Thomasville, 14-0; lost to Thompson, 5-3; lost to Wetumpka, 4-2.

Piedmont: lost to Thomasville, 9-8; lost to Chilton County, 6-1; lost to Green County (Ark.), 9-6; lost to John Carroll, 5-0; def. Albertville, 9-7.

Pleasant Valley: lost to Hewitt-Trussville, 1-0; lost to Hewitt-Trussville, 15-0; lost to Wetumpka, 2-1; beat Thomasville, 9-1; lost to Hoover, 7-6.

GULF SHORES – The trip may not have been as successful as it would have liked on the scoreboard, but Pleasant Valley coach David Bryant is "greatly encouraged" for the rest of the season by what he saw from his team in the rain-plagued Gulf Coast Classic II tournament this week.

The Lady Raiders went 1-4 in the tournament and were sent home Tuesday after a 1-0 Round of 16 bracket loss to Hewitt-Trussville. It was their third one-loss of the tournament.

"It was a great experience that helped us improve and identify areas where we need to continue improving," Bryant said. "We lost three one-run games and had a chance to win all of them. We just needed a timely hit or two."

After scorching the ball in their first two games Monday, they were held to eight hits and one run in their final three games. They lost to Hoover (7-6), beat Thomasville (9-1), then lost to Wetumpka (2-1) and Hewitt-Trussville (15-0).

"What made me most proud was how we responded Tuesday morning afte getting shellacked in our fourth game Monday night by Hewitt and then running them to 1-0 as time ran out on us," Bryant said. "This team has no quit and tons of grit."

Bailey Harris had two hits for PV in Tuesday's game and had four in the tournament. Ava Boozer went 4-for-4 in the Lady Raiders' tournament opener and had six hits total. Taylor Nix had five hits. Leah Patterson struck out 30 batters in 15 1/3 tournament innings in the circle. 

Dale County 5, Alexandria 4: Dale County wiped out a 4-1 deficit with four runs in the fifth inning and held the Lady Cubs scoreless in the sixth to win. The Lady Cubs went 2-3 in the tournament. Rylee Gattis throwing a no-hitter against Gulf Shores Monday night.
Thomasville 9, Piedmont 8: Thomasville scored two runs in the bottom of the fifth on an error to erase an 8-7 deficit. Grace Epperson drove in three runs for Piedmont, while Emily Famer and Cayla Brothers each had two RBIs. The Lady Bulldogs went 1-4 in the tournament.