Playing around
Ohatchee eighth-grader has played six of the nine field positions in the Indians' first six games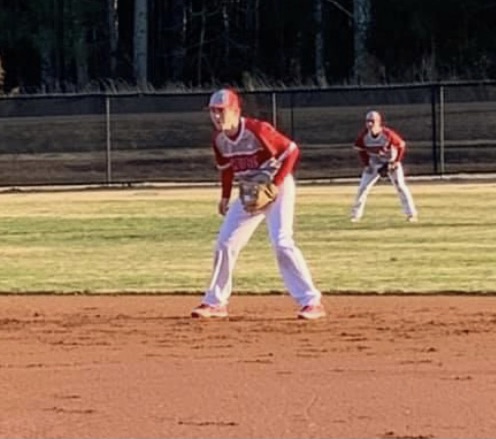 TUESDAY'S GAMES
Saks 13, Anniston 0
Jacksonville 4, Pleasant Valley 2
Ohatchee at Spring Garden, ppd.
Piedmont at Alexandria, ppd
By Al Muskewitz
East Alabama Sports Today

OHATCHEE – Carson Tittle is just six games into his varsity career and he's already played almost every position you can play in the field.
The Ohatchee eighth-grader is the epitome of versatile, his team's version of former Atlanta Brave Charlie Culberson. He's played everywhere but catcher, first base and right field so far this year for the undefeated Indians (6-0).

(The Indians were scheduled to play Spring Garden Tuesday, but the game was postponed due to weather.)

It's not like Tittle doesn't have experience there – he has caught, played first and right in Little League – the Indians have productive older players established in those spots. The way it works, he ends up playing the field position of the Indians' pitcher of the day.

"The dude is an absolute baseball player," Indians coach Blake Jennings said. "He lives and breathes the game. I'll bring something up, ask what something means, when it comes to stats or what happened with this major-league guy, he's going to be able to answer it. He just loves baseball."

If Tittle had a natural position it probably would be shortstop or center field, but he's pragmatic about where he plays. If he were going to add another position before his career ends, he figures it'll probably be right field.

"It really doesn't matter to me as long as my team keeps winning," he said. "It's pretty fun getting to play all the positions just trying to help my team win."

And he has done that. He pitched an inning in the season opener and has proceeded to make his way around the field. He earned his first career win on the mound in relief Saturday against Weaver and is hitting .333 (5-for-15) – one of seven regulars hitting .333 or better – with one RBI and seven runs scored.

"He runs the bases unreal," Jennings said. "He ain't the fastest in the world, but he knows the game."

The 14-year-old has been on the coach's radar for a long time, and not just because he's the principal's son. Jennings brought him up last year to play second base against Spring Garden in what turned out to be the Indians' last game of the season due to the COVID shutdown and knew he could be a keeper.

"I knew last year when the pandemic was over he'd play every day for me, if he could hit," Jennings said. "He's come along and he's able to produce, do exactly what we ask him to do at the plate. Defensively, he's probably one of the best players we've got. He's gonna be a player."

Ohatchee was recently installed as the No. 3 seed in this weekend's Calhoun County Tournament. The Indians will play their first tournament game Saturday at 12:30 p.m. on the Signature Field at Choccolocco Park.

Saks 13, Anniston 0: Mason Jairrels went 3-for-4 with a pair of RBI doubles and Connor Martin and Jeremy Waters combined on a two-hit five-inning shutout. Jairrels drove in the Wildcats' first run and scored their second in a two-run first inning. He also had a sacrifice fly in the second and an RBI double in a six-run third. Clay Rucker and Shon Elston had two hits apiece.

Jacksonville 4, Pleasant Valley 2: The Golden Eagles pushed across a pair of runs in the sixth with sacrifices to take a 3-0 lead and Grant Patterson worked out of a bases-loaded jam in the seventh to preserve the win. Patterson also had two hits, as did starting pitcher Coleman Oliver and JaeTaj Morris. Oliver gave up one hit and struck out eight over the first five innings.