Planting the seeds
Oxford installed as top seed in Calhoun County Baseball Tournament, defending champion Piedmont, Ohatchee, Alexandria complete top 4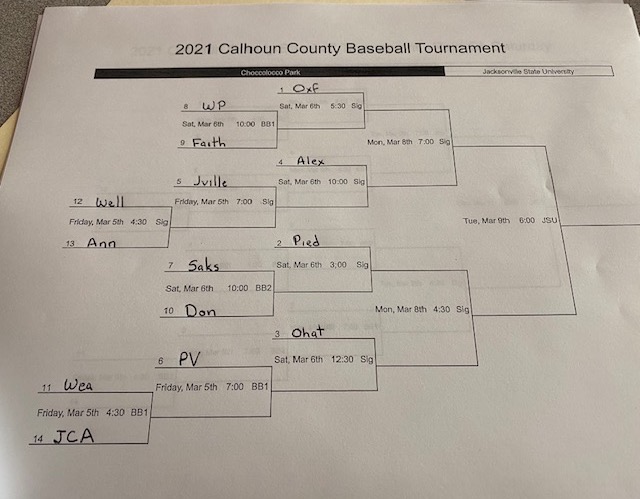 CALHOUN COUNTY BASEBALL TOURNAMENT
(At Choccolocco Park)
(County record, overall record)
March 5
No. 13 Anniston (0-2, 0-3) vs. No. 12 Wellborn (1-1, 2-4), 4:30 p.m. (SF)
No. 14 Jacksonville Christian (0-0, 1-1) vs. No. 11 Weaver (0-2, 0-2), 4:30 p.m. (BB1)
Anniston-Wellborn winner vs. No. 5 Jacksonville (1-3, 1-5), 7 p.m. (SF)
JCA-Weaver winner vs. No. 6 Pleasant Valley (1-1, 6-2), 7 p.m. (BB1)
March 6
No. 9 Faith Christian (1-0, 4-1) vs. No. 8 White Plains (0-2, 1-3), 10 a.m. (BB1)
No. 10 Donoho (1-0, 2-1) vs. No. 7 Saks (0-1, 2-2), 10 a.m. (BB2)
Anniston/Wellborn/Jacksonville vs. No. 4 Alexandria (2-1, 2-5), 10 a.m. (SF)
JCA/Weaver/PV vs. No. 3 Ohatchee (4-0, 6-0), 12:30 p.m. (SF)
Saks-Donoho winner vs. No. 2 Piedmont (1-0, 4-0), 3 p.m. (SF)
Faith-White Plains winner vs. No. 1 Oxford (1-0, 6-1), 5:30 p.m. (SF)
March 8
Semifinals, 4:30 p.m. (SF)
Semifinals, 7 p.m. (SF)
March 9
(At Jacksonville State)
Championship game, 6 p.m.

By Al Muskewitz
East Alabama Sports Today
Oxford and Piedmont are clearly recognized as the top two baseball teams in Calhoun County right now. One is undefeated. One has one loss. Both have played a quality early-season schedule. Neither have played much within the county, but both have beaten their two common opponents.

It was just a matter of deciding who the county coaches wanted to make 1 and 2 when it came to seeding the Calhoun County Baseball Tournament.

Oxford got the nod for No. 1 in this year's tournament Sunday, in a show-of-hands that was as close as when eventual first-time champion Piedmont nosed out the four-time defending champion Yellow Jackets the year before. The vote was 8-6.
"It doesn't get any closer than 8 and 6," Piedmont coach Matt Deerman said. "They got the eight votes this year, we got eight votes last year. It's about the same as it was last year.

"I kind of thought coming in it would be one of the two of us being the 1 or 2, but it doesn't matter. Whichever way it fell I wasn't going to have any complaints. Both of us should have deserved a shot at it. We voted on it, they won. We'll play what we're handed, do the best we can."

Undefeated Ohatchee, at No. 3 its highest seed in coach Blake Jennings' tenure, and Alexandria rounded out the top four, followed by Jacksonville, Pleasant Valley, Saks and White Plains, which was represented by assistant coaches Chandler Tyree and Clay Sprayberry for head coach Wes Henderson.

The tournament starts Friday at Choccolocco Park and concludes, provided there are no weather issues, March 9 at Jacksonville State.

All tickets must be purchased on line and could go on sale as early as Wednesday. Tournament officials have gone so far as to rework the schedule in the event its interrupted by rain, but no seeds will be adjusted if they lose a team to COVID during the tournament and no game times will be moved if there becomes a COVID break in the schedule.

It isn't certain if Jacksonville Christian will play now that COVID has gotten into its program and the tournament seeded the Thunder (1-1) 14th accordingly. The Thunder coaches did not attend the seeding meeting, but were represented by tournament director Jody Whaley.

That doesn't mean the tournament will have a void in the schedule after the opening day. The coaches seemed agreeable to an eliminated team volunteering to replace a quarantined team in order to give the paying public a game, similar to what happened during the County Basketball Tournament. 
Oxford is 6-1 and suffered its first loss of the season Saturday against Chilton County pro prospect and Mississippi State signee Pico Kohn. They've scored 45 runs and won three one-run games, two with seventh-inning rallies.

The Jackets don't play many teams in the county, so the coaches voting don't get to see them. Still, they beat the common county opponent they shared with Piedmont – Jacksonville – by wider margin.
"Obviously, I think we're the best team," Jackets coach Wes Brooks said, but he quickly shared the respect he has for all that Piedmont has accomplished.

Piedmont is 4-0 and on the same kind of roll it was when baseball got shutdown for COVID last year – with more depth in the lineup and on the mound.

Granted, it's only four games, but the Bulldogs are hitting .400 as a team with 39 runs, 11 doubles and 13 extra-base hits. Their pitching staff has a 0.56 ERA and 29 strikeouts in four games and has given up seven hits and no earned run in their last three games (18 innings).

Noah Reedy is swinging their hottest bat. He's hitting .786 with nine RBIs and has gotten a hit in each of his last eight at bats. His last two pitching appearances were a 72-pitch one-hitter against Jacksonville in last year's county tournament semifinals and a 78-pitch one-hitter against Cleburne County Thursday. The Bulldogs are scheduled to play at Alexandria Tuesday in a game that will test the seedings.

"He's playing really well; he's barreling the ball up," Deerman said. "Last year he struggled early; it was the first time he started and let the pressure get to him a little bit. We stuck with him and had faith in him and you could see him starting to come along. In the County Tournament he threw a one-hitter against Jacksonville and hit a huge sac fly in the championship game and you could just see it coming and then all of a sudden it got taken away (by COVID shutdown).
"It's really good to see because he works his tail off and does things the right way. He's finally starting to see the progress of that."

Ohatchee's nod at 3 is a nice reward for its best start in Jennings' eight-year tenure, but it comes with a rub. For the Indians to reach the championship game they potentially would have to get through two area rivals – sixth-seeded Pleasant Valley (6-2) and Piedmont.
Of course, both of those teams would have to win a game for the matchups to happen.
"It's just a glorified area tournament," Jennings said. "I told them we could bring in Glencoe on Thursday and just make a deal of it."
He won't be giving the seed back, of course. The Indians are 6-0 and he believes they deserve their position.
"I'm just proud of the kids; they've worked hard to this point," he said. "To be in the upper consideration for a 3-seed when you've got a 6A, 5A and a couple 4As (in the mix), they've done their part.
"Right now, I would imagine Oxford and Piedmont are definitely the clear 1 and 2 in our county and one of those is in my area, so it'll be fun to play Pleasant Valley or Weaver first and then move it on."