World champion
Anniston native Kline wins Women's 2000 in World Indoor Rowing Championships, harbors Olympic dreams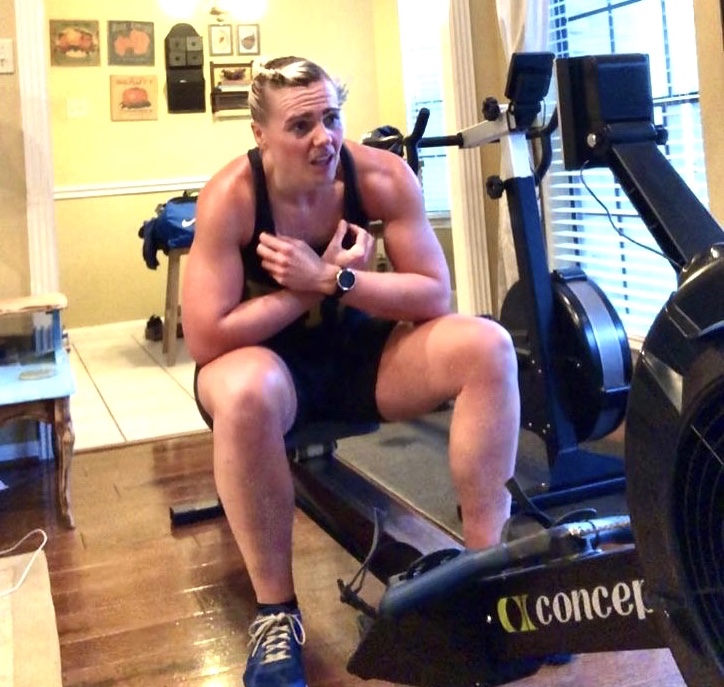 By Al Muskewitz
East Alabama Sports Today

When Kirsten Kline first got into rowing it was simply to help her beat back some personal demons. Today, she's the best in the world.

The 32-year-old former Anniston resident won the Women's Open 2000 meters in the virtual World Indoor Rowing Championships Saturday from the comfort of her suburban Houston home.
And it couldn't have been more dramatic.

She came from two seconds behind with 500 meters to go – a huge margin whether you're on the water or on an erg – to win by 3.2 seconds over Sophie Souwer of The Netherlands. It was her second gold of the competition, having won the Masters Women's 2,000 Friday by nearly 15 seconds ahead of the 2020 European and World Indoor champion from Germany.

"That honestly was probably one of the more exciting moments I've had in rowing," she said. "I haven't trailed in a ton of races, especially in these indoor ones, so to see it on the monitor and see it on the TV in live action while I'm actually doing it was exciting.

"I for sure thought I had lost and already kind of accepted with 500 meters left that I got second place; it's still good, but I obviously wanted first. So, when I came back and won it was just elation; I was just like, oh, this is the best feeling. I haven't had a feeling like that before, so that was exciting, to not give up and then come back and win."
Kline grew up in an athletic family that still lives in Anniston, went to Sacred Heart and was a rebounding machine on the girls basketball team. She played two years of college basketball at Huntingdon and then gave it up. She had been working in the oil business in various states until COVID hit and is now working as a title coordinator for a company out of South Carolina.

That's where she got into rowing, somewhat by default. When she moved to Houston she started working out in a local crossfit gym looking for a way to help her sobriety. One day she got on the erg, the formal name of the indoor rowing machine, liked what it did for her and had folks told her she was pretty good at it.

After posting a series of winning times indoors those same friends encouraged her to take it outside on the water. She started training with the Greater Houston Rowing Club in Sugar Land, got into a single scull because of COVID and never looked back. She credits the transfer of that old energy for partying to the sport she now embraces with being where she is in her life today.

Instead of raising a cold one after a win, she celebrates victories like the one Saturday with a bunch of Oreos.

"I owe a lot of it to getting sober; to clean up my life like that I had a whole lot of time and energy to put into things I like instead of just getting drunk every weekend," Kline said. "I wouldn't even have discovered what my passion is if it wasn't for the recovery.

"I'm just so grateful I found the program and stopped drinking. When I shut it down I needed something else to do and put some energy into and it was rowing. To flip that switch and using all that time and energy to row really made a huge difference in my life. It's so different from 2017 and where I was.

"I needed to hear a story like that from four years ago. I needed to hear if I quit maybe something in my life can get better, and I didn't know that until I did it."

Of course, there are Olympic aspirations in all this. Actually, she was supposed to be at the Olympic Rowing Trials in Florida this past week, but a series of events – among them the storms in Houston, difficulty in finding a high-performance singles scull during this time of COVID and having the trucking company damage the shell before delivery – conspired to force her to scratch.
Still, there is a silver lining. After winning the World Indoor event on top of some other world record times she's posted, she has been invited to start training next week in Oklahoma City with hopes of getting a spot in the Olympic Doubles Trials in New Jersey in April. Those trials would mark one year since she started rowing on the water.
"Winning this today was really exciting," Kline said. "I remember I assumed I could be an Olympian as a child and then life kind of breaks you down. I already have numbers on the erg Olympians pull. If I can get down the proper technique on the water I can be in the mix with these girls."