Bulldogs not finished
Anniston wins Northeast Regional in battle with White Plains, but it's just a stepping stone to a bigger prize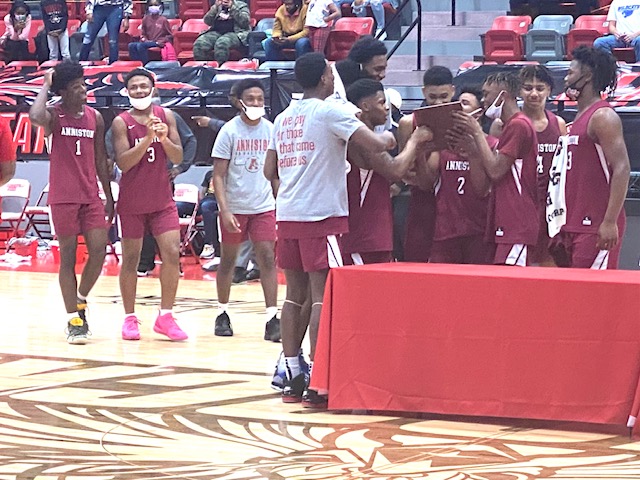 'It doesn't mean nothing until we win it. If we lose it … bad season.' – Anniston guard Antonio Kite on going to the Final Four


CLASS 4A BOYS ELITE EIGHT
Anniston 48, White Plains 37
Vigor 69, Holt 55
Booker T. Washington 71, Geneva 50
Brooks 61, Deshler 47
FINAL FOUR
At Bill Harris Arena, Birmingham
Booker T. Washington (18-4) vs. Brooks (20-8), 11:30 a.m.
Anniston (25-6) vs. Vigor, Friday, 4:30 p.m.

By Al Muskewitz
East Alabama Sports Today
JACKSONVILLE – For a lot of the teams that get to the Northeast Regional, getting through and into the Final Four is like reaching the top of the mountain.

For a team with the talent and expectations the Anniston Bulldogs have this year – even if the program hasn't been there in years – getting to the Final Four isn't even the half of it.
"It doesn't mean nothin' until we win it," All-State junior guard Antonio Kite said matter-of-factly. "If we lose it, (it'll be a) bad season."

The Bulldogs will get their chance after beating county and area rival White Plains Monday 48-37 in the Class 4A Northeast Regional final at Jacksonville State. They will play Vigor in the state semifinals Friday at 4:30 p.m. in Birmingham's Bill Harris Arena – right after their girls play in their semifinal.

It is the boys program's first trip to the Final Four since 2011, the last in a stretch of three in a row under former coach Schuessler Ware.

Anniston coach Torry Brown understands where his all-everything guard is coming from.

"The expectations are so high at Anniston because we've been there, done that so many times," Brown said. "The last couple years we went to the Elite 8 and the season was very good seasons – we won 25-26 games – but it wasn't a success. We feel like if we don't win it, the season's just not a success. It's just not."

The Bulldogs won what truly was a tale of two halves Monday despite scoring only one point in the third quarter and getting only one field goal in the second half.

Their only point of the third quarter was Troy Hall's free throw with 4:49 left and their only basket was Kam Sandlin's layup that gave them a 38-25 lead with 5:22 to play. They were 1-for-22 from the field in the half. Good thing they led by 16 at halftime.

"I've been involved in some of (those type games) before," Brown said. "It's like watching paint dry, but as long as you're on the top side of it, you don't mind watching paint dry. We didn't hit any points, but they didn't hit a lot of points either. We did enough to hold on and come away with the win, so that was very good."

The Wildcats didn't exactly scorch the nets in the third quarter, either. They scored only five points – a 3 and a 2 by Walker Osteen. With Anniston focused on taking Quin Wilson out of the game and limiting Jacob Wheeler's shots, Osteen was the only White Plains player to score in double figures (10 points). Brody Baker grabbed a game-high 14 rebounds.

"If you tell me before the game starts they're getting 48, I'm thinking we're going back home cutting down nets and getting ready to go to Birmingham," White Plains coach Chris Randall said. "I thought our defense was outstanding (in the second half), we just didn't make enough to cut enough into the lead.

"I think we trimmed it by four, but we knew we needed it to get to seven or eight by the end of the third to have a chance. It's hard with a team that talented to dig that big a hole and be able to fight back out of it."

The Bulldogs opened the game in a heavy press and it produced a 10-0 lead. White Plains fought back into it, but then Anniston went on another run in the final six minutes of the second quarter to grab a 34-18 halftime lead.

The half ended with Malcolm Carlisle hitting a deep 3 that was as relaxed as if he were in the layup line at the buzzer.

"My range? I don't have a range," the senior guard said laughing. "I just got range, that's all. I like to shoot."
Carlisle led all scorers with 17 points; he was 7-of-12 from the free throw line. Kite, his backcourt partner, scored only seven points but everything the Bulldogs did/do went through him. Troy Hall added 10 points for Anniston and Kam Sandlin grabbed nine rebounds.

"We have the best backcourt in the state and we're going to go as far as these guys (Carlisle and Kite) take us," Brown said. "The last couple years we've had some really good teams, but I think (Kite) having another guy who can do a lot of things that he does it takes a lot of pressure off him and he can pick his spots. When you have two guys who can really go get it, it makes it a whole lot easier."

Brown projected Kite will top all kinds of all-time lists at Anniston by the time he leaves. The only thing left for him to do, he said, to "sort of put his name up with the other greats" is win a championship.

The first step to that comes Friday afternoon.
CLASS 4A NORTHEAST REGIONAL
Boys Championship Game
Anniston 48, White Plains 37
ANNISTON (25-6) –Mark Toyer 1-5 1-2 4, Antonio Kite 3-13 0-1 7, Malcolm Carlisle 4-17 7-12 17, Miciah Myles 1-3 0-0 2, Kamron Sandlin 2-6 2-2 6, Troy Hall 4-7 1-2 10, Tadyn Jones 0-1 2-2 2. Totals 15-52 13-21 48.
WHITE PLAINS (21-7) –Quin Wilson 3-7 0-1 6, Jaden Chatman 1-4 4-4 6, Jacob Wheeler 1-6 0-0 3, Brody Baker 3-9 0-0 7, Walker Osteen 4-8 0-4 10, Tucker Pearson 1-1 0-0 3, Carson Wright 1-1 0-0 2, Landon Senciboy 0-0 0-0 0, Jesse Hubbard 0-3 0-1 0, Garrett Wilson 0-0 0-0 0, Cole Senciboy 0-0 0-0 0, Braden Knight 0-0 0-0 0. Totals 14-39 4-10 37.
Anniston 18 16 1 13 – 48
White Plains 11 7 5 14 – 37
3-point goalas: Anniston 5-18 (Toyer 1-4, Kite 1-4, Carlisle 2-8, Hall 1-1, Jones 0-1); White Plains 5-15 (Q. Wilson 0-2, Wheeler 1-3, Baker 1-3, Osteen 2-3, Pearson 1-1, Hubbard 0-3). Rebounds: Anniston 38 (Sandlin 9); White Plains 33 (Baker 14). Fouled out: Baker. Total fouls: Anniston 13, White Plains 15. Officials: Anthony, Driver, Booker.