Tourney topics
Oxford gets boost from former NBA star, Taylor remains strong in Vols' commitment, state approves playoff format, Half-Court Shot vote, and more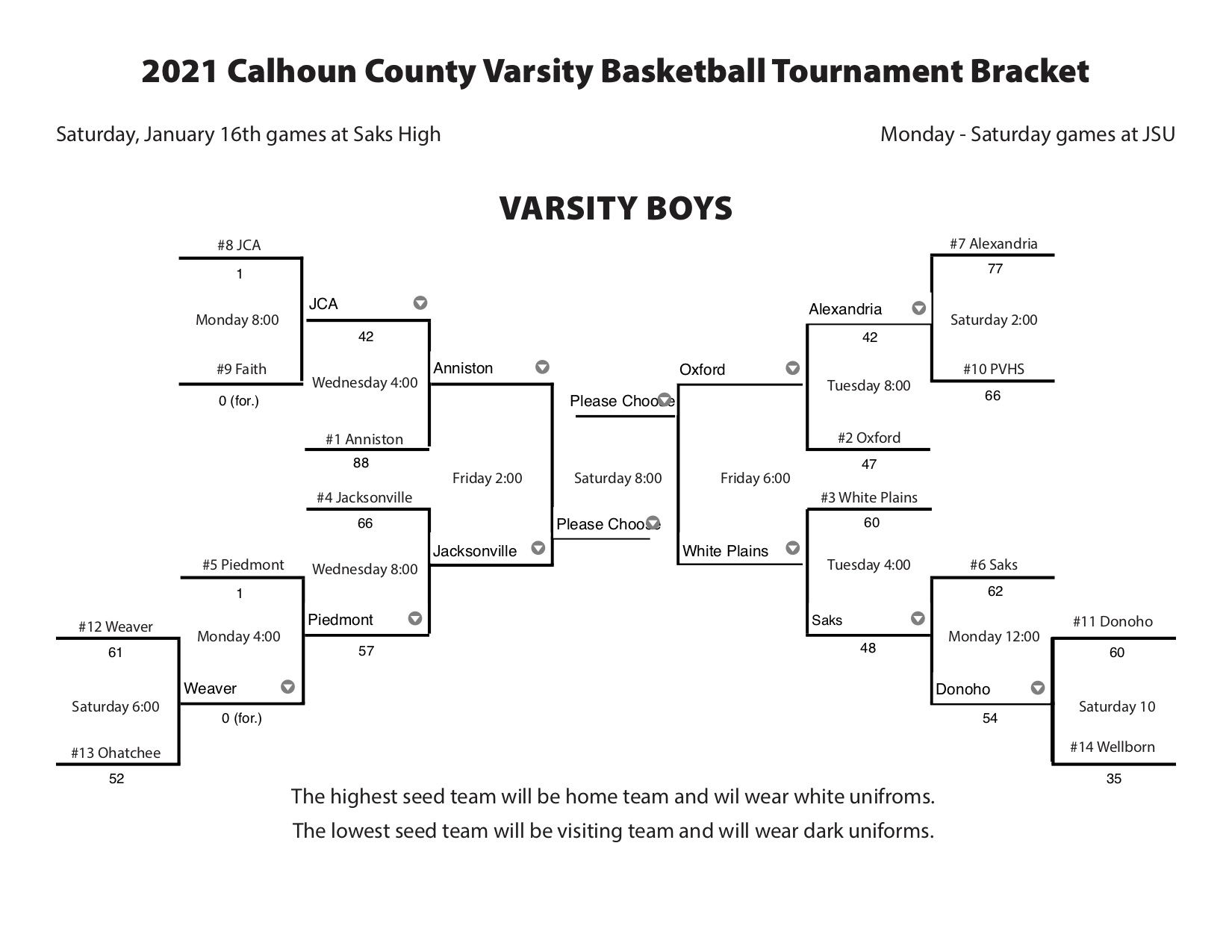 Former NBA player joins Oxford staff
By Al Muskewitz
East Alabama Sports Today

JACKSONVILLE – When Oxford basketball coach Joel Van Meter learned he had the chance to have a former NBA All-Star join his coaching staff he thought he won the lottery. How can you be so lucky?

Gerald Wallace might have been the best thing to come out of the uncertainty of the Yellow Jackets' COVID quarantine in December. He joined the program right around Christmas and has been imparting his wisdom and experience of 14 NBA seasons on the players ever since.

"I'm going to be honest with you, it fell in my lap, that's about as true as I can put it," Van Meter said. "How do you turn that down. And he's been great for us."

Wallace has wanted to get into coaching. He's opened a gym and training facility in Childersburg and it was through a connection at the school that he landed at Oxford. He may have played the game at its highest level, but these days he feels like a rookie.

"I'm just here to try to give my advice, help out as much as I can and share some of my knowledge with these up-and-coming kids and give back to the game," Wallace said after the Jackets' County Tournament win over Alexandria. "My thing is to come here, join Coach Van and help these kids and give them some of the knowledge I've experience over my long career.

"It's something I've wanted to do. I've run camps and everything, but I've always wanted to coach. I don't want to be a head coach, but I've always wanted to be able to help guys get better."

The Oxford players certainly have enjoyed having him around.

"He's come in and affected everything," said Rylan Houck, the Jackets' 6-7 senior forward. "He changed the whole way we rebound, we play defense and he brings energy every day. He's been a huge help to us.

"Any time I make a mistake, he's the first one to call me over, correct it, and give me all his wisdom. He's been a huge addition to our team."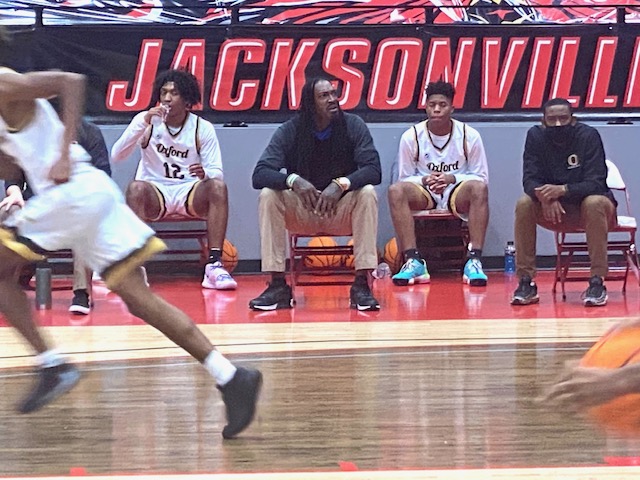 OH SO CLOSE: There was a lot of anticipation of Oxford senior Roc Taylor reaching the 1,000-point plateau in the game against Alexandria, but the Valley Cubs had other plans, holding him to just a second-quarter field goal.

He had a couple opportunities to reach the milestone, but missed a short jumper in the lane later in the second quarter and twice had his shot blocked by Julian Wright in the fourth quarter.

So, he'll go into Friday's semifinal game against White Plains stuck on 998.

"Coming into the game the plan was to get 1,000 points," Taylor said, "but the way they played me was a different game than they played before, so I just had to work to try to just play defense more than offense this game and that's what I did.".

ROC SOLID: There may be turmoil on Rocky Top, but Roc Taylor hasn't wavered. Tennessee fired head coach Jeremy Pruitt and there are reports of NCAA violations, but none of it has dissuaded the Oxford senior from his commitment to sign with the Vols football program in February.

"I feel good, but sad at the same time," Taylor said Tuesday night. "I like Coach Pruitt, Coach Pruitt is a good coach, but things happen. I'm still going to stay 100 percent committed to Tennessee because it feels like home every time I go there. And I know Tee Martin, and Tee Martin is my receivers coach."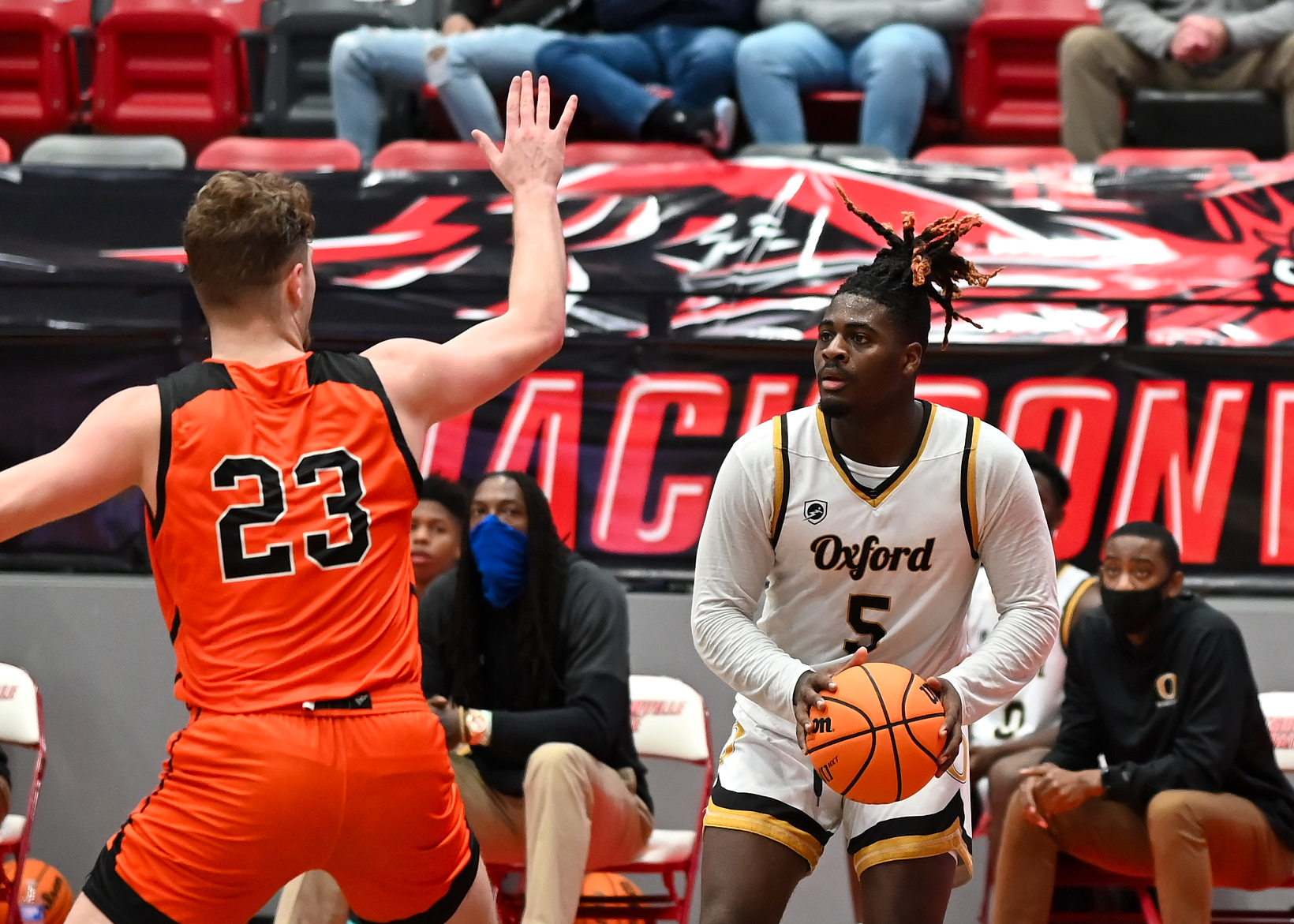 ON TARGET: White Plains' Quin Wilson is the closest thing to a sure-thing when it comes to hitting the free throw line. The senior guard was 6-for-6 from the line in the second quarter of the Wildcats' win over Saks Tuesday and has made his last nine in a row. He started the season hitting his first 21 in a row.

"I just take a breath," he said. "It's a free shot, nobody's guarding me. We've got to have them. We've got to knock them down. We need them."

THE PEOPLE'S CHOICE: The F&M Bank Half-Court Scholarship Shot is on pace to have its first repeat winner. Anniston's Allasha Dudley, who took the $10,000 Half-Court Shot two years ago, currently leads schoolmate Antonio Kite as the overall vote-getter.

As of Wednesday morning, Dudley leads the internet voting with 588 likes to Kite's 559.

Dudley leads Ohatchee's Tori Vice (378) and Oxford's Emma McCullough (309) in the girls voting, while Kite is ahead of Pleasant Valley's Josh Ballew (477) and Piedmont's Alex Odam (298).

The top overall vote-getter will take the half-court shot for $10,000 during Saturday's championship doubleheader. The top boys and girls vote-getters get $500 each. Voting continues on the F&M Bank Facebook page through Friday.

STATE PLAYOFFS: The AHSAA has approved one of the three playoff scenarios reported by East Alabama Sports Today a few weeks ago.

It approved holding the subregional and regional semifinal games at on-campus venues with the region championship games to be played at the traditional regional sites, one of which is here at Jacksonville State. By the same token, with the BJCC unavailable in 2021 for renovations, the State Championships Feb. 26-March 6 will be played at the Bill Harris Arena and UAB's Bartow Arena.

The sites of the regional semifinals will follow the football travel rules. The top team on the bracket will be the home team in the event travel is the same.

Here's what it will look like:

Feb. 15: Class 1A-6A girls subregionals
Feb. 16: Class 1A-6A boys subregionals
Feb. 18: Class 1A-6A girls regional semifinals
Feb. 19: Class 1A-6A boys regional semifinals
Feb. 22: Class 4A/5A regional finals at JSU
Feb. 23: Class 3A/6A regional finals at JSU
Feb. 24: Class 7A/1A regional finals at JSU
Feb. 25: Class 2A regional finals at JSU

Oxford coach Joel Van Meter believes the state had the best interest of the teams, players and sport in mind when making its decision and was "very appreciative" of their effort to allow a champion to be determined on the court. "The best teams will win regardless of the format," he said.

Anniston coach Torry Brown isn't so sure. He is not in favor of the format just over the inequity of home vs. road in a sport where home-court advantage is huge.

"I would rather they start (the regional week) earlier and let everybody play at the normal sites versus later," he said. "I would rather after the subregion game you've got two days and then you're playing. Somebody's going to have an advantage first round, so how do you determine who goes on the road and who stays at home. That's some of the unfairness of it right there. I'd rather the week be longer and everybody can play.

"We can play a lot earlier and I think they can get it in but I think it's just a different route they chose to take. I don't necessarily think it's the best way because you're going to have a team go on the road who really would love to have that neutral site game."

COUNT IT: Jacksonville Christian officials got confirmation from the AHSAA that its tournament exhibition game on Monday will count towards its record. So, Thunder coach Tommy Miller is at 401 boys coaching victories and 997 boys and girls coaching victories.

This story will be updated.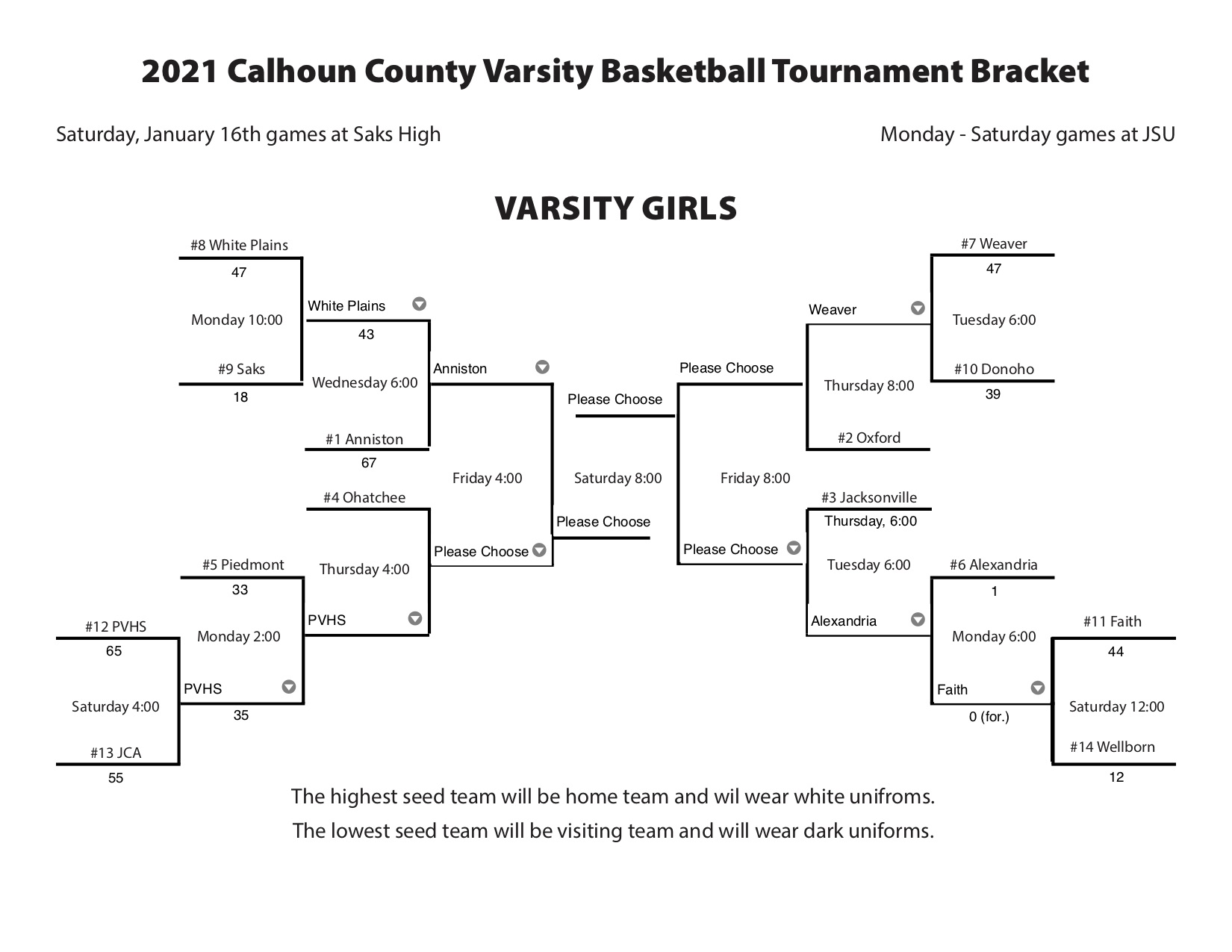 Top scoring games
(x-does not include tournament 'exhibition' games, thru Jan. 20))
BOYS LEADERS
36: Alex Odam, Piedmont vs. Jacksonville (1/20)
27: Josh Ballew, Pleasant Valley vs. Alexandria (1/16)
25: Tristan Brown, Weaver vs. Ohatchee (1/16)
23: Jordan Cosper, Saks vs. Donoho (1/18)
23: Rylan Houck, Oxford vs. Alexandria (1/19)
21: Caden Johnson, Jacksonville vs. Piedmont (1/20)
21: Collin Taylor, Alexandria vs. Pleasant Valley (1/16)
21: Jacob Buckelew, Ohatchee vs. Weaver (1/16)
20: Julian Wright, Alexandria vs. Pleasant Valley (1/16)
19: Richard Goad, Donoho vs. Saks (1/18)
19: Sean Parnell, Saks vs. White Plains (1/19)
19: Brody Baker, White Plains vs. Saks (1/19)
18: Landan Williams, Alexandria vs. Pleasant Valley (1/16)
18: Landan Williams, Alexandria vs. Oxford (1/19)
18: Troy Hall, Anniston vs. JCA (1/20)
17: Drew Williamson, Donoho vs. Wellborn (1/16)
17: Trey Pesnell, Ohatchee vs. Weaver (1/16)
17: Quin Wilson, White Plains vs. Saks (1/19)
15: John Broom, Jacksonville vs. Piedmont (1/20)
15: Kohl Perry, Weaver vs. Ohatchee (1/16)
GIRLS LEADERS
30: Gracie Hood, Pleasant Valley vs. JCA (1/16)
17: Allasha Dudley, Anniston vs. White Plains (1/20)
17: Rylee Haynes, Pleasant Valley vs. JCA (1/16)
16: D.J. Gibbs, Weaver vs. Donoho (1/19)
15: Karli Barnwell, JCA vs. Pleasant Valley (1/16)
15: LeLe Ridley, Piedmont vs. Pleasant Valley (1/18)
15: Haley Homesley, Weaver vs. Donoho (1/19)
15: Asia Barclay, Anniston vs. White Plains (1/20)
14: Rylee Haynes, Pleasant Valley vs. Piedmont (1/18)
14: Victoria O'Neill, Donoho vs. Weaver (1/19)
14: Shiwanna Jackson, Anniston vs. White Plains (1/20)
13: Rebekah Carter, JCA vs. Pleasant Valley (1/16)
12: Ariana Arevalo, Faith Christian vs. Wellborn (1/16)
12: Mia Morales, JCA vs. Pleasant Valley (1/16)
11: Joelle Tillery, Faith Christian vs. Wellborn (1/16)
11: Callyn Martin, White Plains vs. Anniston (1/20)
Scoring leaders
BOYS
GP
PTS
AVG
Alex Odam, Pied
Josh Ballew, PV
1
1
36
27
36.0
27.0
Tristan Brown, Wea
1
25
25.0
Rylan Houck, Ox
1
23
23.0
Caden Johnson, Jax
Jacob Buckelew, Ohat
1
1
21
21
21.0
21.0
Brody Baker, WP
1
19
19.0
Sean Parnell, Saks
2
37
18.5
Landan Williams, Alex
2
36
18.0
Troy Hall, Ann
Quin Wilson, WP
1
1
18
17
18.0
17.0
Trey Pesnell, Ohat
1
17
17.0
Richard Goad, Don
2
33
16.5
Collin Taylor, Alex
2
31
15.5
Jordan Cosper, Saks
2
31
15.5
John Broom, Jax
Kohl Perry, Wea
1
1
15
15
15.0
15.0
Antonio Kite, Ann
Malcolm Carlisle, Ann
Spencer Wigley, Don
1
1
2
14
14
26
14.0
14.0
13.0
Garrett Cranmer, PV
1
13
13.0
GIRLS
GP
PTS
AVG
Allasha Dudley, Ann
D.J. Gibbs, Wea
1
1
17
16
17.0
16.0
Rylee Haynes, PV
2
31
15.5
Gracie Hood, PV
2
31
15.5
Haley Homesley, Wea
1
15
15.0
Karli Barnwell, JCA
1
15
15.0
LeLe Ridley, Pied
1
15
15.0
Shiwanna Jackson, Ann
Victoria O'Neill, Don
1
1
14
14
14.0
14.0
Rebekah Carter, JCA
1
13
13.0
Mia Morales, JCA
1
12
12.0
Ari Arevalo, Faith
1
12
12.0
FT percentage
BOYS
FGM
FGA
PCT
Quin Wilson, WP
6
6
1.000
Josh Ballew, PV
3
3
1.000
Tristan Brown, Wea
7
8
.875
Collin Taylor, Alex
7
8
.875
Javais McGhee, Alex
5
6
.833
Landon Williams, Alex
8
10
.800
Jordan Cosper, Saks
8
10
.800
Kohl Perry, Wea
3
4
.750
Garrett Cranmer, PV
3
4
.750
Nathan Sanders, Well
3
4
.750
Nick Goad, Don
3
4
.750
Spencer Wigley, Don
5
7
.714
Richard Goad, Don
Troy Hall, Ann
Omarion Adams, Jax
6
2
2
9
3
3
.667
.667
.667
Sean Parnell, Saks
12
20
.600
Alex Odam, Pied
Rylan Houck, Ox
4
4
7
7
.571
.571
GIRLS
FTM
FTA
PCT
Shiwanna Jackson, Ann
D.J. Gibbs, Wea
4
7
4
9
1.000
.778
Victoria O'Neill, Don
3
4
.750
Asia Barclay, Ann
Gracie Hood, PV
5
5
7
7
.714
.714
Mia Morales, JCA
2
3
.667
Serena Hardy, Ann
Kaylee Johnson, WP
2
2
4
4
.500
.500
Macey Roper, PV
3
6
.500
Rylee Haynes, PV
8
18
.444
3-Point FGs
BOYS
6: Josh Ballew, Pleasant Valley
5: Jacob Buckelew, Ohatchee
4: Alex Odam, Piedmont
4: Caden Johnson, Jacksonville
3: Richard Goad, Donoho
3: Trey Pesnell, Ohatchee
3: Tavian Alexander, Jacksonville Christian

GIRLS
5: Allasha Dudley, Anniston
4: Marlie Wright, Pleasant Valley
4: Adriana Sotelo, White Plains
3: Rebekah Carter, Jacksonville Christian
3: Karli Barnwell, Jacksonville Christian
3: Victoria O'Neill, Jacksonville Christian
3: Alisia Person, Anniston
2: Hallie Williams, White Plains
2: Joelle Tillery, Faith Christian
2: Haley Homesley, Weaver
2: Gracie Hood, Pleasant Valley
2: Kaylee Johnson, White Plains