It's Oxford again
Yellow Jackets win fifth straight county wrestling crown, edging Weaver in championship match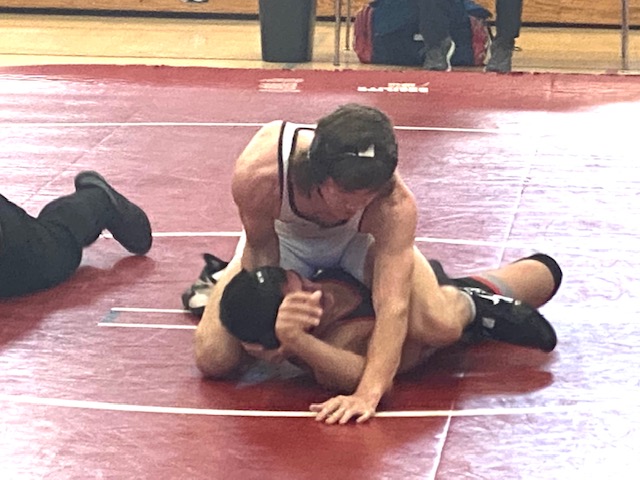 By Al Muskewitz
East Alabama Sports Today

In the most non-traditional of years and ways, Oxford was able to continue a longstanding County tradition Monday.
The Yellow Jackets won another Calhoun County Wrestling Championship title, beating Weaver in a dual match between the two most tradition-rich programs in the county 41-39.

It was the Yellow Jackets' fifth straight county title, seventh in the last eight years and the first for coach Rusty Mayfield, who came to the Jackets in June after 14 years at Cleburne County.

"I'm loving it here so far," Mayfield said. "The kids have been very respectful. A lot of them have done what they needed to do, especially in the times we're wrestling in right now. It's not your average wrestling season. It's just so non-traditional, I guess you could say."

The county meet, traditionally a 14-weight bracket event involving every program in the county, was reduced to a four-team dual match this year due to COVID-19 restrictions. Because of that and other considerations some matchups that had been anticipated – like Oxford's Jakob Chisolm against Weaver's Cody Souder and Souder against Alexandria's Jaden New – never materialized.
Oxford, the top seed, beat host Saks in one semifinal 51-30. Weaver beat Alexandria in the other 45-30, winning seven of the last nine bouts.

"Our kids went out and competed at a high level," Weaver coach Andy Fulmer said. "We were a little emotional and not mentally focused at the start of the Oxford match. It matched up like we wanted it, we just didn't get the results we wanted in the Oxford match."

"I really think it's an accomplishment for us, especially competing with Oxford, one of the top 5A-6A teams," Souder said. "We're a little 1A-4A school competing with the best. I just hope we get better as a team."

The Bearcats were the last team not named Oxford to win the county title (2016). The tournament was postponed in 2014 due to weather.

The championship match was tight early until Oxford took the lead for good with pins by Preston Smith (138) and Chase Hicks (145). It was got as close as 29-27 after the Yellow Jackets were penalized a team point, but Chanceton Holifield gave them a 35-27 lead with a pin at 195 and they clinched the title with a forfeit at 220.

The margin closed when Weaver won the final two bouts with first-period pins.

"Any time you win it's good, but we expect better out of our team," Hicks said. "We don't expect to go out there and just get the win. We want to go out there, if we know we're better than teams, go out there and show it. Not just go out there and do the bare minimum and win by whatever you win by, go out there and wrestle our best."

Most valuable wrestler and other awards will be announced at a later date. 

Four of the other five programs in the county got together at an alternate site for mat time and Piedmont won three matches, sweeping Ohatchee (39-36), White Plains (60-18) and Pleasant Valley (54-18). The Bulldogs won the Ohatchee match on Tristin Kiker's first-period pin at 220.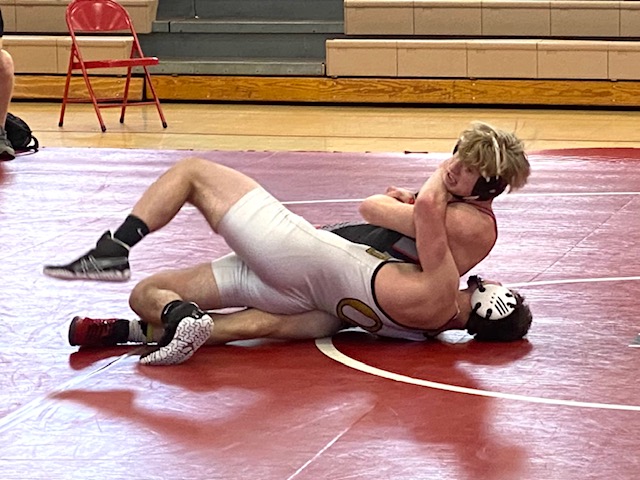 CALHOUN COUNTY CHAMPIONSHIP
Championship match
Oxford 41, Weaver 39
113: Kaleb Shelton (O) pinned Trevor Morris, 3:06
120: Gianluca Torres (W) pinned Colin O'Neal, 1:42
126: Tristan Williams (O) won by forfeit
132: Travis Bellar (W) won by forfeit
138: Preston Smith (O) pinned Hunter Hise, 1:02
145: Chase Hicks (O) pinned Anthony Usry, 1:05
152: Joshua Johannson (W) pinned Branson Corban, 1:40
160: Cody Souder (W) dec. Kendrick Young, 8-4
170: Jakob Chisolm (O) won by forfeit
182: Devin Anderson (W) pinned Tristen Latham, 3:54
195: Chanceton Holifield (O) pinned Richard Knowlton, 0:36
220: Payton Ratliff (O) won by forfeit
285: Cameron Thornton (W) pinned Jalen Bradford, 1:54
106: Dalton Fink (W) pinned Jordyn Newton, 1:09
NOTE: Oxford had one team point deducted after 182 for headgear on mat
Semifinal matches
Weaver 45, Alexandria 30
106: Preston Jones (A) pinned Dalton Fink, 1:19
113: Trevor Morris (W) pinned Jemarae McClellan, 4:20
120: Gianluca Torres (W) won by forfeit
126: Tristan Page (A) won by forfeit
132: Joseph Lomax (A) pinned Hunter Hise, 1:37
138: Travis Bellar (W) dec. over Aden Whittaker, 4-3
145: Anthony Usry (W) maj. dec. over Kaden Deline, 12-2
152: Joshua Johannson (W) pinned Landon Bushard, 1:45
160: Jaden New (A) pinned Caden Thorton, 0:10
170: Cody Souder (W) maj. dec. over Donavon Lomax-Young, 15-3
182: Devin Anderson (W) pinned Caleb Woods, 3:08
195: Richard Knowlton (W) maj. dec. over Daniel Finley, 14-3
220: Caleb McCulley (A) won by forfeit
285: Cameron Thronton (W) pinned Judson Cromer, 2:36

Oxford 51, Saks 30
106: Aden Davis (S) pinned Jordyn Newton, 0:15
113: Trent Hopkins (S) pinned Colin O'Neal, 1:04
120: Kaleb Shelton (O) dec. Matthew Kenneway, 7-2
126: Tristan Williams (P) won by forfeit
132: Ayden VanHoose (S) won by forfeit
138: Preston Smith (O) pinned Jayden Woods, 0:12
145: Chase Hicks (O) won by forfeit
152: John Bussey (S) pinned Branson Corban, 5:18
160: Kendrick Young (O) won by forfeit
170: Jakob Chisolm (O) won by forfeit
182: Tristen Latham (O) pinned Jeremy Waters, 1:42
195: Chanceton Holifield (O) won by forfeit
220: Tre Bolton (S) pinned Payton Ratliff, 1:03
285: Jalen Bradford (O) pinned Devontee Funderburg, 0:56