Elite opportunity
Group looking to put together an elite lineup of local 7-on-7 players for development, exposure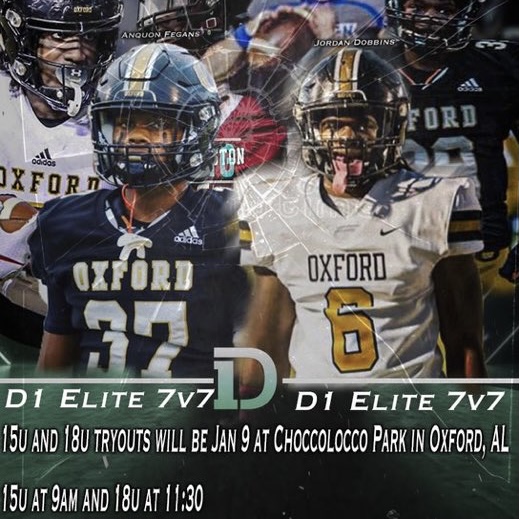 By Al Muskewitz
East Alabama Sports Today

OXFORD – Calhoun County football has been on a pretty good run the last couple years. Good teams. Good players. Deep playoff runs.

But if the players on those teams wanted competitive opportunities outside of their seasons they had to travel out of the area or wait until 7-on-7 passing camps with their teams in the summer.

Now, there's a group looking to bring the best of those local skill position players together for more development and national exposure.

On Jan. 9 on the soccer fields at Choccolocco Park, Antwon Fegans and Scott Mims will be conducting tryouts for their Anniston-area D1 Elite 15U and 18U 7-on-7 teams.

The teams will start playing in tournaments throughout the Southeast in early February.

They're looking for quarterbacks, receivers, running backs, defensive backs and linebackers. Of the 36 Calhoun County players on the recently released 2020 All-State teams, 22 selections played those positions, including 13 first-teamers.

Registration fee for the tryout is $20. Players should bring cleats, football attire and a good attitude. The 15U tryouts are 9 a.m. and the 18U tryouts at 11:30. There's a link to the registration form on the group's Twitter page

Organizers hope to add more teams in the future, but for now they're concentrating on the two older division.

The program is not just confined to Calhoun County players, but open to all who otherwise might not have access to such opportunities. Multiple players from the same school can try out, but rules prohibit more than six players from one school being on any one team.
"I thought about it doing it (before), but I've been so tied up," he said. "Calhoun County has a lot of talent that gets overlooked. I've been playing in Birmingham doing 7-on-7, why not bring exposure to our own community so kids around here can get it. We've got some of the top players around in our area. I think this could be one of the best teams around, probably one of the best (in the program).

"We want the best, because we're competing with the best."
One of the county's all-state quarterbacks, Piedmont's Jack Hayes, already has registered.
"Antwon just called me a couple days ago and ask if I'd come and play for him," Hayes said. "I told him I would because I've got something to do on the weekends.
"It's going to be pretty cool throwing to Spoodie (Anniston's Antonio Kite) and Trequon (Fegans of Oxford) and all of them from Oxford and Anniston."