Will to survive
Heflin holiday tournament survives Calhoun County shutdown, makes event showcase; Chambless returns to help fill field
By Al Muskewitz
East Alabama Sports Today

HEFLIN – When the Calhoun County Schools administration suspended outside athletics competition for the rest of the calendar year to reduce the risk of COVID spread it put more than the seven county high schools' winter sports programs in a bind.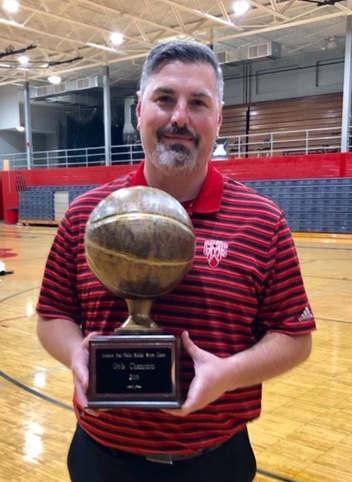 It sent several of the holiday basketball tournaments in the region that flourish in the season to scramble to find replacements for the teams that now were off the board. One event, the Champions Boys Christmas Classic, with half its field from Calhoun County, canceled altogether.

Todd Gable, the Cleburne County High School girls basketball coach and tournament director of the Cleburne County Christmas Classic, was determined to keep his event alive. His original tournament brackets included five Calhoun County teams impacted by superintendent Donald Turner's call, a loss that normally would have been a death knell to an event.

His solution was to take what he could get, play with a reduced field, turn the event into a showcase and give each of the remaining teams a set schedule to play. Where once there were eight-team boys and girls brackets, there are now six teams on each side with most getting three games over three days (Dec. 28-30).
Extra: See the tournament schedule below

The shutdown cost the tournament Ohatchee and Weaver on the girls side and Ohatchee, Donoho and Pleasant Valley on the boys side. Donoho was not subject to the county superintendent's decision, but followed shortly after it was disclosed.

"The coaches who are still in just wanted to play," Gable said. "I tried to help everybody out because everybody's in a bind right now."

Once the decision was made to make it a showcase it really came down to finding only one boys team. They landed an out-of-state team with a local connection.

Tournament officials initially had Pleasant Valley to replace Woodland after Randolph County schools decided only to play area games going forward, but PV's girls deferred (opting for the Gaston Christmas Classic) and were replaced by Hokes Bluff well before the Calhoun County decision Monday. Rome (Ga.) completes the boys side.

(The PV girls were forced to withdraw from the Gaston Classic by the County's ruling and have been replaced by Southeastern School.)
Gable said he called "at least a dozen" schools to find replacements, while Tigers boys coach Josh Perry and football coach Joby Burns called others. They were determined to keep it alive.

"The only way I'd have (canceled) is if the state or our county came in and shut her down," Gable said. "If I'd have come in today and had three or four more drop out, it probably would have been tough then. I was determined to do it – for the kids to get to play and the coaches to get games in."

It's also a big fundraiser for the Tigers' program. The boys and girls programs each stood to lose more than $8,000 if the tournament was scrubbed.

Rome is coached by Ryan Chambless. The former Cleburne County, Jacksonville and Pleasant Valley coach hoped to bring his new team back to his old stomping grounds after he got that job and had conversations with Alexandria, White Plains and Piedmont about games but just couldn't finalize a date for various reasons.

His Wolves will play two games in the event as they're committed to a previously contracted home game Dec. 30.

"I've got a lot of family around here so it will be fun for me and it will be good for our guys to play some different teams," Chambless said. "And we need a couple road games like that, too, because some of these region games we have we'll have to drive about an hour to go play so that'll be good practice for that."
Cleburne County Christmas Classic
Dec. 28
Boys Games
Clay Central vs. Ranburne, 10:30 a.m.
Cleburne County vs. Rome (Ga.), 1:30 p.m.
Spring Garden vs. Vincent, 4:30 p.m.
Girls Games
Oxford vs. Ranburne, noon
Spring Garden vs. Heard (Ga.) County, 3 p.m.
Cleburne County vs. Hokes Bluff, 6 p.m.
Dec. 29
Boys Games
Ranburne vs. Spring Garden, 10:30 a.m.
Rome (Ga.) vs. Clay Central, 1:30 p.m.
Vincent vs. Cleburne County, 6 p.m.
Girls Games
Ranburne vs. Spring Garden, noon
Oxford vs. Hokes Bluff, 3 p.m.
Heard County (Ga.) vs. Cleburne County, 4:30 p.m.
Dec. 30
Boys Games
Vincent vs. Ranburne, noon
Cleburne County vs. Spring Garden, 4:30 p.m.
Girls Games
Hokes Bluff vs. Ranburne, 10:30 a.m.
Oxford vs. Heard County (Ga.), 1:30 p.m.
Cleburne County vs. Spring Garden, 4:30 p.m.