County star power
Record 10 players from Calhoun County gather for first time Wednesday in prep for North-South All-Star Classic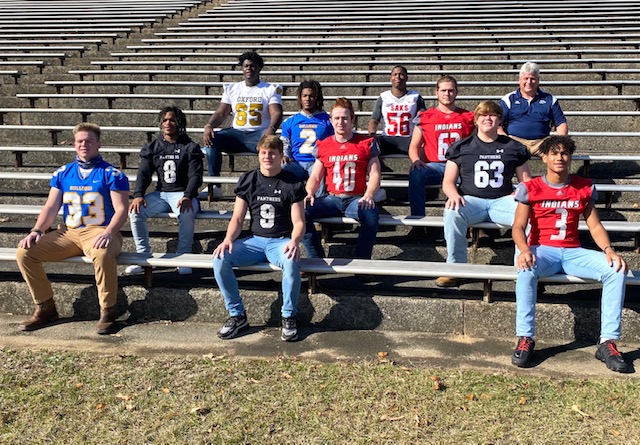 UPDATE: A few hours after this event, Oxford's Brandon Kirskey was picked to replace Gadsden City's Rod Orr in the Alabama-Mississippi game. He'll be one of three Oxford players in that game and reduces the Calhoun County players in the North-South game to nine. Oxford coach Keith Etheredge is an assistant coach on the Alabama team. Kirksey was replaced on the North-South roster by an OL from Northside-Tuscaloosa.

By Al Muskewitz
East Alabama Sports Today
Wellborn lineman Kaden Goodwin stood in the middle of a makeshift huddle while his coach Jeff Smith prepared to put them through a play in the middle of Saks' field.

He looked around at the multi-colored collection of jerseys around him and a feeling of both awe and pride swept over him.

The star power around him was enormous. A record 10 Calhoun County seniors are headed to Mobile for next week's Alabama North-South All-Star Classic, an occasion no one has seen before and many doubt will ever again, and Goodwin was part of it.

For the first time since being selected to the group they were all together and it was truly an a-ha moment.

"I looked around and was excited to see that they're able to pick the best of each team and all those years of having to go against them thinking, 'OK, he's real good, I'm going to have to go extra hard against him' now I think 'he's real good but he's on my team now,'" Goodwin said. "I have him as an ally instead of an adversary. That was a different feeling than I've ever had before."

The players list includes
Wellborn OL Kaden Goodwin (63), 6-3, 365
Wellborn RB Calvin Spinks (8), 5-6, 155
Wellborn QB Jett Smith (9), 5-11, 182
Ohatchee OL Gregory King (63), 6-3, 240
Oxford OL Brandon Kirksey (65), 6-6, 340
Saks DL Tre Bolton (56), 6-1, 2-5
Piedmont DL Sean Smith (33), 6-1, 225
Ohatchee LB Aiden Simpson (40), 5-11, 195
Ohatchee DB Noah Fuller (3), 6-1, 190
Piedmont DB Jakari Foster (2), 6-1, 195

Four other county players were under consideration and remain on the alternates list for the skill players.
"I'll tell you I think the last couple years our talent in Calhoun County has been just great," Jeff Smith, the team's head coach, said. "I'm very proud to be a small part of it. We've just got a lot of good kids and they've been tremendous football players and it's showed with the type seasons we've had the last couple years."
Just the five County teams represented on the squad this year alone have a gone a combined 154-36 over the last three seasons (the last two) with two state titles and a runner-up.
Most of the players were picked because they were quality two-way players (a benefit of playing at a smaller classification school) and the all-star rosters have only 37 players.
And actually Smith has a package drawn up that has nine of the 10 on the field at the same time (with maybe Fyffe lineman Caleb Lyles and Athens tight end Rush Boyett filling in the other two slots). That's what he was showing the players Wednesday.
"I can't tell you what's going to happen, but I can tell you I'm excited to see what will," Goodwin said.
To a man, all 10 players were humbled by the experience and couldn't wait to play with the best players from around a county some have called the SEC of Alabama high school football.
Nine of the 10 — and the head coach — come from schools in Class 3A Region 5. The only outlier comes from Oxford, and it was the 2019 6A state champion and No. 1 in the final 2020 regular-season poll.
"That shows you what kind of football and what kind of talent's around here," Piedmont's Smith said. "I'm a pretty big guy, I felt pretty small out there compared to everybody else. All these guys are great players. It's going to be fun when we go down there and play."