A real Troup-er
Gadsden City newcomer hits layup at the buzzer to lift Titans over Jacksonville

By Al Muskewitz
East Alabama Sports Today

JACKSONVILLE – The first thing Brady Troup wanted to do after everything calmed down was find a telephone and strong cell signal.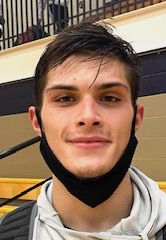 The Gadsden City senior had just beaten the buzzer with a baseline layup to give the Titans a 68-66 victory over Jacksonville and he wanted to share the news with a very special supporter.

Troup's grandfather, Charles Copeland, was resting in a Gadsden hospital after recently undergoing heart surgery. He had never missed one of his grandson's games and Brady wanted him to be the first to know about the first game-winning shot of his career.

"My paw-paw has been in the hospital, and this is the first game he's ever missed and I happened to hit the buzzer-beater; I'd say that was pretty cool," Troup said when asked if there was anything else that made the day special. "Both of my grandparents are definitely going to be the first people I call."

The Titans (8-1) set up the winning shot in a timeout with 9.2 seconds left. It wasn't necessarily going to Troup; they just wanted the best shot possible but not before two seconds left.

Maleek Kidd was dribbling through the middle of the floor, eyeing a chance to drive the lane, but he kicked the ball out to Troup in the left corner. Troup was going to launch a 3, but the Golden Eagles came out with hands high, so he pulled it down and took his chances against the clock.

The Golden Eagles had two fouls to give, but Troup drove the baseline with little resistance. The horn sounded just as his shot kissed off the glass and gently dropped through the hoop to end the game in regulation, making him an instant hero among his new teammates. He transferred from Etowah this year.

"I knew there was around nine seconds left and when they threw the ball in I knew two or three had already gone by," Troup said. "It's honestly just luck. You kind of have a little instinct, a little feeling you get when time's running low, and that's honestly what I went of. I was pretty confident."
"When he got it, it was around three (seconds), so he either had to take that shot or drive and I'm glad he decided to drive," Titans coach Reginald Huff said. "Either way, he's probably as good from the 3-point line as he is from 2. I didn't know what his decision was going to be when he got it, but we knew he was going to get a good look.

"We've been working on that shot in practice and he started making like eight or nine in a row off the glass. I think he practiced that shot enough he thought about it when he got there. Him getting that shot, first year being on this team, contributing in a big win for us is big for him and his teammates. We knew he'd be a great piece to the puzzle, but I hope that's just the beginning of what he's going to do for us this year."

Troup had seven points in the game. Kidd led the Titans with 18 points. Rod Orr had 10.

The Golden Eagles (1-1) looked like they were going to get the last shot. They could have held the ball for the final 1:12 after Orr tied the game at 66 and were milking the clock in hopes of taking it down inside 10 seconds before starting the offense.

They got it down to 37 seconds when Cam Johnson launched a deep 3-pointer that didn't connect. The Titans rebounded and immediately called time. They worked for the last shot and then called time again with 9.2 seconds left.

"We're still a young basketball team," Jacksonville coach Cordell Hunt said. "We took a bad shot. I'm not mad, but we've got to learn that's not a good shot in the situation and that young guy who took that shot, he'll learn that. Next time he'll know.

"Sometimes in life we've got to go through a situation before we understand the situation. We probably hadn't gone over that situation, honestly, because we hadn't had a lot of time (together). Sometimes you've got to learn by trial by fire and that's what we're having to do."

Jacksonville's John Boom led all scorers with 22 points; he also grabbed 10 rebounds. Johnson had 11 points and eight rebounds. Quin Long had 11 points, Omarion Adams had 10 points, Jaylon Prater had eight points and eight boards, and Nathan Barnwell grabbed nine rebounds.

"I thought we played well enough to win," Hunt said. "It came down to too many turnovers in the first half and free throws – again. They keep rooting their ugly head. We're shooting them, but we're just not hitting them."

Jacksonville was only 5-of-11 from the free throw line. The Golden Eagles were in the bonus for the final 6:13 of the game.
Gadsden City 68, Jacksonville 66
GADSDEN CITY (8-1) – Shamar Huff 3 0-0 9, Jay Lawson 0 0-0 0, Maleek Kidd 7 1-2 18, Khamari Smith 1 0-0 2, DeMarcus Macon 3 0-0 8, RaTavious Hicks 2 0-0 4, MarMar Bryant 2 0-0 5, Brady Troup 3 0-0 7, Dylan Sawyer 0 0-0 0, Zion Kirby 1 0-0 2, Rod Orr 4 2-6 10, Jamari Boston 1 0-0 3. Totals 27 3-8 68.
JACKSONVILLE (1-1) – Omarion Adams 4 1-3 10, Cam Johnson 3 2-2 11, John Broom 8 1-2 22, Jaylon Prater 4 0-0 8, JaeTaj Morris 0 0-0 0, Coby Zackery 0 0-0 0, Julian Hill 0 0-0 0, Quin Long 5 1-2 11, Nathan Barnwell 2 0-2 4. Totals 26 5-11 66.
Gadsden City 19 15 15 19 – 68
Jacksonville 15 15 16 20 – 66
3-point goals: Gadsden City 11 (Huff 3, Kidd 3, Macon 2, Troup, Bryant, Boston); Jacksonville 9 (Adams, Johnson 3, Broom 5). Technical fouls: Jacksonville (scorebook error). Total fouls: Gadsden City 12, Jacksonville 5. Officials: Smith, James, Horn.