Golden Eagles take step
Jacksonville stands up to Alexandria rally, holds off Valley Cubs for in-county victory; Alexandria opens new gym floor Thursday

By Al Muskewitz
East Alabama Sports Today
JACKSONVILLE – Cordell Hunt was starting to get a little concerned that his Jacksonville basketball team was a little soft early in the season. It's not that he thought they didn't challenge the teams they played, it was more along the lines of being mentally tough.

But the Golden Eagles made a breakthrough Tuesday night.

Every time rival Alexandria challenged, the Golden Eagles stood their ground. They held off the Valley Cubs, playing their first game of the season, 73-66.

"We've been a soft basketball team; I thought we played very tough tonight," Hunt said. "I thought we rebounded the ball a little bit better than them. Now, the stats may not say that, but I thought we did. I thought we got to the foul line, but we didn't convert very good; if we're going to be a good ball team we've got to hit those free throws."

The Golden Eagles (3-2) did a lot of good early. They used a 17-2 run in the second quarter to open a 15-point lead, but Alexandria cut the deficit to 10 shortly before halftime and got within five three times in the third quarter.

Jacksonville ran its lead back up to 11 points, but the Valley Cubs brought it back down again.

"When I talk about soft basketball team I'm talking about we're not battling for rebounds, we're not battling for loose balls, we're just not mentally tough," Hunt said. "I thought we made a step in the right direction today. We're still not where we need to be, but I thought it was definitely a positive step into being the basketball team we can be."

The biggest testament to the Golden Eagles' developing toughness came after 6-7 Landon Williams' put-back made it a 61-60 game with 4:33 to play. Cam Johnson answered with a 3-pointer that touched off an 11-2 run and the Golden Eagles never led by less than five the rest of the way.

Johnson finished with 10 points. Jacksonville's John Broom led all scorers with 23 points and Quinn Long had 21. Broom and Long were a combined 16-of-24 from the free throw line.

"What I was most proud of was when the tough got going we punched back," Hunt said. "They punched us, we punched back, and we kind of did that through the whole game until we kind of broke it open a little bit."

As the rallies proved, there were stretches in the game when the Valley Cubs looked sharp. But there also were times when they looked like a team playing its first game of the year. They had less than a half-dozen practices in advance of the game.

They shot 17 percent from 3-point range (4-of-23), 50 percent from the free throw line (8-of-16) and had 25 fouls.

Still, they put four scorers in double figures, led by Williams' 18 points. D'Anthony Walton had 17 and Collin Taylor and Julian Wright 12 each. Williams also grabbed a game-high 14 rebounds.

"We had a lot of ugliness about it, but hopefully we'll get it out of us," Cubs coach Jason Johnson said. "We just didn't match their energy, intensity, and they took it to us and we took a whipping."
Jacksonville 73, Alexandria 66
ALEXANDRIA (0-1) – Landon Williams 8-12 2-5 18, D'Anthony Walton 6-14 4-8 17, Collin Taylor 5-14 0-0 12, Julian Wright 5-5 2-3 12, Javais McGhee 3-13 0-0 7, Cory Cargal 0-0 0-0 0, Ivonte Davis 0-0 0-0 0, Austin Jeffers 0-0 0-0 0, Antonio Ross 0-0 0-0 0, Ronnie Royal 0-1 0-0 0. Totals 27-59 8-16 66.
JACKSONVILLE (3-2) – John Broom 6-10 9-12 23, Quinn Long 6-19 7-12 21, Cam Johnson 4-12 0-1 10, Omarion Adams 3-6 0-0 7, JaeTaj Morris 2-2 1-2 6, Jaylon Prater 1-3 1-2 3, Caden Johnson 1-6 0-1 3, Coby Zackery 0-1 0-0 0, Julian Hill 0-0 0-0 0. Totals 23-59 18-30 73.

Alexandria 19 10 16 21 – 66
Jacksonville 19 20 18 16 – 73
3-point goals: Alexandria 4-23 (Walton 1-7, Taylor 2-9, McGhee 1-7); Jacksonville 9-28 (Broom 2-2, Long 2-8, Cm. Johnson 2-10, Adams 1-3, Morris 1-1, Cd. Johnson 1-4). Rebounds: Alexandria 38 (Williams 14, Taylor 8, Walton 7); Jacksonville 34 (Cm. Johnson 7, Prater 6).
Technical fouls: Cm. Johnson. Fouled out: Taylor, Walton, Prater. Total fouls: Alexandria 28, Jacksonville 14. Officials: Robinson, Harrell, Prociuk.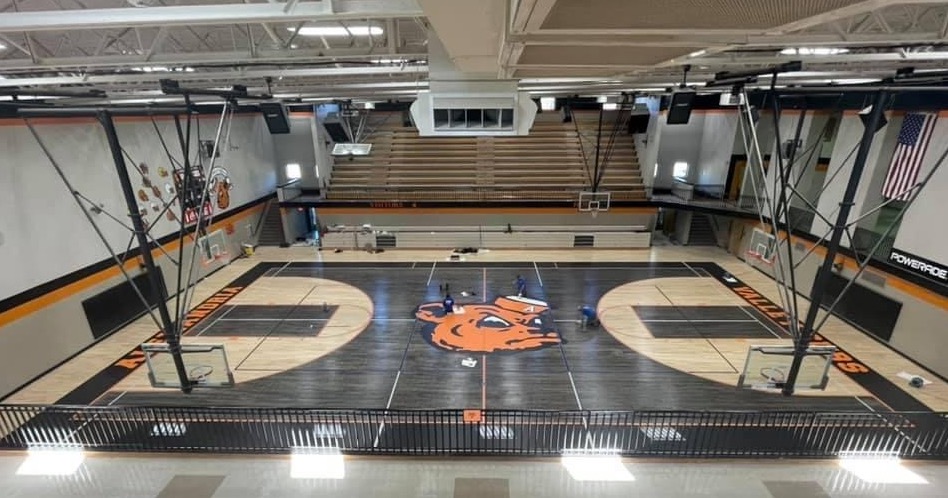 Next up: New digs
Next up for the Valley Cubs is a Thursday date with Southside to formally christen their new gym floor.

It took about 3½ weeks for Doug Wise and Wise Flooring of Gadsden to take the old floor down to the base, redesign and color it charcoal and ash inside the lines with orange "Alexandria" and "Valley Cubs" embossed on the jet black end lines and place a 23-foot orange Cub head (in five coats of paint) in the center.

"It looks like we have a new gym," Alexandria principal Jason Deason said. "The community calls it the new gym anyway, but it's like a new gym now … We're going to be sweeping up sawdust the next two or three months, but it's worth it."
Planners wanted some black on the court, but when they originally put it down it was too dark. Upon further review, the consensus was to lighten it up to the shade it bears now. Deason got the blessing to change some other lesser known color schemes in the building as well.

"One of the first thing I did when I got the job," he explained, "was the top of the gym was teal and berry blue and that drove me insane right out of the gate. I didn't want to break tradition or step on somebody's toes, so I asked if they'd mind if we changed it and the response as an overwhelming, 'Please, God, do it.'"

There was absolutely no debate about placing the Cub head in the center of the floor.

"The Alexandria A is unique, but Austin in North Alabama has the same A," Deason said of the program's Old English style logo. "The Valley Cub is unique to Alexandria. I told the company I want you to make it as big as you possibly can. I want everybody to see this Cub head the first thing they look at when they walk into Larry Ginn Gym."

The floor project cost about $20,000, part of which was raised by donors, and is only the beginning of Deason's vision for the building.

He wants to bring all the Valley Cubs' championship trophies from the trophy case in the main lobby into the gym lobby. He wants to accent the area with a set of three recessed lights representing legendary coaches Larry Ginn and Lou Scales and principal Ronald Chambless, designing it in such a way that the spots shine onto the floor so passersby can see it as they drive past.

The teams have been practicing on it – some have even held signing ceremonies on it – but Thursday will be the first time games are played on it.

"Our student body is real excited about it and our kids are excited about the new floor and the look and hopefully we can match it," Valley Cubs boys coach Jason Johnson said after Tuesday's loss at Jacksonville. "If we play like we did tonight it won't be very much of a match.

"It's a beautiful floor. Our administration and community did a great job providing the money, so we're tickled to death to have an opportunity to have a really nice gym. Hopefully we can put forth a little more energy and intensity into defending our home court."

In keeping with a long-standing Alexandria tradition, no street shoes will be allowed on the floor.

"It's our baby and we're going to treat it that way and treat it with respect," Deason said.