Champion stunner
Oxford stuns reigning Class 1A state champion Spring Garden in Champions Classic, Killer Bs lead Jacksonville, Alexandria repeats over PV

Champions Girls Thanksgiving Classic
Saturday's games
Jacksonville 54, White Plains 35
Oxford 55, Spring Garden 54
Ohatchee 2, Hokes Bluff 0 (forfeit)
Alexandria 52, Pleasant Valley 35
Monday's games
White Plains vs. Spring Garden, 3 p.m.
Hokes Bluff vs. Pleasant Valley, 4:30 p.m.
Jacksonville vs. Collinsville, 6 p.m.
Alexandria vs. Handley, 7:30 p.m.
Bennett calls it 'program-defining win'
By Al Muskewitz
East Alabama Sports Today

Melissa Bennett knew exactly what she was getting into when she signed her Oxford girls basketball team up for the Champions Girls Thanksgiving Classic at the last minute.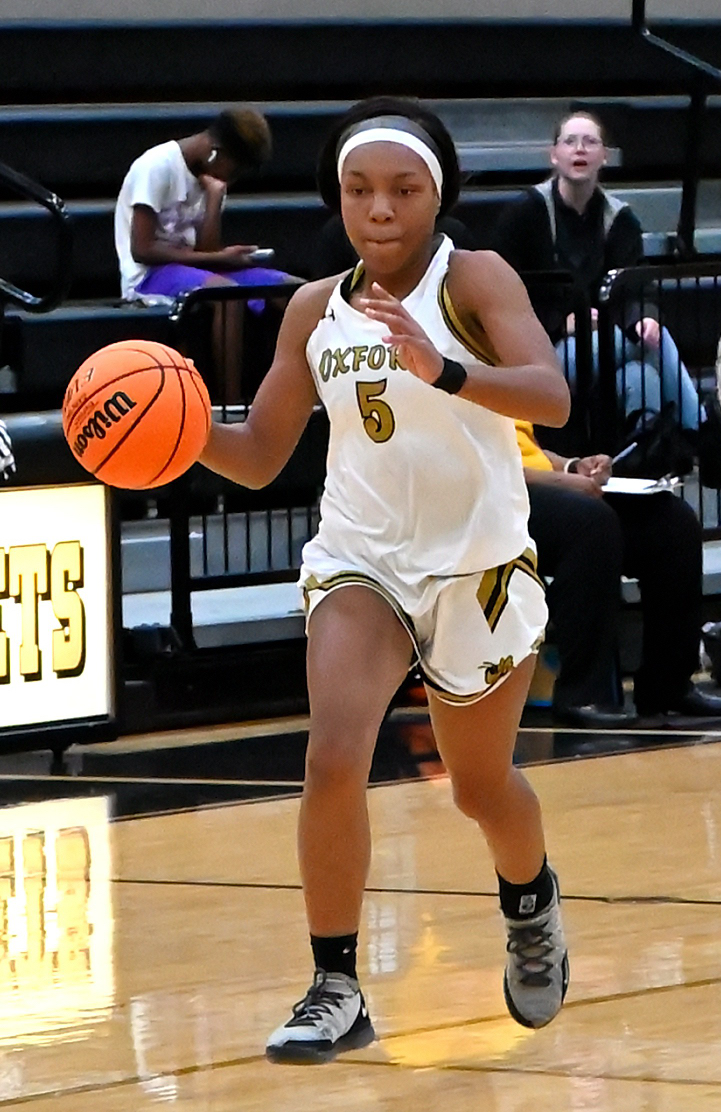 As a late replacement for a team that had withdrawn, Oxford's options were limited and specific. Because the Lady Jackets came on too late for tournament officials to rework the pairings, the Oxford coach's choices were either to take Saks' slot in the bracket with its scheduled opponent or say thanks, but no thanks.

The Lady Jackets were in the situation to begin with because their scheduled tournament in Talladega had been canceled and they didn't want to be idle during the Thanksgiving break. So, they took what was offered and hoped for the best.

When you see Spring Garden on the opponent line you start checking on the left side of the bracket for the rest of the week. Bennett, however, saw it as an opportunity.

Even though the programs are worlds apart in size, 1A Spring Garden had the stronger pedigree and was the projected heavy favorite. The 6A Lady Jackets would have none of the hype, accepted the challenge and stunned the reigning Class 1A state champions 55-54 in Saturday's opening round in Alexandria.

"School size doesn't matter when it's a program like Spring Garden," Bennett said. "They are established, they've been successful forever and coach (Ricky) Austin has proven year after year after year that he runs a great program. Ace Austin, if she isn't already the best player in the state, it won't take long for her to be there.

"When we said we'd go into the tournament, we didn't know that we would get Spring Garden first, but when we did, you've got to be able to compete with good programs to be a good program and that's kind of what we wanted.

"I don't think we shied away from them. We knew it was going to be a battle and it's good to see that for girls basketball. This is huge for us. We talked about a program-defining win and I think we finally got one."

And they had to earn it. The Lady Jackets (5-1) led by seven with a minute left in the game after trailing by eight with 6:25 to go and held on.

The Lady Panthers set up for the winning shot with 7.6 seconds left, but the Lady Jackets turned them back when La'mya McGrue, playing with four fouls, blocked Ace Austin's driving layup with 1.2 seconds remaining.

"I was nervous because I thought I was going to foul out; I had four," McGrue said. "I thought I fouled, but she air-balled and my teammates got it."

Lisa Montgomery got Oxford's fourth-quarter comeback started with seven straight points and she finished with 11. McGrue's putback with 3:00 left put Oxford ahead for good. Kaleah Taylor and Justice Woods led the Lady Jackets with 15 points each; just two games prior Woods was held scoreless.

"I knew tonight I had to come back because my team needed me," Woods said. "It was a big game. I believed in myself. I knew my teammates could do it, too. We just came together and we just got the W."

Spring Garden's Lexy Adkison led all scorers with 18 points. Austin finished with 13, all in the second half.

The Lady Panthers were 35-2 a year ago and won their last 25 games on the way to the state title that eluded it the year before. But this year's team was playing its first game of the new season without the benefit of an offseason program and with a limited number of practices when it was able to get together.

The Lady Panthers also lost a key piece during the game when Kayley Kirk hurt her right knee crashing on the end line near the goal midway through the second quarter and didn't play in the second half.

"We had a game very similar Thursday night (at Plainview) and we talked about how we had to grow up and we had to mature," Bennett said. "It was kind of unfortunate we had to play Spring Garden the next game, but it was one of those (circumstances) we have to grow up fast because if we don't we're going to come in here and get our tails kicked. I thought we grew up today."
Killer Bs carry the day; Broom hits 1,000
Kayla Broom and Amiyah Buchanan have been a formidable presence in Jacksonville's lineup since the season began, but Saturday they formally emerged as this team's Killer Bs.
| | | |
| --- | --- | --- |
| The Killer Bs | (pts-rbs) | |
| Teams | Broom | Buchanan |
| White Plains | 23-10 | 11-8 |
| Gadsden City | 14-12 | 3-10 |
| Ohatchee | 10-14 | 11-8 |
| Pleasant Valley | 8-3 | 8-14 |
Stats by Hilarie Howard
The two combined for 34 points and 18 rebounds and were particularly dominant in the second half as the Lady Golden Eagles pulled away from White Plains for a 54-35 victory in the Champions Girls Thanksgiving Classic.

Broom had a season-high 23 points and 10 rebounds – her third straight double-double – and recorded her 1,000th career point with her first two free throws in the first quarter. Buchanan, who transferred from Sacred Heart when that school shuttered its athletics program, had 11 points and eight boards.

They had 21 points in the second half, 15 in the fourth quarter as the winners stretched a four-point lead.

"I thought late they didn't have an answer for what we were doing with those two," Jacksonville coach Tres Buzan said. "That's just a tough matchup for anybody. I thought Kayla really took over the game for us and Amiyah came on late and took care of business.

"This was their first game to kind of both get hot together. They've had times individually that they've both been good, but I thought together late in the third and early fourth they really got their game together and they were playing off each other and seemed to give each other energy. It was nice to see. When they're both hot, we've got a lot of options."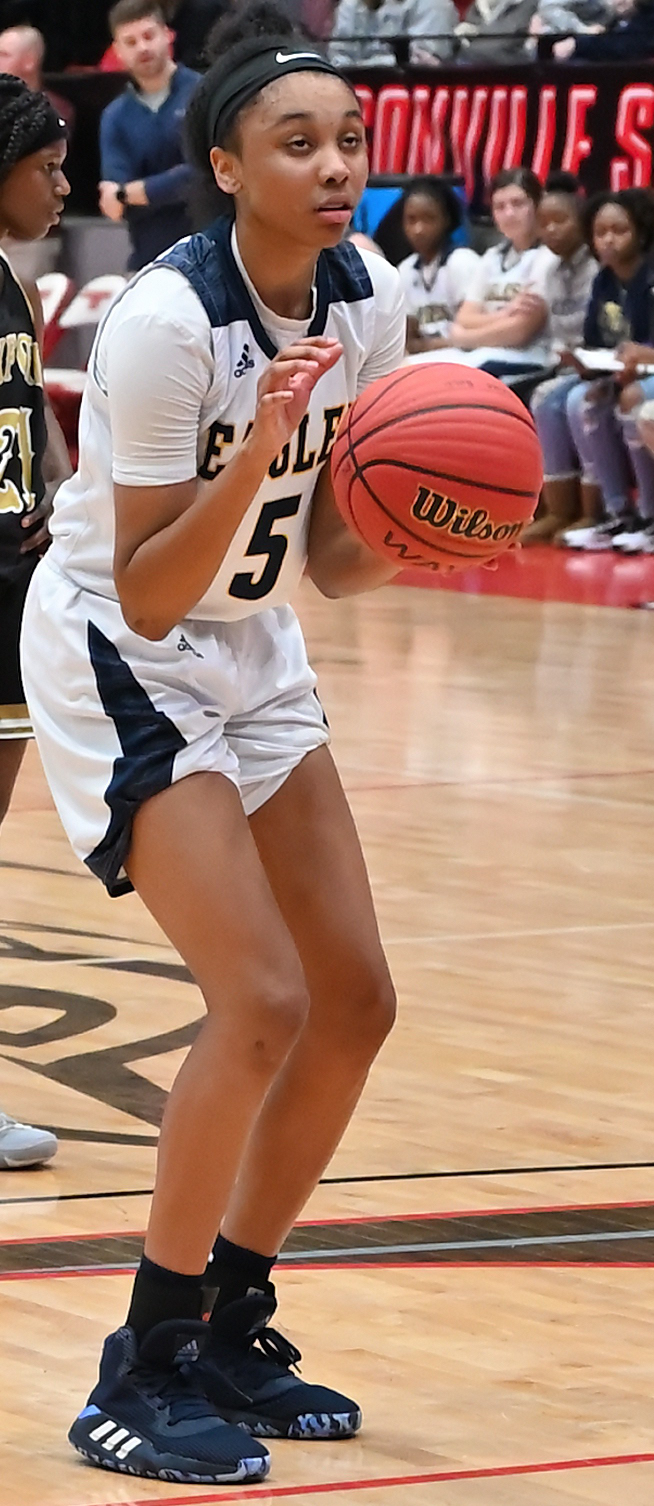 Jacksonville had its Killer Bs in volleyball in Broom and Brenna Stone, so it's just seems natural it moves into basketball with Broom and Buchanan.

"When I was moving here I thought about how we were going to play good together and I feel like we're a good match together," Buchanan said. "The first two games we played the best together and then the last game we got in a little slump and then we turned it up today."

Through the first games of the season Broom is averaging 13.8 points and 9.8 rebounds a game, while Buchannan is averaging 8.3 and 7.5.

Jacksonville used a 13-0 run in the first quarter to open a 16-3 lead, but White Plains put together an 8-0 run in the second behind Adriana Sotelo's 3-point shooting to get within two. That's where Broom started to take over.

The senior scored 12 straight points for the Lady Golden Eagles help them maintain a four-point lead through the third quarter. A 14-2 run to start the fourth quarter – with 12 coming from the Bs – put the game away.

"We were talking at halftime where we didn't have the energy in the second quarter like we wanted to have," Buzan said. "We tried to just get our energy up and play a little better the second half and I thought the girls did that, especially late. I think late third quarter to the fourth we started playing like we're capable of, but it took us a while to get going tonight – longer than it should have."
Lady Cubs win rematch
Alexandria coach Craig Kiker was a little concerned about his team's tournament opener because the teams had played just five days ago, the last time the Lady Cubs took the floor.

There were some elements that were different about the rematch, but the end result was the same: The Lady Cubs topped Pleasant Valley 52-35.

"I almost didn't want to play Monday for that reason, because I knew we had to turn around and play them again," Kiker said. "But I think (the reason he did is) more of let's just get some games in with all this uncertainty while we can."

There was a little less scoring in this meeting from both sides, but with a game-high 27 points, Alexandria's Ashley Phillips actually had two more points than Monday. TyShica Woodgett added 12 and Sarah Pelham 11.

The biggest differences, though, came from the PV side. The Lady Raiders got point guard Rylee Haynes back after COVID quarantine and a status-clearing MRI on her injured knee, allowing first-year coach Colton Morris to do more things.

Haynes was PV's top scorer with 17 points Macey Roper had 10.

"Having another guard helps a lot," Morris said. "We didn't have any trouble with the press tonight, we just couldn't knock down shots. Just cold. We're a better shooting team than that. If we ever hit stride shooting, this team could be extremely good."
CHAMPIONS GIRLS THANKSGIVING CLASSIC
Jacksonville 54, White Plains 35
WHITE PLAINS (0-3) – Adriana Sotelo 5-10 1-2 16, Lily Ponder 2-6 3-6 8, Callyn Martin 2-8 1-2 5, Angel Bozarth 1-5 0-0 3, Kaylee Johnson 1-5 0-0 3, Camden Wilson 0-1 0-0 0, Cheyeenne Cochran 0-0 0-0 0, Shaniya Calloway 0-2 0-0 0, Hallie Williams 0-1 0-2 0. Totals 11-38 5-12 35.
JACKSONVILLE (3-1) – Kayla Broom 6-10 9-14 23, Amiyah Buchanan 4-9 3-7 11, Ashley Grant 3-6 1-1 8, Maggie Anderson 2-5 1-3 7, Bree Edmonson 1-2 0-4 3, Rbekah Gannaway 1-3 0-0 2, Amarie Curry 0-4 0-0 0. Totals 17-39 14-29 54.
White Plains 6 15 6 8 – 35
Jacksonville 16 9 6 23 – 54
3-point goals: White Plains 8-25 (Sotelo 5-10, Ponder 1-2, Martin 0-3, Bozarth 1-3, Johnson 1-4, Calloway 0-2, Williams 0-1); Jacksonville 6-15 (Broom 2-5, Grant 1-3, Anderson 2-4, Edmonson 1-1, Gannaway 0-2). Rebounds: White Plains 29 (Ponder 5, Wilson 5); Jacksonville 37 (Broom 10, Buchanan 8). Fouled out: Wilson. Total fouls: White Plains 21, Jacksonville 15. Officials: Whiteside, Hall, Smith.

Oxford 55, Spring Garden 54
SPRING GARDEN (0-1) – Ace Austin 5 2-3 13, Kayley Kirk 4 1-2 9, Sarah Kate McKay 1 0-1 3, Lexy Adkison 6 5-7 18, Neely Welsh 2 0-1 4, Abbey Steward 2 1-2 7. Totals 20 9-16 54.
OXFORD (5-1) – Justice Woods 6 3-6 15, Xaionna Whitfield 1 0-0 2, Lauren Ellard 1 1-2 3, LeMya McGrue 2 2-6 6, Kaleah Taylor 6 2-2 15, Emma McCullough 1 0-0 3, Lisa Montgomery 5 1-1 11, Jamea Gaston 0 0-0 0. Totals 22 9-17 55.
Spring Garden 12 14 15 13 – 54
Oxford 13 12 11 19 – 55
3-point goals: Spring Garden 5 (Austin, McKay, Adkison, Stewart 2); Oxford 2 (Taylor, McCullough. Fouled out: Welsh, Montgomery. Total fouls: Spring Garden 19, Oxford 22. Officials: Smith, Morriss, Brown.

Alexandria 52, Pleasant Valley 35
PLEASANT VALLEY (0-3) – Lily Henry 1 0-0 2, Rylee Haynes 4 7-15 17, Marlie Wright 0 0-0 0, Kianna Hester 0 0-0 0, Gracie Hood 2 1-3 5, Macey Roper 4 2-4 10, Jenna Amberson 0 0-0 0, Erin Rose 0 1-2 1. Totals 11 11-24 35.
ALEXANDRIA (2-0) – Ashley Phillips 10 7-14 27, Christian Hess 0 0-0 0, Jill Cockrell 0 0-0 0, Sarah Pelham 5 0-2 11, Kailey Dickerson 0 0-4 0, TyShica Woodgett 6 0-3 12, Chloe Gattis 1 0-1 2. Totals 22 7-24 52.

Pleasant Valley 5 8 7 15 – 35
Alexandria 14 8 15 15 – 52
3-point goals: Pleasant Valley 2 (Haynes 2); Alexandria 1 (Pelham). Fouled out: Wright. Total fouls: Pleasant Valley 22, Alexandria 21. Officials: Oden, Wood, Roberts.