Football in play
Anniston's all-state basketball player Antonio Kite picks up his first Division I football offer, Penn State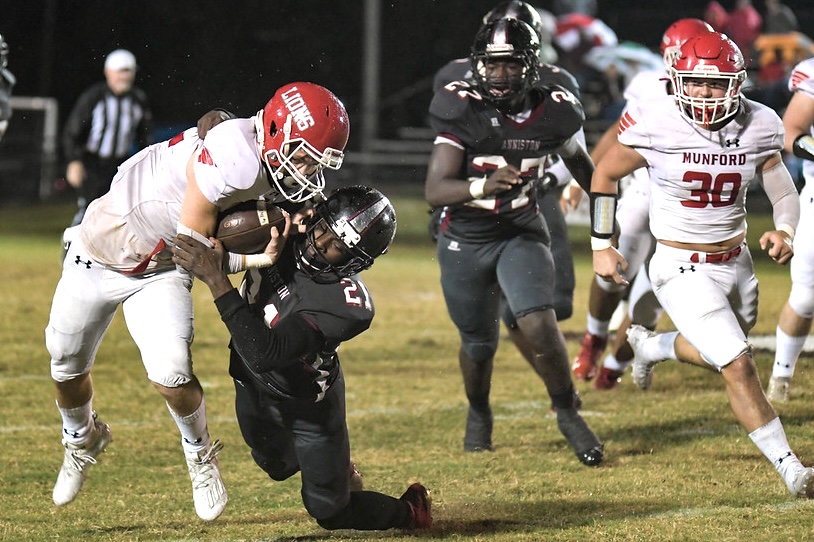 By Al Muskewitz
East Alabama Sports Today

Antonio Kite has been collecting Division I college basketball offers almost from the time he first stepped on the court at Anniston High School. Now there's a new player in pursuit of his athletic skills.

Three days after his first season of varsity football came to an emotional end, Spoodie picked up his first college offer Monday when Bulldogs recruiting coordinator Brad Ball told him Penn State had extended.

"I was just shocked," he said. "This is my first year playing football and I got a D-I offer."

He figured football offers would come once he started playing again, just not this early. And more are likely. Ball said he's had conversations with Alabama, Auburn and Tennessee about the junior defensive back and receiver. That's right, he has another year to play both sports.

Just because he's made his bones on the basketball court, don't pigeonhole him into any one sport.

"I'm an athlete," he said. "I play all sports. I can go a long way with football and basketball. I can do both."
He played football in middle school in Baltimore before moving back to Alabama and came out for the team this summer after multiple urgings by Ball. Once Kite committed to playing football, Ball regularly took him and several other Anniston players to Birmingham, where they trained with other elite high school players like Pinson Valley's GaQuincy "Kool-Aid" McKinstry, who recently committed to Alabama to play both football and basketball.
"College coaches love it when a kid is a dual-sport athlete," Ball said.
Penn State likes Kite as a defensive back. He had six interceptions this season and made several big stops. One of his interceptions came in near the goal line to turn back a Wellborn threat in the season opener. He also was in on the final play of the first half of Friday's playoff game when the Bulldogs stopped Bibb County quarterback Cole McCarty short of the goal line to preserve a 14-13 halftime lead.
He also had five catches for 200 yards and two touchdowns in a smaller role as a receiver. He made an acrobatic 52-yard grab on third-and-29 against Bibb County to keep the Bulldogs' first touchdown drive alive and quarterback Kamron Sandlin threw to him in the end zone for what would have been the winning touchdown in the final minute had it not been broken up by Choctaws Division I prospect Deshun Murrell.
The Bulldogs plan to give him more work at receiver going into next season, Ball said, "because he knows the defense already."
Kite already has basketball offers from Alabama, UAB, Alabama State, South Alabama and Mississippi State. He opens his junior basketball season Tuesday night at home against Hoover and has a Dec. 5 matchup in Huntsville – four days after his 18thbirthday – against Calhoun Alabama signee J.D. Davidson.
He doesn't plan to make a decision until towards the end of his senior year, but whatever the choice, he said, it'll be "whatever is best for me and my family."
And he'll have plenty of choices. About an hour after confirming the Penn State offer to East Alabama Sports Today, Kite tweeted receiving an offer from Jacksonville State.