County 5-3 in Round 2
Five of the eight Calhoun County teams in the AHSAA football playoffs survived second-round games Friday night; Alexandria, Ohatchee, Oxford, Piedmont, Saks win, Anniston, Jacksonville, Wellborn fall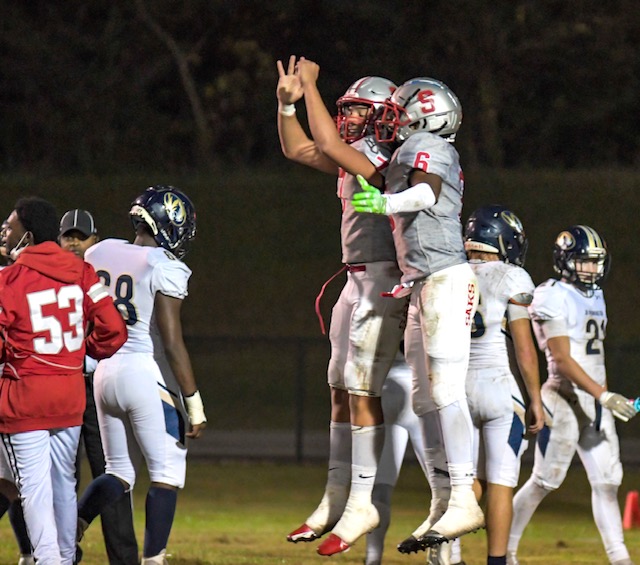 FRIDAY'S COUNTY SCORES
Alabama Christian 31, Jacksonville 21
Alexandria 32, Parker 21
Bibb County 29, Anniston 28
Fyffe 42, Wellborn 13
Ohatchee 54, Winfield 27
Oxford 35, Briarwood Christian 14
Piedmont 46, Plainview 7
Saks 49, JB Pennington 14
Rowell runs over Wellborn
By Glendon Poe
Special to East Alabama Sports Today

FYFFE — Ike Rowell rushed for four touchdowns and threw for two more as top-ranked Fyffe routed Wellborn 42-13 in the second round of the Class 3A state playoffs at Paul Benefield Stadium Friday night.
The Red Devils (12-0) extended their program-record winning streak to 42 games, including 48 in a row on their home turf, and advanced to the state quarterfinal round. They'll travel to Ohatchee next Friday night. The Indians (11-1) defeated Winfield 54-27 on Friday night.
Rowell ran for two first-half scores and passed for two more to help the Red Devils take a 28-7 halftime advantage.
Fyffe scored on all four first-half possessions, beginning with an 8-yard Rowell touchdown run up the middle with eight minutes left in the opening quarter. The ensuing extra-point kick attempt failed.
The Panthers (9-2) burned two of their three first-half timeouts in a row while deciding whether or not to attempt a fourth-down conversion near midfield at the 5:00 mark in the quarter. Head coach Jeff Smith opted to punt.
Fyffe got the Panthers' defense to bite on a fake handoff on its next possession and turned it into points. From the Wellborn 28, Rowell faked a handoff to the right and kept it in a run to the left. He was all alone on the left side of the field before defenders could close in.
Rowell escaped the nearest defender near the Fyffe 40 and continued for a 72-yard score. He kept the ball and found the end zone on the following 2-point conversion attempt, making it 14-0 with four minutes remaining in the first quarter.
A 15-yard scoring pass from Rowell to Brody Dalton capped the Red Devils' next possession midway through the second quarter to push the lead to 21-0.
Calvin Spinks took a handoff on a sweeping run to the right for a 3-yard Panthers score with 1:15 to play in the half, before Fyffe closed the half with Rowell tossing a 33-yard scoring pass to Justin Stiefel with 35 seconds left.
Fyffe recovered the opening kickoff of the second half near Wellborn's 20 and Rowell ran for a 6-yard touchdown and a 35-7 lead. Rowell scored his fourth rushing touchdown and sixth overall with a 4-yard keeper at the 10:17 mark in the fourth.
Ti'quan Thomas' 1-yard scoring dive with 2:27 remaining gave Wellborn its final score. Fyffe's Will Stephens blocked the ensuing extra-point kick attempt.
Rowell rushed for 162 yards on 18 carries as Fyffe finished with 332 yards rushing and 380 yards of total offense.
Wellborn's Jett Smith carried 14 times for 146 yards. The Panthers gained 272 yards of offense, all from their run game. Smith finished the season with 1,278 yards and 12 touchdowns rushing.

Glendon Poe is sports editor of the Fort Payne Times-Journal.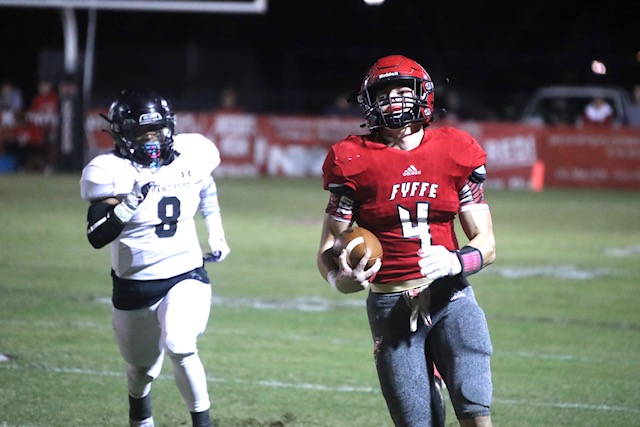 Piedmont pounds Plainview
From staff reports

PIEDMONT — Sophomore quarterback Jack Hayes accounted for four touchdowns, leading second-ranked Piedmont over Plainview 46-7 in the second round of the Class 3A state playoffs.

Hayes completed 14-of-26 pass attempts for 172 yards and three touchdowns for the Bulldogs (11-1). He also ran for 75 yards on 10 carries with a 6-yard score, the Bulldogs' first of the night with 6:51 to go in the first quarter.

He threw touchdown passes to Jadon Calhoun (20 yards), Coleman Reid (7) right before halftime and Austin Estes (11).

Sloan Smith kicked a pair of field goals and Jakari Foster had an 81-yard kickoff return for a touchdown.

The Bears avoided the shutout on Brody McCurdy's 30-yard touchdown run with 6:51 remaining in the game. McCurdy led Plainview (10-2) with 39 yards on seven carries with the score.

Estes and Calhoun both caught four passes for 75 yards and a touchdown for Piedmont, which accumulated almost 400 total yards of offense.

The Bulldogs advance to next Friday's third round where they will host Region 5 rival Saks. It's the sixth year in a row they've reached the playoff quarterfinals and 12th time in 15 seasons under coach Steve Smith. Piedmont defeated Saks 35-6 in regular-season action back on Sept. 4.
Piedmont 46, Plainview 7
Plainview 0 0 0 7 – 7
Piedmont 14 10 13 9 – 46
P – Jack Hayes 6 run (Jadon Calhoun kick), 6:51 1Q
P – Jadon Calhoun 20 pass from Jack Hayes (Jadon Calhoun kick), 3:39 1Q
P – Sloan Smith 23 FG, 3:54 2Q
P – Coleman Reid 7 pass from Jack Hayes (Sloan Smith kick), 0:09 2Q
P – Jadon Calhoun 3 run (PAT failed), 10:47 3Q
P – Austin Estes 11 pass from Jack Hayes (Sloan Smith kick), 5:24 3Q
P – Sloan Smith 20 FG, 10:02 4Q
Pl – Brody McCrudy 30 run (Jacob Yates kick), 6:33 4Q
P – Jakari Foster 81 kickoff return, 6:33 4Q

| | | |
| --- | --- | --- |
| Plain | | Pied |
| 5 | 1st Downs | 22 |
| 35-151 | Rushes-yds | 37-226 |
| 0-1-0 | C-A-I | 14-26-0 |
| 0 | Passing | 172 |
| 1-0 | Fum-lost | 0-0 |
| 6-30.0 | Punts-avg | 1-27.0 |
| 5-53 | Pen-yds | 7-55 |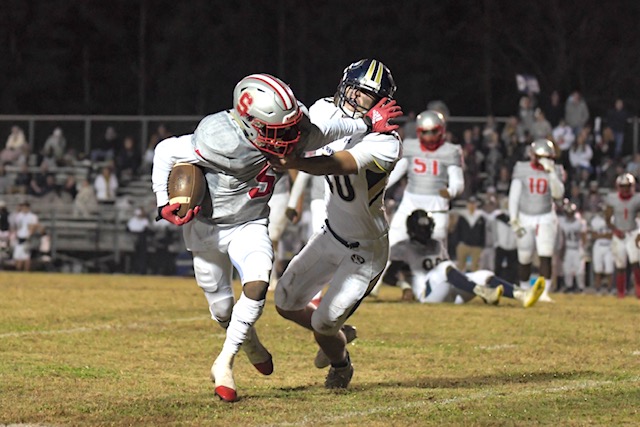 Saks runs into quarters
By Bo Hudgins
For East Alabama Sports Today

Saks coach Jonathan Miller knew his team had a bit of a speed advantage on second-round playoff opponent JB Pennington, so the Wildcats just took advantage of what was available to them.

Will Mixson rushed for 146 yards and two touchdowns, Jaylon Cunningham scored three and altogether five players found the end zone as the Wildcats rolled to a 49-14 victory to set up a Class 3A quarterfinals matchup at region rival Piedmont.

"They just came out and took care of business," Miller said. "I was a little worried all week. They have a kid over there 89 catches on the year. Sometimes it's hard to tell on film the quality of their opponents and such but we knew they were a good football team. We had a little bit of a speed advantage, so we just tried to take advantage of that."

The Wildcats (9-3) really did spread the wealth. Mixson had touchdown bursts of 84 and 36 yards. Sean Parnell rushed for 77 yards and threw a 39-yard pass to Jalen McCants. Cunningham scored on runs of 31, 7 and 4 yards. He finished with 47 yards rushing, six yards receiving and had an interception.

"He played a good game; he's played a lot of good games," Miller said of Cunningham. "He's one of those kids who has really improved as the season's gone on. We've found ways to use him better. He's got a big future ahead for us."
The Wildcats have now won seven in a row since getting swept in consecutive weeks by the region's Murderer's Row of Piedmont, Wellborn and Ohatchee. It's the third year in a row they've made it to at least the third round of the playoffs.
"We're in the playoffs, it's win or go home and I don't want to go home," Trevon Bolton said. "I love football and I don't any game to be my last year. I want to go all five and win a ring."
Fuller, Ennis lead Ohatchee
From staff reports

OHATCHEE – Eli Ennis and Noah Fuller combined for six touchdowns and Ohatchee scored on eight of its 11 possessions in swamping Winfield 54-27 in the Class 3A playoffs.
The win sets up a big quarterfinal battle between the Indians (11-1) and top-ranked Fyffe (12-0) on the Creekbank, the game that was inevitable but the one teams in Region 5 were clamoring to become the No. 3 finisher in order to get this one at home in this round.
Fuller scored four touchdowns – on runs of 1 and 61 yards and catches of 24 and 54 yards. Ennis scored on runs of 39 and 27 yards.
Alexandria advances
From staff reports

BIRMINGHAM – Alexandria knew it was in for a battle the moment Jekovan Rhetta returned the opening kickoff 90 yards for a touchdown and the Valley Cubs never shook the Thundering Herd until Javais McGhee's second touchdown of the game early in the fourth quarter. But they advanced in the Class 5A playoffs 32-21 and will host No. 3 Pleasant Grove Friday

McGhee and Ronnie Royal both scored a pair of touchdowns for the Cubs. McGhee grabbed a 52-yard touchdown pass from Wesley Wright and scored the final touchdown of the day on a 17-yard run. Royal rushed for 110 yards and scored on runs of 2 and 5 yards.

Defensively, Grady Trantham had eight tackles, two sacks and broke up three passing. Ivonte Davis had a pair of interceptions.
Alexandria 32, Parker 21
Alexandria 7 10 7 8 – 32
Parker 7 7 7 0 – 21
P – Jekovan Rhetta 90 kickoff return (kick good), 11:44 1Q
A – Ronnie Royal 2 run (Cleat Forrest kick), 7:15 1Q
P – Jekovan Rhetta 15 run (kick good), 8:11 2Q
A – Javais McGhee 52 pass from Wesley Wright (Cleat Forrest kick), 7:17 2Q
A – Cleat Forrest 22 FG, 0:00 2Q
A – Ronnie Royal 5 run (Cleat Forrest kick), 6:28 3Q
P – Caleb Austin 18 pass from Chris Williams (kick good), 3:56 3Q
A – Javais McGhee 17 run (Grady Trantham pass from Cleat Forrest) 10:24 4Q
| | | |
| --- | --- | --- |
| Alex (11-1) | | Park (6-5) |
| 44-279 | Rushes-yds | 37-137 |
| 7-13-0 | C-A-I | 6-18-2 |
| 129 | Passing yds | 81 |
| 12-96 | Pen-yds | 5-50 |
Second half sinks Jacksonville
From staff reports
MONTGOMERY – After going head to head with their hosts for a half, the Jacksonville Golden Eagles were held out of the end zone in the second half had their hopes of returning to the Class 4A state championship game dashed in the second round by Alabama Christian 31-21.

The teams matched touchdowns throughout the first half with the team swapping three in a three-minute stretch of the first quarter. It took all quarter to swap three scores in the second quarter for a 21-21 halftime tie. ACA had the ball for more than 16 minutes in the half.

JaeTaj Morris gave the Golden Eagles two touchdowns on runs of 65 and 35 yards, and Omarion Adams answered the first ACA touchdown with an 85-yard kickoff return for a score. Morris ended up with 96 yards rushing on 13 carriers
Jacksonville quarterback Jim Ogle completed eight of 21 passes for 75 yards. The Golden Eagles had only 167 yards of total offense in the game.

Jalen Clark was the workhorse for ACA. He rushed for 214 yards on 30 carries and threw for 188 yards on 14-of-23 passing. He accounted for all four of the Eagles' touchdowns.

Alabama Christian 31, Jacksonville 21
Jacksonville 14 7 0 0 – 21
Alabama Christian 7 14 7 3 – 31
J – JaeTaj Morris 65 run (Mason Terrell kick), 8:34 1Q
A – Jalen Clark 18 run (Norton Sewell kick), 5:45 1Q
J – Omarion Adams 85 kickoff return (Mason Terrell kick), 5:30 1Q
A – Norton Sewell 4 pass from Jalen Clark (Norton Sewelll kick), 9:50 2Q
J – JaeTaj Morris 35 run (Mason Terrell kick), 6:33 2Q
A – Jalen Clark 1 run (Norton Sewell kick), 0:06 2Q
A – Jalen Clark 67 run (Norton Sewell kick), 3:00 3Q
A – Norton Sewell 25 FG, 9:48 4Q