Out too soon
Jacksonville, Pleasant Valley both have hopes for a state title dashed in their respective Elite Eight quarterfinals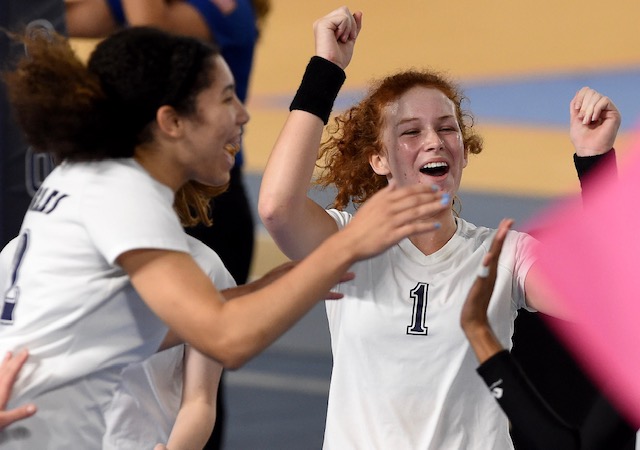 By East Alabama Sports Today
BIRMINGHAM – Jacksonville and Pleasant Valley had bids for a state championship come to an end in their respective quarterfinals Wednesday at the Birmingham Crossplex.
Pleasant Valley was swept by Prattville Christian in the Class 3A quarterfinals, 25-21, 25-19, 25-19. A short time later, Jacksonville, lost to LAMP in the Class 4A quarters, 20-25, 25-13, 22-25, 25-12, 15-13.
Neither team that eliminated the county's teams made it through the next round to play in their respective state championships matches.
"I felt like we played really hard. I don't know that we played really well," Jacksonville coach David Clark said. "I was proud of their effort. They fought. It was so up and down emotionally … We jumped out and thought we had it all going on and we just got tough (rotations)."
The Lady Golden Eagles (39-9) led 12-7 and 13-10 in the fifth set, but LAMP wrestled the momentum away. Kayla Broom had a swing a 13-13 that just missed scoring and it set the stage for the winning point.
When the end finally came, it just kind of came. LAMP smoked a ball at the net that Broom and Molly Wilson got on the block. The ball fell the floor, freezing the teams in their tracks. After a brief pause the point was awarded to LAMP, giving the Lady Tigers the victory.
"It just happened so fast, I think everybody was just waiting," Clark said. "They didn't celebrate, we didn't celebrate, we just kind of were there looking at each other. The officials kind of looked at each other and made a call.
"I've got no issues with it; I couldn't tell. I've watched a lot of volleyball and I couldn't tell. It just happened so fast, I don't know. Everybody keeps telling me we blocked it on their side, but they called it on our side. I couldn't tell. My initial feeling is it was on our side. I don't know why; I just have that initial feeling about it. There was a lot that happened that really was more of a factor than that was."
Broom led Jacksonville with 23 kills, 22 blocks and 16 digs. Brenna Stone had 20 kills, seven blocks and 14 digs. Wilson had 31 assists, eight digs and three kills.
"I've always said whenever it happens it's not good," Clark said of the early exit. "It's always hard. I've lost in all those rounds and I wouldn't say any is less easier to take than the other; they all really hurt.
"I always hate it for the kids. I think this group really believed and that was a great thing because if you don't really feel like it's possible (to win it all) then you're not really in it and I really felt like they did (believe it was possible). Sometimes you don't play well and sometimes you struggle and we've just kind of been in that rut. I've got no issue at all. I thought their effort was tremendous and that's all I've asked them for all year, great effort. You got it and you came up short.
"I told them everything teaches you something. Although this is one of those hard lessons, I hope you take something from it and learn about yourself, about being a teammate, about putting your heart into what you're doing even though you know it could get broken; whatever that situation is you got to sell out. I felt like we were there, we just didn't play our best volleyball. There are too many good teams not to play at a high level right now."
LAMP lost in the next round to Curry 3-1. Curry (55-10) will play Montgomery Academy (33-7) for the 4A title Thursday at 2 p.m.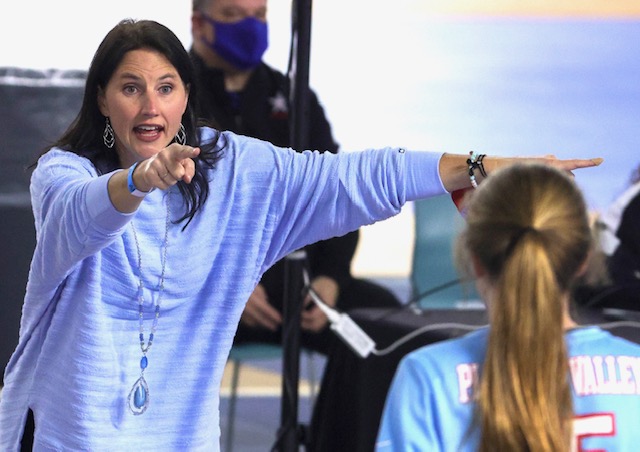 Cover photo: LAMP's Claire Conway reaches for the ball against Jacksonville during the Class 4A quarterfinals. (Photo by Mark Almond)