Falcons fall short
Donoho rallies to get back in it, but falls to Bayshore Christian 3-1 in Class 1A title match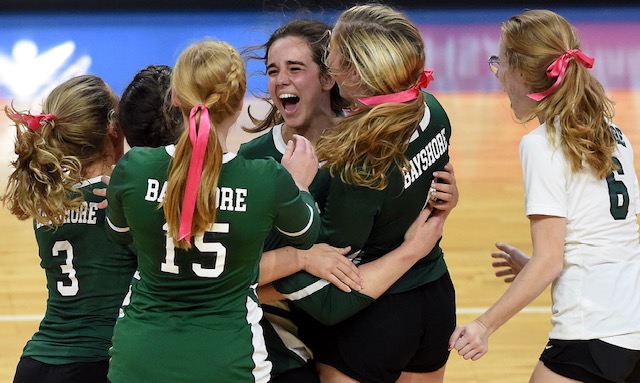 AHSAA STATE TOURNAMENT
Wednesday's Championship matches
CLASS 2A: Addison 3, G.W. Long 1 (25-13, 20-25, 25-19, 25-18)
CLASS 6A: Mountain Brook 3, Hartselle 0 (25-11, 25-15, 25-16)
CLASS 1A: Bayshore Christian 3, Donoho 1 (25-20, 25-22, 23-25, 25-15)
CLASS 5A: Bayside Academy 3, West Point 0 (25-17, 25-7, 25-10)
Thursday's Championship matches
CLASS 3A: Plainview (29-19) vs. Trinity Presbyterian (23-8), noon
CLASS 4A: Curry (55-10) vs. Montgomery Academy (33-7), 2 p.m.
CLASS 7A: Hoover (49-1) vs. Spain Park (27-10), 4 p.m.

By Al Muskewitz
East Alabama Sports Today

BIRMINGHAM —A year ago the Donoho volleyball team came into the post-game interview after the state championship match on the highest of emotional highs.

They were back in the room Wednesday – across the hall, actually – and the emotions were distinctly on the other end of the spectrum.

In 2019, the Lady Falcons were state champions. On Wednesday they left the floor with a different colored trophy after losing to Bayshore Christian in the Class 1A finals 3-1.

It was 25-20, 25-22, 23-25, 25-15.

"It's probably going from the highest of the high to … it's not the lowest of the low — you made it to the state championship — but it sure does stink to get to the finals and not finish,"Clendenin said."But I can't take anything away from that team. I could sit here and say we didn't play well, but I'd be lying. We played pretty good. We didn't play our best,but that team was legit.They were really good.

"I can get upset, but I can't either. At least we won it last year. The quote this year would have been terrible if we came in second last year because I'd have been like it stinksgetting here twice and not finish and we'd have been called the team that can't finish. I'm excited. I thinkwe'll get back here next year."

Bayshore (21-10) came to the AHSAA only recently after dominating the Christian schools league since its founding and won the title in its first year of AHSAA postseason eligibility.Donoho (32-15) was looking to win its 12thstate title and back-to-back for the first time since 2011and 2012.

The Lady Falcons did have something they could take away from the match besides the red trophy.They fell behind two sets to none and were two points away from being swept out of the Bill Harris Arena but, just like they did in last year's final and many times this season, they rallied to win the set and extendthe match.

"I don't think there was much concern when we were (down) 2-0 because we're a comeback team and we like to put on a show," senior setter Maggie Miller said.

The first three sets were tight. The first set was tied eight times before the Lady Eagles pulled it out with six of the last eight points. Donoho appeared to cut its deficit to 23-21 when Maggie Wakefield blocked tournament MVP Cassidy Granger at the net, but the point was overturned by the chair official for a net violation and Bayshore clinched it on the next serve.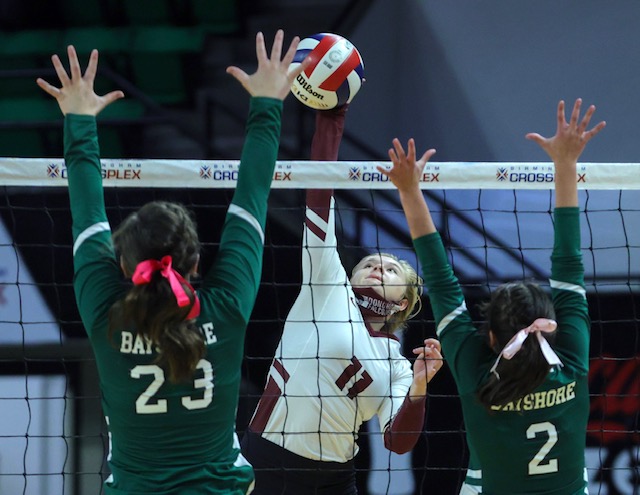 The Lady Falcons never led in the second set but rallied from 7-1 and 10-2 down to make it close. Bayshore used a 5-1 run to take a 21-16 lead and was up 23-19 when Clendenin called time and made the adjustment that helped bring the Lady Falcons back. He moved junior defensive specialist Ayesha Siddiqua up to the front row to provide more blocking on Granger.

The rally started with Wakefield capping a long rally by dropping a kill over the net. A hitting error earned the Lady Falcons another point and three straight kills from Lily Grace Draper gave them a 24-23 lead. They won it when Granger hit a return long.

"We like to keep the audience on their toes," Siddiqua said. "We like to keep it interesting. I think he (Clendenin) almost had a heart attack."

"I've got to give a lot of credit to Donoho," Bayshore coach David Omtvedt said. "I watched their (championship) game last year and their game against Lindsay Lane probably five times and … I knew they always fought back. I told the girls we need to finish, we need to finish now, because this is a great team and they fight hard and they like when they're down because they'll fight their way back. I knew fundamentally we were a stronger team and I'm a firm believer fundamentals are going to win championships."

The fourth set was close for a while, but Bayshore eventually pulled away. Two kills by Wakefield got Donoho within 8-7, then Bayshore went on a 10-1 to take control. Donoho got as close as 19-13, then the Lady Eagles pulled away again.

"I'll just say how proud I was of my girls for not giving up," Clendenin said. "I know that last set got away from us, but we could have easily been done in three, but the girls fought. I told them all year I will go play anybody with these girls because they never give up, and as a coach that's all you can ask for. I've coached for 13 years and I don't think I've ever coached a group of girls that doesn't give up. This group … we could be down by 15 points and they play like it's going to be our final point to win."

Siddiqua, Miller (last year's MVP) and Draper made the all-tournament team. Miller had 37 assists in the match (84 in the Elite Eight) and Draper had 15 kills (47 in the three matches). While they didn't make the all-tournament team, Mercy Mangum also had 15 kills in the title match and Maggie Wakefield had 13.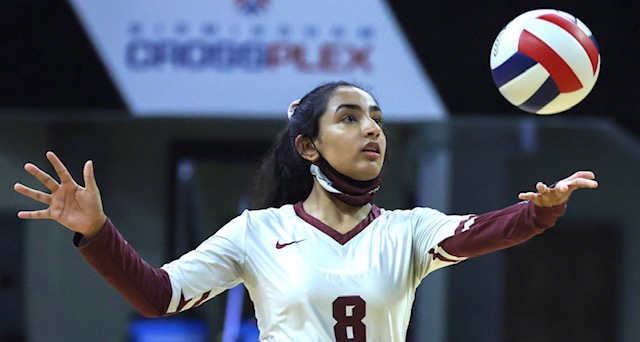 Siddiqua scored big points for her defense against Granger. The Lady Eagles' six-foot senior had a school-record 35 kills, but she'd have had a lot more without Siddiqua and the back line sacrificing their body to keep balls alive. Siddiqua had 27 digs and eighth-grader libero Sam Wakefield had 21.

"This was our last game and it was really important and I wanted to give my all for the last game," Siddiqua said. "It's very nerve-wracking being put in all the way around in a very important game last minute, but he thinks of me as a good defensive player and he thinks that's the best thing to do. It's nerve-wracking for me, but I do my best and it pushes me to do better for him."

Clendenin said expect to see a lot more of her next season, perhaps to the degree she doesn't come off the floor.

"She's one of those, even the entire team always says, she does probably the most work without any recognition; I'm proud of her," Clendenin said. "The back row, everybody knows this, they usually don't get as much recognition as the front row or the setters. (But) they're the workhorses. If they're not doing what they're supposed to do we can't do anything."

Granger admitted it was "frustrating at times" having some her best efforts turned away by Siddiqua and the Donoho back line, but she concentrated on her mechanics to not let it get her down.

CLASS 1A FINALS
Bayshore Christian 3, Donoho 1
(25-20, 25-22, 23-25, 25-15)
KILLS — Bayshore (52): Emma Long 2, Ashlyn Whiteside 14, Avery Bramblett 1, Cassidy Granger 33; Donoho (48): Lily Grace Draper 15, Maggie Wakefield 13, Mary Marshall Perry 3, Sam Wakefield 2, Mercy Magnum 15.
ASSISTS — Bayshore (48): Avery Bramblett 2, Brooke Kearney 44, Ella Barnes 2; Donoho (43): Maggie Miller 37, Naira Rehman 1, Ayesha Siddiqua 1, Lily Grace Draper 1, Maggie Wakefield 1, Sam Wakefield 1, Mercy Mangum 1.
ACES — Bayshore (10): Emma Long 3, Ashlyn Whiteside 4, Avery Bramblett 2, Oliva Rainer 1; Donoho (3): Maggie Miller 1, Mary Marshall Perry 2.
DIGS — Bayshore (93): Emma Long 4, Ashlyn Whiteside 21, Avery Bramblett 13, Brooke Kearney 5, Oliva Rainer 7, Cassidy Granger 16, Ella Barnes 27; Donoho (90): Maggie Miller 10, Naira Rehman 13, Ayesha Siddiqua 27, Lily Grace Draper 12, Maggie Wakefield 2, Mary Marshall Perry 2, Sam Wakefield 21, Mercy Mangum 4.
BLOCKS — Bayshore (2): Cassidy Granger 2. Donoho (3): Maggie Wakefield 3.