Top of his game
Munford's Holmes wins ARCA Series championship after finishing second in Kansas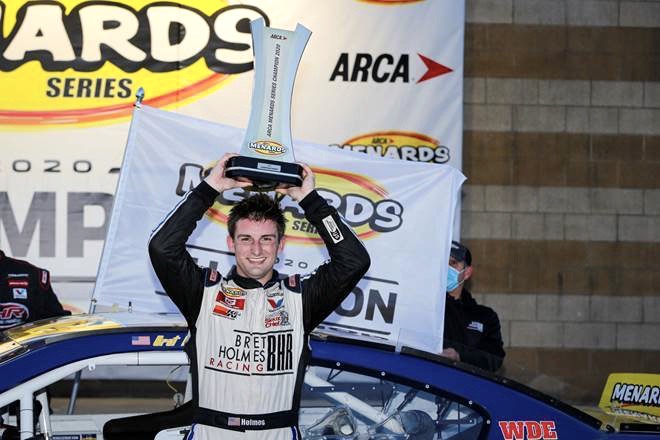 From ARCA Racing

KANSAS CITY, Kan. – Munford's Bret Holmes got an early college graduation present Friday at Kansas Speedway. The 23-year-old Auburn senior who is due to graduate in December finished second in the ARCA Menards Series Speediatrics 150 presented by The NASCAR Foundation, and took home the Series' 2020 title.  

Holmes, in his fifth ARCA season, entered the race a mere eight points ahead of Michael Self in the championship points standings and concluded the season 12 points in front of Self, who finished fifth in the race and second in the points standings for the second year in a row.
"This is something we've been working towards for a few years now," Holmes said. "The way we did was different with starting our own team. To have it finally payoff is a really good feeling."
Holmes had some periods of doubt in his career, but it was the ones closest to him who gave him the boost that he needed.
"I knew in the back of my head I had the potential to do it," said Holmes, who will graduate with a degree in building science following the completion of his senior thesis. "Those couple of years, especially in 2018, it got tough and I thought about quitting at some point.

"That's a really tough thing to admit about a sport you love. If it wasn't for my friends and family who kept pushing me this wouldn't have been possible. They gave me the confidence that I had lost. Knowing you can come into each race with a chance to win makes it that much better.

"The two things I've ever wanted was for my friends and family to be proud of me through racing and for my team to have the same respect as the others. I think we've earned that today. We paid our dues and it's a really special feeling."
Holmes won the Dawn 150 here in July for his first career win and only victory in 2020. He had 14 top-fives and 19 top-tens this season.

His No. 23 Golden Eagle Syrup Chevrolet started second in Friday night's race with the field set owner points, and he led the first 18 laps as Self battled early fuel pressure.

The Donoho graduate entered the season finale needing just a third-place finish to guarantee himself the championship regardless of what Self did – and his Bret Holmes Racing team delivered more than enough points.
"It's been a tough road, for sure," he said. "Everything we've done has just been phenomenal this season, every decision we've made. To come out and not even know we were going to run the full season, and to finish it off like this is really special.
"To move to the next level, if it's going to take me scratching and starving, that's what I'm going to do. Because I know we deserve to be here."

Rookie Corey Heim won the race, claiming his first career victory in dominating fashion, leading 82 of the 100-lap race.
Heim, 18, who graduated from high school in Georgia this past spring, finished 1.574 seconds ahead of the new champion. Prior to tonight his previous best finish in the ARCA Series was third.
"It was awesome," said Heim. "I knew right from the first five laps we had a really good race car. We got right to the front in the first 20 laps. I just ended up putting it to them. To be able to control the pace tonight played into my hands. Speed has not been issue with this team. We've always been really fast. We just had to play our cards right, get the track position and put ourselves where we needed to be. Tonight everything went right." 
Hailie Deegan, who finished in sixth-place tonight, was third in the season points standings (887) and was the 2020 ARCA Menards Series Bounty Rookie of the Year.