PV wins another area
Lady Raiders make it 15 straight area titles with a sweep of Weaver, Piedmont; Piedmont gets out of area for first time since 2016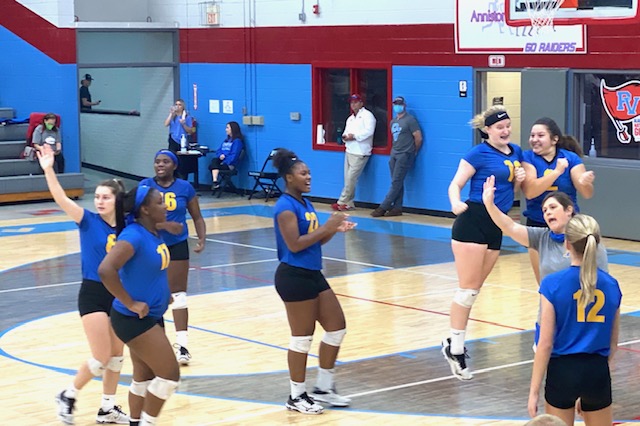 CLASS 3A AREA 11
at Pleasant Valley
Pleasant Valley 3, Weaver 0 (25-15, 25-11, 25-12)
Piedmont 3, Ohatchee 0 (25-20, 25-6, 25-20)
Pleasant Valley 3, Piedmont 0 (25-18, 25-12, 25-19)
Saturday's subregion matches
Brindlee Mountain at Pleasant Valley
Piedmont at Susan Moore
By Al Muskewitz
East Alabama Sports Today

JACKSONVILLE – Ever since the Pleasant Valley volleyball team came off COVID quarantine two weeks ago the Lady Raiders have been a team on a mission.

Armed with a renewed appreciation for the game itself, the Lady Raiders have actually played better than they were before the break. They kept the train moving towards Birmingham Tuesday when they swept Weaver and Piedmont to win the Class 3A Area 11 Tournament for their 15th straight area crown.

The Lady Raiders beat Weaver 25-15, 25-11, 25-12 and Piedmont 25-18, 25-12, 25-19. They'll now host Area 13 runner-up Brindlee Mountain in their sub-region game Saturday.

"We have heard a lot of stories about other teams that have come off of quarantine and it's tough to come off after sitting two weeks," PV coach Dana Bryant said. "Sometimes it's just better to make your own path. You just have to come back and make up your mind and decide this is how we're returning, and that's what they did.

"Now the tires have hit the road and we just don't want to take it out of drive."

Pleasant Valley was one of five (among seven) volleyball teams in the Calhoun County Schools system that had been quarantined this season because of COVID-19. Ohatchee's varsity team was the latest to be sidelined and the Lady Indians were forced to play with their junior varsity team in the tournament here, where it lost to Piedmont 3-0.

The Lady Raiders (24-5) have gone 11-2 since returning, losing only to top-seeded Alexandria in the county tournament semifinals and county champion Jacksonville Saturday.
"You realized that because of the coronavirus you never know if it would be your last time to play even if you're not expecting it, so you play even harder," senior middle Leah Patterson said. "I think we played pretty good today."

"I think we just kind of learned to not take it for granted that we have to practice every day and look forward to it," junior setter Rylee Haynes said. "When you look at it that way you get better faster and you just have more fun with it overall. I think we're playing more together and that makes a difference. Now we appreciate it more and we really value this time we have left with these seniors."

Patterson was named tournament MVP. She had 32 kills, 18 digs and four digs and served at 100 percent in the Lady Raiders' two matches.

She was joined on the all-tournament team by teammates Rylee Haynes, Allie Bryant, Lily Henry and Madison Borders. Haynes had 56 assists, 18 digs and six aces; Bryant had 36 digs and eight aces; Henry had 19 kills and Borders had five kills and two blocks.

COVID protocols really impacted Ohatchee's postseason plans. The senior-rich Lady Indians were placed in quarantine Sunday night after one of its non-starters tested positive and told a district health professional tracing her contact she was with the volleyball team.

School administrators spent every hour up to tip off reaching out to school board, state athletic and state health officials to appeal their case – going so far as to break down the video of their last match frame by frame to show the player testing positive was in contact with teammates for less than six minutes total – to no avail.

The Lady Indians played their junior varsity squad against Piedmont and lost 25-20, 25-6, 25-20. The second set was lopsided, but the other two were as close as the score indicated. In fact, Ohatchee rallied from 18-9 down to get within 20-19 in the first set and held the lead briefly late in the third set.

"They did everything we asked them to," Ohatchee coach Rebecca Hughes said. "We put a lot of weight on their shoulders in that moment … and they stepped up and they did the best that they could.

"I don't think we realized how much weight we did put on their shoulders in that moment. It was terrible situation; you win some, you lose some. I think they stepped up big when we needed them to step up. That's all we can ask for at that time."
The victory earned Piedmont (17-14) its first trip to the regionals since 2016. Ta'Leaha Ridley and Armani Perry each had five kills in the match. Z'Hayla Walker had four kills, eight digs and two blocks, and Franklin had three kills, five digs and three aces. Jaycee Glover had 18 assists.

The Lady Bulldogs would have liked to have ended the day as area champions, but lost to Pleasant Valley in the title match 3-0, but they still have a date at Susan Moore in their subregion match Saturday.

"We are a very young group – I have one senior – and we're working to get to the next level," Piedmont coach Magan Glover said. "That's where we want to be, that's where we want to take our teams, so it is important for us to be here."
PLEASANT VALLEY BOX SCORE
(Two-match totals)
KILLS: Leah Patterson 32, Madison Borders 5, Tori Turner 1, Mattie Glass 3, Lily Henry 19, Maddie Schwabe 2, Rylee Haynes 5, Allie Bryant 2.
ASSISTS: Madison Borders 1, Rylee Haynes 56
ACES: Madison Borders 1, Mattie Glass 2, Lily Henry 3, Rylee Haynes 6, Allie Bryant 8.
DIGS: Leah Patterson 18, Madison Borders 3, Tori Turner 1, Mattie Glass 16, Lily Henry 12, Maddie Schwabe 5, Rylee Haynes 18, Allie Bryant 36.
BLOCKS: Leah Patterson 4, Madison Borders 2, Tori Turner 4, Rylee Haynes 1.
PIEDMONT BOX SCORE
(Two-match totals)
KILLS: Jaycee Glover 1, Z'Hayla Walker 6, Ta'Leaha Ridley 11, Reese Franklin 5, Jenna Calvert 1, Armoni Perry 5, Emma Grace Todd 1 .
ASSISTS: Jaycee Glover 34, Reese Franklin 1, Jenna Calvert 2.
ACES: Ta'Leaha Ridley 2, Reese Franklin 3, Jenna Calvert 1.
DIGS: Jaycee Glover 8, Z'Hayla Walker 10, Ta'Leaha Ridley 8, Reese Franklin 7, Jenna Calvert 4, Armoni Perry 2.
BLOCKS: Z'Hayla Walker 4, Ta'Leaha Ridley 3, Armoni Perry 1.
ALL TOURNAMENT TEAM
Pleasant Valley: Leah Patterson (MVP), Rylee Haynes, Allie Bryant, Lily Henry, Madison Borders.
Piedmont: Armoni Perry, Ta'Leaha Ridley, Z'Hayla Walker.
Weaver: Madison Atchley, TiAna Lawrence.
Ohatchee: Ellie Carden, Hannah Fitch.