(Duck) Blind Faith
Pleasant Valley rallies from 21-point deficit in third quarter to turn back upset minded Donoho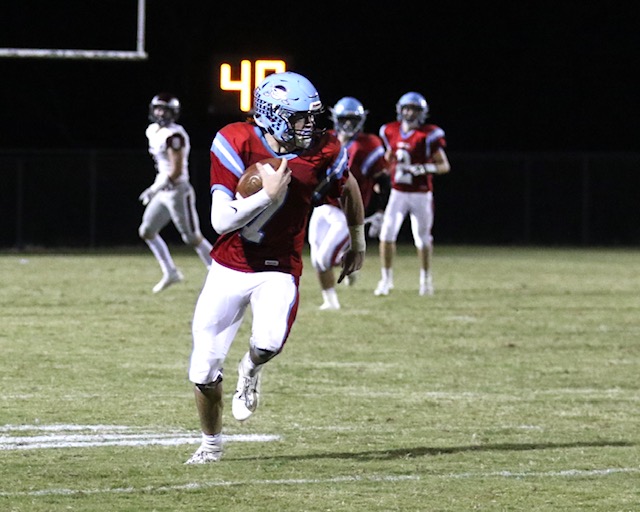 By Al Muskewitz
East Alabama Sports Today
JACKSONVILLE — Hunter Sallee leaned in to Pleasant Valley football coach Jonathan Nix during the band's post-game playing of the alma mater and suggested in a not-so-subtle way the coach return a song to his playlist he banished from his world for the last year.

No, that wasn't "Duck Blind" blaring from a raucous PV dressing room after the Raiders rallied from 21 points down midway through the third quarter to beat Donoho 30-29 Friday night, but it soon might be in the weeks ahead.

Nix called the song "2 minutes and 13 second of absolute country-ness," an anthem of sorts for the countrified players, many of whom spend their down time enjoying hunting and shooting sports. The coach used to listen to it, too, until the Raiders used it as a hype song before their B.B. Comer game last year and lost on a last-second play that effectively ended their playoff hopes.

They played Friday night's game with an ear towards "bringing back the Duck Blind," and that might just be their reward after turning back the Falcons.

"I told him we brought out that Duck Blind tonight because last year we lost to the song; had to make sure we shot down the Falcons tonight," Sallee said. "That's why the whole team has (camo) paint on them, too. It was all like a duck hunt, but it was for Falcons."

It didn't start off well for them. They fell behind 7-0 after Donoho converted a bad punt snap deep in PV's end into a touchdown and trailed 14-6 at halftime.

They fell farther behind after a double dose of Amari Smedley in the third quarter. The elusive receiver scored on a 53-yard pass from Ridge Hopkins and a 35-yard punt return less than three minutes apart and it was 27-6 with 7:09 left in the quarter. Suddenly, the Falcons appeared on their way to getting their first win over a Calhoun County public school opponent since 2006.

"We just played so sloppy to start with," Nix said. "Sometimes our kids are guilty of this. Our region is so tough and then all of a sudden somebody comes from outside of our region and they're just used to so top quality teams that sometimes I think for whatever reason we come out sluggish on that.

"I told them at halftime … just be consumed with do simple better and everything else will take care of itself. I need juice. We gotta have some kids with a little bit of juice and energy. When the juice starts flowing, everybody starts drinking. It's which kid is going to open the juice."

That would be Jake Upton's 92-yard kickoff return that answered Smedley's punt return score. From there, a 2-yard touchdown run by Braydon Maye, a 55-yard Maye pass to Justin Winningham and a couple two-point conversions put the Raiders on top for the first time 53 seconds into the fourth quarter, 30-27.

But the Raiders had to survive a harrowing final five minutes before they could celebrate.

Damon Parr got his massive 6-5, 330-pound frame up to block a potential game-tying field goal with 5:16 to play.

"I just had to dig deep and go for it, give it all I had," Parr said. "I bulldozed through them, just jumped up and blocked it. He called block right and I was on the right side and just went for it."

Donoho got another shot at it when it stopped Sallee on a fourth-and-4 from inside their 30 with 2:31 to play when Nix steadfastly refused to punt. Sallee went to his left side and the Falcons were there to meet him after a negligible gain.

"I told them I'm tired of punting the ball, tired of going three-and-out; I'm sick and tired or it, we're not punting tonight again. If this thing is close we're going for it. We felt like we needed to," Nix said. "They called me on it right there and said coach we've got your back, we're going to get it. I wanted them to know I trust in them. Even though they failed and didn't get it, it's ownership on you now. I trusted you, go out there and make a stop, and they did. Probably one of my proudest coaching moment is when two of them said coach we've got your back, and they make a stop."

Sallee killed the threat, making up for failing to move the chains, when he snatched a ball that bounced off Donoho receiver Connor Goodson on fourth down for an interception with 2:07 left.

"It felt almost personal because I felt like personally I couldn't get the job done on that last stand," Sallee said. "So getting that pick and just the win was a big thing for our team."

The Raiders took a safety on its final snap to make it a one-point game, but the ensuing free kick with 1.9 seconds to go left many on the sidelines to wonder if there was another Hillcrest-Tuscaloosa-like miracle in store for this finish.

The Patriots made all the national highlights two weeks ago when they used nine laterals on the game's final play to beat Wetumpka.

Nix sent out his all-star punt coverage team and it wrapped up the Falcons after several laterals.

Put the song on the iPod and crank up the volume. The Duck Blind is back on the Raiders' Hit Parade.

"I haven't listen to the song since last year; I have not listened to it at all," Nix said. "When they (approached him) about it I said I don't even like that song. They were like give us a shot to bring it back. At the end of it, Andruw Sanders said put it back on your playlist, Duck Blind is back."

While the Raiders were looking for some juice after it fell behind, Donoho couldn't find any to keep going. The Falcons had only 57 yards of net offense after they took that 27-6 lead.
"They just found a crack in the ice on their offensive side, they found a crack and they just exposed us in certain areas," Falcons coach Mark Sanders said. "We just weren't able to really stop them until towards the end. Our offense had trouble moving the ball at time, but honestly this is the best we've done all year. That's all I'm looking for. I'm looking for growing experiences. I'm looking for guys who want to fit and that's what we did tonight."
PLEASANT VALLEY 30, DONOHO 29
Donoho 7 7 13 2 – 29
Pleasant Valley 0 6 16 8 – 30
D – Lucas Elliott 5 run (Ethan Miles-Jamison kick), 8:55 1Q
D – Amari Smedley 30 pass from Ridge Hopkins (Ethan Miles-Jamison kick), 8:47 2Q
PV – Hunter Sallee 7 run (run failed), 3:18 2Q
D – Amari Smedley 53 pass from Ridge Hopkins (kick blocked), 9:53 3Q
D – Amari Smedley 35 punt return (Ethan Miles-Jamison kick), 7:09 3Q
PV – Jake Upton 92 kickoff return (Zeke Curvin run), 6:49 3Q
PV – Braydon Maye 4 run (Hunter Sallee run), 2:26 3Q
PV – Justin Winningham 55 pass from Braydon Maye (Jake Upton run), 11:07 4Q
D – Safety, Braydon Maye runs out of end zone, 0:02 4Q

| | | |
| --- | --- | --- |
| Don (29) | | PV (30) |
| 9 | 1st Downs | 8 |
| 16-23 | Rushes-yds | 42-169 |
| 15-30-1 | C-A-I | 3-8-0 |
| 210 | Passing yds | 96 |
| 1-0 | Fum-Lost | 2-0 |
| 4-30.3 | Punts-avg | 4-32.0 |
| 5-55 | Pen-yds | 4-36 |