Ogle's big return
Freshman quarterback returns from COVID-19 quarantine, leads Jacksonville to important region victory over Munford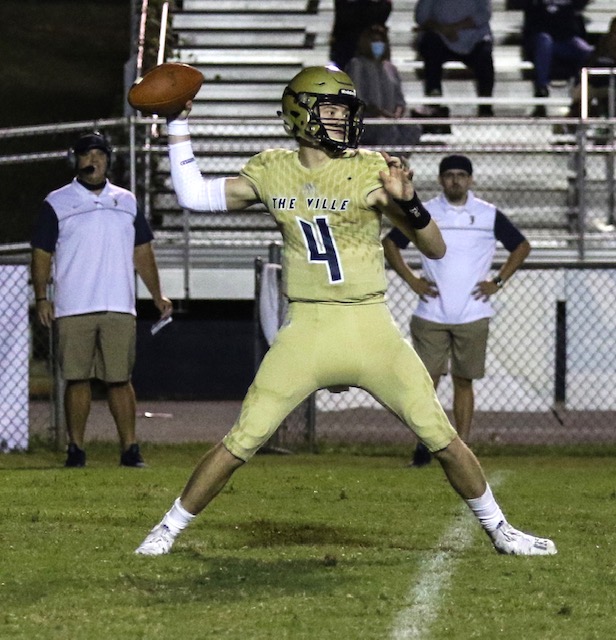 By Al Muskewitz
East Alabama Sports Today
JACKSONVILLE – Jim Ogle couldn't wait to get back on the field with his Jacksonville teammates – and it showed.

The Golden Eagles' freshman quarterback made his return to the field after two weeks of COVID-19 quarantine Friday night and led the Golden Eagles to an important 44-20 region win over Munford.
Ogle had been itching to get back and his teammates could sense it when he returned.
"He was pretty mad about sitting out and when he came back he was hungry," running back JaeTaj Morris said.

Ogle completed 15 of 28 passes for 286 yards and two touchdowns. After dusting off some early rust, he was 10-of-16 in the second half for 222 yards and touchdown passes of 35 and 79 yards to Omarion Adams, who was crowned Homecoming King by last year's king (Ron Wiggins) in ceremonies before the game.

He was 13-of-23 for 275 yards and two touchdowns after being intercepted early in the second quarter and 9-of-14 for 163 yards and two touchdowns after Munford took a 20-15 lead on Sylvester Smith's 78-yard burst with 5:25 left in the third quarter.

"It was very special tonight," Ogle said. "Missing those two weeks and seeing all my guys right here winning and having fun just made it even worse having to sit there and watch them, but it was real special to be back. I've been looking forward to it all week. Every night I would dream about throwing that first touchdown coming back."
The quarterback didn't have the coronavirus, but it was in the home so he had to quarantine for 14 days, missing two games. He couldn't practice or go to games, but he did keep up with what the Golden Eagles were doing. He returned to practice Monday and admitted "it was like starting Week One all over again."

His teammates didn't miss a beat, though. In Ogle's absence they shifted to the wildcat with Morris and Adams out front and scored region victories over Anniston and White Plains. Ogle watched the Anniston game and listened to the White Plains game.
They used a little wildcat against the Lions, but it was largely Ogle's big arm to Adams and Morris' quick feet. Adams caught 10 passes for 183 yards. Morris rushed for 125 yards on 23 carries.
"The one thing that really impressed me, too, was how his teammates picked him up and how his teammates allowed him to do the things he did tonight," Jacksonville coach Clint Smith said. "Peanut (Adams) and the threat he is, whether it be at receiver or when we'd get in the wildcat, it was just such a great change of pace, it made us more multiple. Being multiple helped (Ogle) get in a rhythm and in a groove."
The game had a playoff-like atmosphere. Munford already lost to one region contender (Handley) and could ill-afford to lose to another if it wanted a home game in the opening round of the playoffs. Jacksonville, meanwhile, put itself in a position to control its own destiny, staying undefeated in the region and headed for a titanic showdown at Handley in two weeks.

Because Class 4A Region 4 is a south region, the third- and fourth-place qualifiers will be in for a long road trip in the first round of the playoffs.

"I'm not really worried about playoffs right now," Munford coach Michael Easley said. "The biggest thing for us is I just don't like the way we played tonight. I thought they came out and were the more physical team for four quarters. I told (his players) before the game we were going to have to come in and out-physical this team to have a chance to win this ballgame, and we didn't do that. They were much more physical than us all game long and we made some really dumb penalties that really cost us in some crucial times."

And what did he think of that young Jacksonville quarterback?

"He's got a live arm, plays pretty smart with the ball in his hands," he said. "I thought he looked good especially since he's been out two weeks. He's gonna be a really good quarterback."

It was tight for three quarters with Munford scoring on its opening drive and the lead changing hands three times before Jacksonville broke it open with three touchdowns in the final four minutes. In that late run was a pair of pic-sixes – by Kydric Fisher (for 57 yards) and Morris (for 60 yards).
JACKSONVILLE 44, MUNFORD 20
Munford 8 0 12 0 – 20
Jacksonville 0 15 8 21 – 44
M – Jay Tuck 8 run (Sylvester Smith run), 4:08 1Q 8-0
J – JaeTaj Morris 4 run (JaeTaj Morris run), 7:43 2Q 8-8
J – JaeTaj Morris 11 run (Mason Terrell kick), 0:36 2Q 8-15
M – Sylvester Smith 11 run (run failed), 9:46 3Q 14-15
M – Sylvester Smith 78 run (pass failed), 5:25 3Q 20-15
J – Omarion Adams 79 pass from Jim Ogle (Kydric Fisher run), 2:51 3Q 20-23
J – Omarion Adams 35 pass from Jim Ogle (Mason Terrell kick), 4:04 4Q
J – Kydric Fisher 57 interception return (Mason Terrell kick), 3:51 4Q
J – JaeTaj Morris 60 interception return (Mason Terrell kick), 2:02 4Q
| | | |
| --- | --- | --- |
| Mun (20) | | Jax (44) |
| 12 | 1st Downs | 16 |
| 38-211 | Rushes-yds | 31-157 |
| 7-20-3 | C-A-I | 15-28-1 |
| 81 | Passing yds | 286 |
| 2-1 | Fum-lost | 1-1 |
| 7-30.8 | Punts-avg | 4-30.5 |
| 12-91 | Pen-yds | 10-72 |