Bracket set
Ohatchee comes to make case, grabs No. 4 seed behind Alexandria, Jacksonville, Donoho in County Volleyball Tournament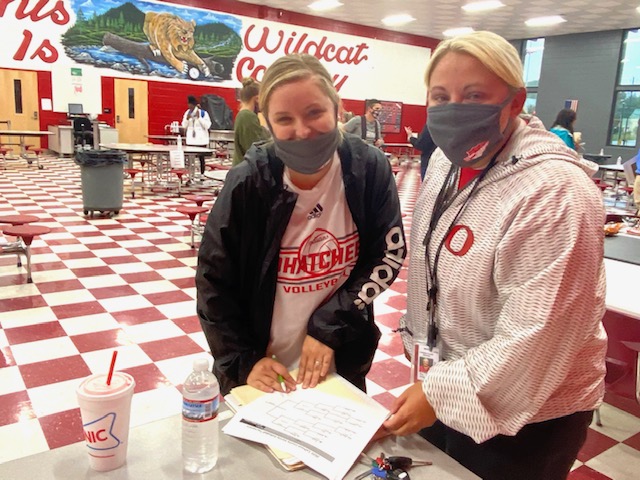 CALHOUN COUNTY VOLLEYBALL TOURNAMENT
Oct. 3 Matches
At Alexandria
No. 8 Piedmont (10-7, 3-2) vs. No. 9 Wellborn (6-5, 2-5), 10:30 a.m.
No. 1 Alexandria (15-9, 4-1) vs. Piedmont-Wellborn winner, noon
At Ohatchee
No. 13 Faith Christian (5-12, 0-6) vs. No. 12 Jacksonville Christian (2-1, 1-1), 9 a.m.
No. 5 Pleasant Valley (11-3, 4-3) vs. Faith-JCA winner, 10:30 a.m.
No. 4 Ohatchee (12-4, 8-2) vs. Faith/JCA/PV, noon
At Donoho
No. 11 Weaver (1-6, 0-5) vs. No. 14 Anniston (NA), 9 a.m.
No. 6 Oxford (18-10, 8-7) vs. Weaver-Anniston winner, 10:30 a.m.
No. 3 Donoho (12-7, 6-2) vs. Weaver/Anniston/Oxford, noon
At Jacksonville
No. 7 White Plains (6-4, 3-3) vs. No. 10 Saks (4-7, 0-4), 10:30 a.m.
No. 2 Jacksonville (17-6, 5-1) vs. White Plains-Saks winner, noon
At Saks
Semifinal 1, 3 p.m.
Semifinal 2, 4:30 p.m.
Oct. 5 Match
At Jacksonville State
Championship match, TBA
By Al Muskewitz
East Alabama Sports Today

Ohatchee volleyball coach Rebecca Hughes came to the Calhoun County Volleyball Tournament seeding meeting prepared to fight.

The senior-laden Lady Indians had the second-best overall winning percentage of any team in the county and were the winningest team against in-county competition, and she was prepared to make a case for a high seed.

Meeting organizers even encouraged her get involved in the conversation for the No. 1 seed – a position even she agreed was a bit ambitious – but any of the next three slots would have been totally acceptable.

As it turned out, the Lady Indians (12-4, 8-2 county) pulled down the No. 4 seed — their highest in at least eight years — and will be one of the four host sites when the tournament gets underway Oct. 3.

Two-time reigning champion Alexandria was installed as the No. 1 seed with Jacksonville No. 2 and Donoho No. 3 — the same top three as last year. The Lady Cubs had been first or second each of the last four years.
Last year Ohatchee pulled down a No. 5 seed with four more overall wins, but appreciably fewer in-county games. The Lady Indians were determined to give themselves every chance for a better seed in 2020.

"This year we made a point to schedule more county games because last year that was an issue that we didn't get any respect because we didn't have enough county games," Hughes said. "We've played everyone in the county except for (Anniston), JCA and Jacksonville (and they have Jacksonville later in the season) and our two losses were two of the higher ranked programs, so I really thought we deserved that higher spot."
The Lady Indians have beaten Faith Christian, Oxford, Piedmont, Pleasant Valley, Saks, Weaver, Wellborn and White Plains – all teams they were seeded above. Their two losses came to Alexandria and Donoho.
The No. 4 was about where Hughes figured they would land.
"We were prepared to come in as 4; that's what we wanted to fight for," she said.
And if they just happened to land one of the two higher slots? "We'd have been great with that, too," she said.

Alexandria (10-6, 6-3) landed the No. 1 by virtue of its head-to-head win over Jacksonville Monday night, negating Jacksonville win over Oxford versus shorthanded Alexandria's loss to the Lady Jackets. The Lady Cubs gave up an early lead and lost the first set in that match with Jacksonville, then won the next two sets, closing the tiebreaker with a flurry.
"That match was a great match the other night and I definitely think they got the top two right, for sure," Alexandria coach Whitney Welch said on her way out of the meeting to make the Lady Cubs' makeup area match with Lincoln. "I think we should have been the 1 since we were able to get that big win, but just like every year you have to make it a reality now. It's just a ranking and now we have to go to do the work."
"It was really hard to do this year just because of people missing players, COVID restrictions, it's just really hard to tell," Jacksonville coach David Clark said. "Fortunately a lot of them played each other. To me it really wasn't that complicated who should be in there because ultimately, to me, if you've played head to head without any extenuating circumstances I don't know why you vote. Unfortunately I haven't seen Ohatchee, Pleasant Valley or Donoho, so I can only go off head-to-head, who played who and who beat who and that's always the majority of the way I make my decisions (on seedings)."

Due to COVID-19 protocols, all four top seeds will host early round matches before the semifinals move to Saks for matches that begin at 3 p.m.
"I figure you have to do something like that this year," Clark said. "I'd rather have it all together just because it makes it more of an event, but with the restrictions it makes sense to do that."
It wasn't immediately known how officials would handle the bracket if a participating team was forced into quarantine between now and the tournament because of the virus. Four county school system teams already have been quarantined this season, currently Pleasant Valley and Weaver.
Interestingly, the first challenge to the newly minted seedings comes Thursday night when Donoho visits Jacksonville in a best-of-five setter rescheduled due to Pleasant Valley's quarantine. The Lady Raiders were supposed to host both teams in a tri-match.

Clark knows people will be watching, but the outcome will have no bearing on what happens in the tournament.

"If they beat us people will say, 'Oh, they screwed up the seedings,' and if we beat them then it's 'Oh yeah, they were right;' I don't think either of those apply," he said. "The county, to me, has always been a one-day deal. What's happened before leading up to it really doesn't make any difference. You've got to be good one day. Now that we play the finals on Monday, obviously you've got to be good that day.

"I think there five or six teams that legitimately can make a run at it having a good day on Saturday and I felt that way coming in, so where you fell (in the seedings) really wasn't that big a deal because I feel there are five, six, legitimate teams that could play Monday night."
And Ohatchee, which came to the meeting prepared to fight for a prime place at the table, is one of them.

Here is a look at the seeding history of the top six seeds in this year's County Volleyball Tournament since 2014:
| | | | | | | | |
| --- | --- | --- | --- | --- | --- | --- | --- |
| Team | 2020 | 2019 | 2018 | 2017 | 2016 | 2015 | 2014 |
| Alexandria | 1 | 1 | 2 | 2 | 4 | 4 | 3 |
| Jacksonville | 2 | 2 | 10 | 3 | 3 | 3 | 2 |
| Donoho | 3 | 3 | 5 | 11 | 5 | 5 | 4 |
| Ohatchee | 4 | 5 | 13 | 13 | 13 | 7 | 9 |
| Pleasant Val. | 5 | 8 | 3 | 1 | 1 | 6 | 7 |
| Oxford | 6 | 4 | 1 | 4 | 2 | 1 | 1 |
Bolded seeding number indicates tournament champion that year.

CALHOUN COUNTY JR. HIGH TOURNAMENT
Sept. 26 Matches
At Ohatchee
No. 8 White Plains (4-3, 3-1) vs. No. 9 Saks 9 (4-10, 2-9), 10:30 a.m.
No. 1 Ohatchee (20-2, 15-1) vs. White Plains-Saks winner, noon
At Pleasant Valley
No. 13 Jacksonville Christian (0-2, 0-1) vs. No. 12 Faith Christian (0-9, 0-8), 9 a.m.
No. 5 Oxford (11-8, 10-6) vs. JCA-Faith winner, 10:30 a.m.
No. 4 Pleasant Valley vs. Oxford/JCA/Faith, noon
At Alexandria
No. 6 Wellborn (14-7, 10-5) vs. No. 11 Jacksonville (1-10, 0-4), 10:30 a.m.
No. 3 Alexandria (10-6, 6-3) vs. Wellborn-Jacksonville winner, noon
At Piedmont
No. 7 Donoho (11-13, 8-8) vs. No. 10 Weaver (4-3, 1-3), 10:30 a.m.
No. 2 Piedmont (10-1, 6-1) vs. Donoho-Weaver winner, noon
At Saks
Semifinal 1, 3 p.m.
Semifinal 2, 4:30 p.m.
Championship match, 6 p.m.