Laying claim to No. 1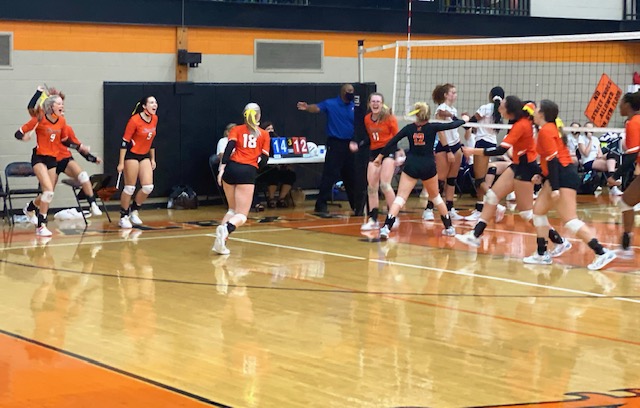 Alexandria edges Jacksonville in third set, lays claim to the No. 1 seed in Wednesday's Calhoun County Tournament seeding meeting

Monday's matches
Alexandria 2, Jacksonville 1 (23-25, 25-14, 15-12)
Alexandria 3, Moody 0 (25-6, 35-30, 35-23)
Jacksonville 2, Moody 0 (25-11, 25-23)
Oxford 2, Weaver 0
Oxford 2, Wellborn 0
Wellborn 2, Weaver 1
By Al Muskewitz
East Alabama Sports Today
Whitney Welch pays absolutely no attention to rankings and would never openly lobby for a No. 1 seed in any tournament, but the Alexandria volleyball coach watched her team make its best case yet to earn the top seed in the upcoming Calhoun County Tournament seeding meeting when it beat the other presumptive No. 1 candidate Jacksonville in three sets Monday night.

The Lady Cubs played "pretty confidently and pretty fearlessly" in a performance that had them close to "being ourselves" for the first time since players returned from COVID-19 quarantine, bouncing back from a first-set loss to beat the Lady Golden Eagles 23-25, 25-14, 15-12.
It's the only time the teams will meet before the coaches determine the County Tournament bracket Wednesday in the Saks High School cafeteria, where head-to-head carries a lot of weight.

"This is the first I thought, hey, we're playing like we should, we're back a little bit," Welch said. "I was very excited to see that and I thought it was good for our girls, that I know they can. I thought we got a lot better.

"I hope the seeding's fair and now that we have everybody back and we're kind of firing again on all cylinders a little bit I feel like we have a shot at it. It's been a crazy year and I thought this is our real team, this is who we are. I thought this was a good indication of who our team is and what we can do. I thought tonight we really gained some momentum and it's all about trying to grow on that from here."
Jacksonville coach David Clark can see where the Lady Cubs would be the top seed. Donoho, quarantined Pleasant Valley and Oxford should all be in the mix for the top four seed that will host the preliminary rounds of the tournament Oct. 3 due to coronavirus and social distancing protocols.

PV beat Donoho, but lost to Oxford, which beat Alexandria without star middle Lexi Weber, but Donoho has beaten Oxford three times. And then there could be a case for Ohatchee, which beat Pleasant Valley, but lost to Donoho. Jacksonville and Donoho play Thursday, but one day after the seedings have been established.
There will be time to compare scores and debate all that Wednesday afternoon. Suffice to say Monday went a long way to determining the No. 1.

"They lost to Oxford, I know they were minus a player and a really good player, but a loss is a loss and this year is going to be kind of strange that way," Clark said. "I would think on the basis of tonight they're probably the best team. I would seed them 1. They beat us.

"I think if we'd have won tonight it would have been hard for us not the be the 1. I think it helped their cause a lot (to have won). I think if they have a loss to us and a loss to Oxford, even with missing somebody, it puts some doubt in that."

From his perspective, Monday's match was "the good, the bad and the ugly, with too much of the bad and ugly." The Lady Golden Eagles rallied from early deficits of 6-1, 8-2 and 10-3 to win the first set, but they made 14 errors in the second set to allow Alexandria back in the match and in the third set the Lady Cubs were good when it mattered most.

"We've played better but part of it is the things they do kind of put you in those situations," Clark said. "You could say every time you lose aw we didn't play better. Did we play our best? Probably not, but I don't think they did either. They handled certain points and moments better than we did tonight, so they were a little better than us today, and I think the score kind of reflects it."
Weber and Jordan Beason led the Valley Cubs in the Jacksonville match with 12 and 11 kills, respectively. Beason also had 11 digs and Weber had four blocks. Anna Johnson had 26 assists and 11 digs, Sarah Pelham had 20 digs and two aces had 11 digs, Kandyn Blankenship had five kills and nine digs and Kaylee Smith had eight digs.

Beason was especially effective late in the third set. She gave the Lady Cubs leads with kills at 10-9 and 11-10, extended the lead to 14-10 and scored the clinching point with a block at the net. The third set was tied six times

"Here lately we've been struggling in the last couple points to really finish out the set, so I just knew I needed to step up and be a leader and do it," Beason said.
Weaver back at it
The Weaver volleyball team returned to the floor for the first time after two weeks of COVID-19 quarantine Monday. The Lady Bearcats lost a pair of matches to Oxford and Wellborn, but they were glad to be out there again.
"It was wonderful (being back out); I really missed it," Weaver coach Chelsea Mize said. "The girls had some good moments. They won a set against Wellborn. We are just young. It's definitely a building year."